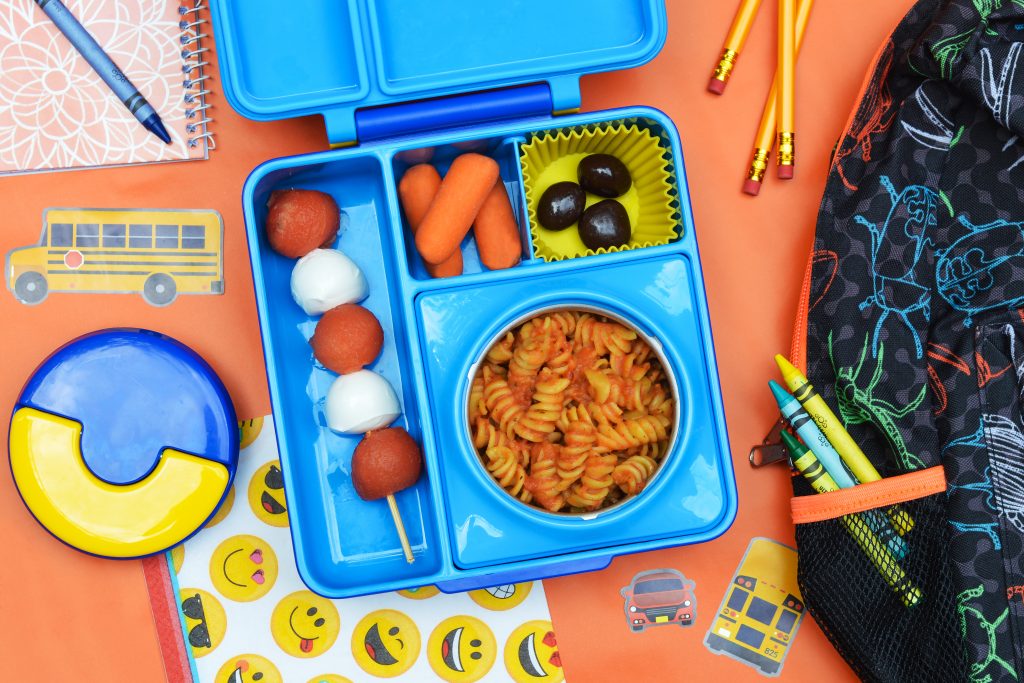 Here's a Bento Box with a twist, its loaded with hidden veggies! My son is not the child to willingly crunch on any raw/steamed vegetable (and trust me, I've tried them all). So for the child that eats AROUND the veggies, why not puree them into a favorite dish? He had no idea that this rotini was also loaded with added nutrients. What he doesn't know can't hurt him, in fact in this case its going to help.
Secret Sauce Bento
Ingredients:
Rotini with Very Veggie Bolonese (see below)
Mozzarella and melon skewer (use a melon baller to shape your melon)
Carrot sticks (you can substitute/add salami or pepperoni for added protein)
Chocolate covered cherries (a fun treat filled with antioxidants)
Very Veggie "Bolonese"
Ingredients:
2 cups diced zucchini (1 small zucchini)
2 tablespoons olive oil
Sea salt
¼ teaspoon garlic powder
1 ½ cups peeled and diced sweet potato (1 medium sweet potato)
1 cup of vegetable stock
1 (26 oz.) jar tomato sauce
In a large stockpot or Dutch oven on medium/high heat, add olive oil and zucchini. Saute your zucchini about 4-6 minutes until tender and slightly browned. Stir as needed and season with garlic powder and salt. Remove zucchini to a side bowl.
Add the sweet potato and vegetable stock to the pot/Dutch oven and bring to a boil on high heat. Cook 10 minutes on boil, covered.
Once cooled, puree both the zucchini and sweet potato in a small food processor or blender. I like to use my magic bullet because it makes the mixture incredibly smooth.
Add your tomato sauce to the pot/Dutch oven and mix with your vegetable puree. Use this sauce immediately or store for later use.
Note:
If you have leftover baby purees this is a great way of using them up. I choose mostly root vegetables and squashes and steer clear of ones that altered the color of the tomato sauce. For example, broccoli and most greens will turn the sauce a brownish color that my son has not enjoyed, no matter how good it tastes.