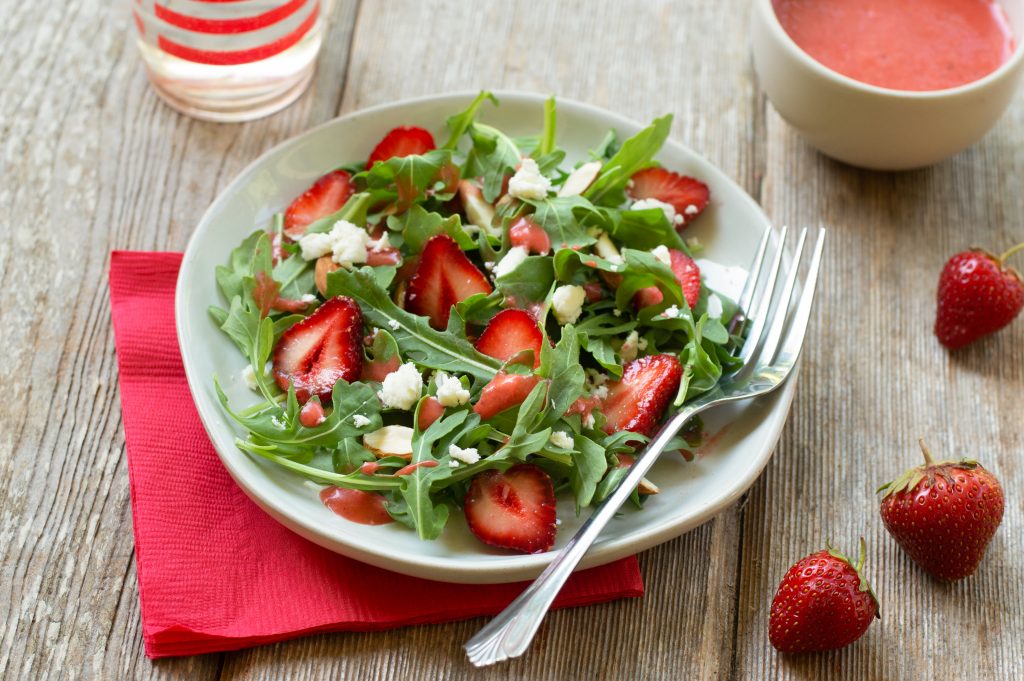 Here's a salad even kids can enjoy. Fresh strawberries pair perfectly with creamy goat cheese. Almonds add a bit of crunch and the homemade vinaigrette makes this salad something special.
Blended strawberries mix with fresh shallots, honey, and apple cider vinegar to make a divine dressing. Learning to make a vinaigrette is a classic chef skill. For anyone looking to add to their culinary repertoire, this is a fantastically simple recipe to enjoy.
Strawberry Salad with Strawberry Vinaigrette
Strawberry Vinaigrette
Ingredients:
1/4 cup fresh strawberries (8 small), stems removed
1 tablespoon minced shallot
1 teaspoon dijon
1 tablespoon honey
2 tablespoons apple cider vinegar
3 tablespoons extra virgin olive oil
Sea salt to taste
Strawberry Salad
Ingredients:
Arugula
Fresh strawberries, sliced
Slivered almonds
Crumbled feta
Strawberry vinaigrette, to taste
Make It:
Puree the strawberries for the vinaigrette. In a small mason jar with a lid (you can substitute Tupperware), combine the pureed strawberries with the remaining ingredients. Close the lid and shake to combine. Then season to taste with salt.
To make the salad, plate the arugula then top with sliced strawberries, slivered almonds, and crumbled feta. Dress with the vinaigrette to finish. Enjoy!