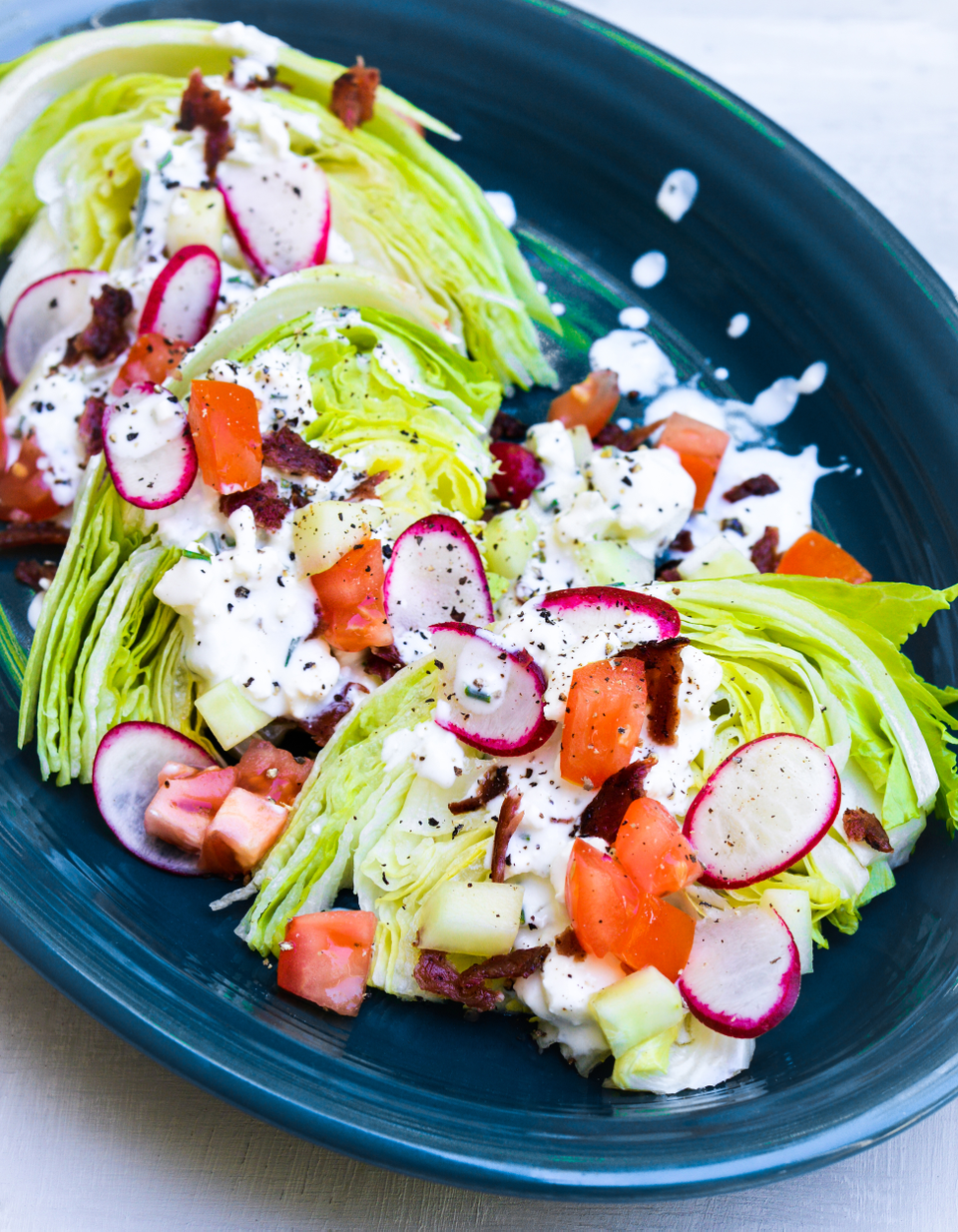 Wedge Salad with Buttermilk, Chive Blue Cheese Dressing
Serves 4
Who doesn't love a wedge salad. Unlike my husband, I've never been a huge fan of eating chunks of blue cheese but I do love blue cheese dressing when it is creamy and closer to Ranch on the spectrum of dressings. This dressing is the perfect solution! The buttermilk adds luscious creaminess, the chives a nice fresh flavor and then I finish it with a blue cheese not too streaked in marble- I go for less blue. If you want a greater impact from blue cheese-choose whatever type speaks to you.
Dressing:
1 tablespoon fresh minced chives
1 cup buttermilk
1 brimming cup crumbled blue cheese
1 tablespoon mayonnaise
2 tablespoons sour cream
¼ teaspoon Dijon
Sea salt and freshly cracked pepper
Make It:
Combine all ingredients for dressing in a small bowl and mix well. Cover and refrigerate until ready to use.
Wedge:
1 head of iceberg lettuce
3 radishes
1 persian cucumber, diced
½ cup halved cherry tomatoes
4 strips of cooked bacon, crumbled
Freshly cracked pepper
Make It:
Quarter your wedge salad and set out on 4 plates. Top with dressing, it allows the other garnish to stick instead of rolling off. Then top with sliced radish (slice with a vegetable peeler for thin slices), cucumber, tomato and bacon. Finish with freshly cracked pepper.