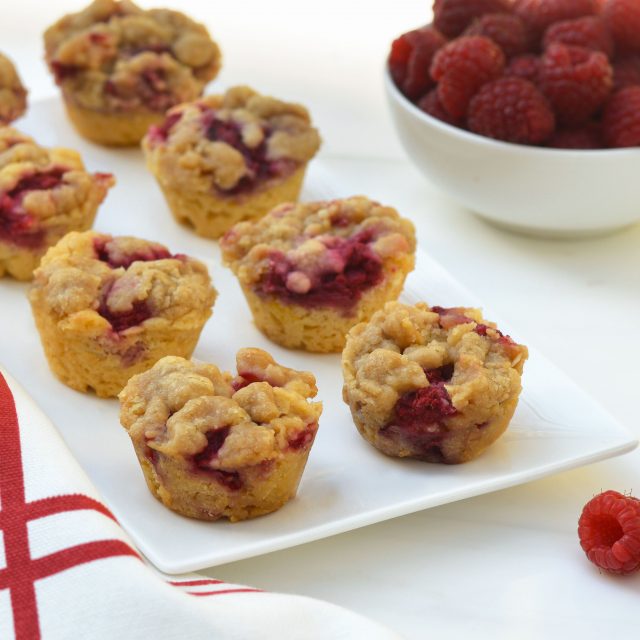 Raspberry Crumble Mini Muffins
Makes 24 muffins
These mini muffins are perfectly toddler-sized. They are also wonderfully snackable for adults who will enjoy the fresh lemon zest, sweet raspberry and irresistible crumble topping.
Muffins:
1 cup all purpose flour
1 1/2 teaspoons baking powder
1/4 teaspoon salt
4 tablespoons butter, melted
1/2 cup brown sugar, packed
1 large Egg
1/2 cup Greek yogurt
1 teaspoon vanilla extract
Zest of 1 lemon
1 brimming cup fresh raspberries
Crumble:
1/4 cup old fashioned Oats
1/2 cup Flour
5 tablespoons Butter, melted
1/2 cup Brown Sugar
Make It:
Preheat oven to 375F. Grease mini muffin tins.
In a medium bowl, mix crumble ingredients until just blended and small clumps form.
To make the muffins:
In a small bowl mix flour, baking powder and salt. Set aside.
In a large bowl, mix butter, brown sugar and the egg. Whisk until thoroughly blended and then add the yogurt, vanilla extract and lemon zest. Whisk again until mixed.
Fold the dry ingredients into the wet ingredients until just mixed. Do not over-mix.
Spoon the muffin batter into the greased muffin tins (about 1 tablespoon per muffin: fill 3/4 full) and top with fresh raspberries (I used 2 small raspberries per muffin). Finish by dividing the crumble topping between the muffins (I used a small spoonful, like a heaping teaspoon. You will have a little crumble remaining)
Bake for 15 minutes until golden brown on top and cooked through. You can test with a toothpick. I also sometimes use a fork to gently shift one muffin to look at its side. Once it is golden brown, it is done.
Allow muffins to cool 10 minutes before removing from the muffin tins.