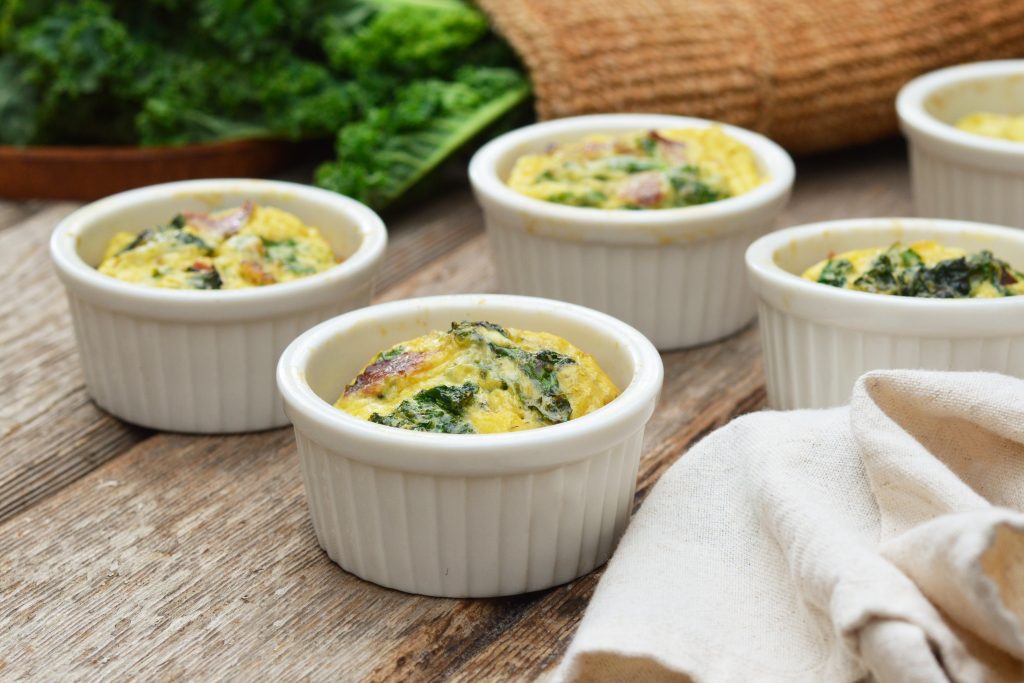 I grew up on egg ramekins. My parents used to make these all the time. They were a great way to get us kids another serving of vegetables, especially in the morning. They were also adorable and came in the perfect child size portions.
Now, I enjoy making these for my kids. You can do all the work the night before and have them ready to bake first thing in the morning. It's a nice way to get the day started.
Bacon and Kale Egg Ramekins
Makes 4 Servings
Ingredients:
2 pieces of bacon
1 tablespoon olive oil (if needed, otherwise use bacon fat)
1 ½ cup packed chopped kale
½ teaspoon garlic powder
Sea salt and freshly cracked pepper
4 eggs
¼ cup half and half
¼ cup grated cheddar cheese
Make It:
Grease 4 ramekins.
Fry the bacon until crispy. Remove to a plate to cool. Sauté the kale in the remaining bacon grease (if not enough grease remains add olive oil). Season kale with garlic powder, salt and pepper and stir until wilted and softened (2-3 minutes).
In a separate bowl, whip eggs and mix with half and half. Season with salt and pepper and mix in cheddar.
To assemble, divide kale and crumbled bacon between the ramekins. Next, divide the egg mixture evenly between each ramekin.
Cover and refrigerate overnight.
When you are ready to bake, preheat the oven to 375F. Bake in the oven for about 20-25 minutes until set (check at 15 minutes). To test, insert a toothpick. Ramekins are done when toothpick comes out clean. Allow to cool before serving.