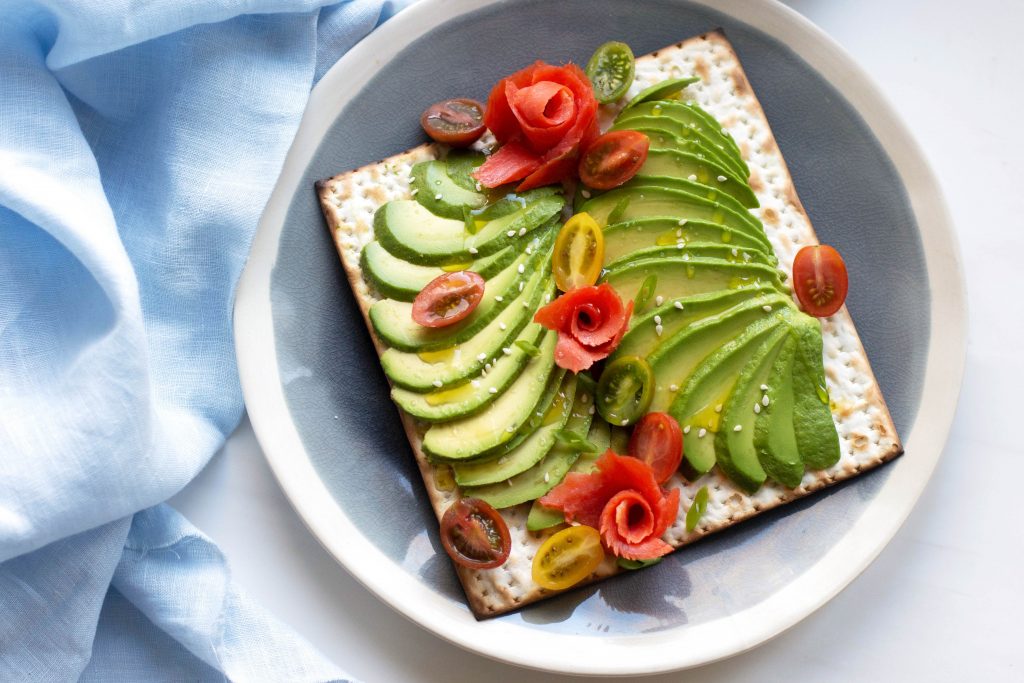 Avocado toast is such a beautiful breakfast or snack to serve. For Passover, just skip the bread and substitute a matzo. Here is where we indulge our cravings for bagels while still keeping our Passover diet. Anything that works on a bagel also works great on a matzo!
If your kids love cream cheese and salmon, great! If they love avocado and a little salt, awesome! Have some fun and spread on some yummy nutrition to go with the matzo crunch.
Avocado Matzo Toast
Ingredients:
1 piece of matzo
1 ripe Hass avocado
3 small pieces of smoked salmon
3 rainbow cherry tomatoes, halved
1 scallion, sliced on the diagonal
Sprinkle of sesame seeds, optional (omit if you don't eat kitniyot)
1 teaspoon good olive oil
Make It:
Halve your avocado and use a spoon to scoop out the flesh on the half without the pit. Use a chef's knife to cut into the pit and wiggle slightly to remove. Then scoop out the other half of the avocado. Turn both avocados, cut side down, onto a cutting board and slice thinly. Fan out the sliced avocado on your matzo.
Slice your smoked salmon into thin strips and roll those strips to create a rosette shape. Add to the matzo. Next, add in your cherry tomatoes and sliced scallions.
Sprinkle with sesame seeds, optional, and finish with a drizzle of olive oil. Enjoy!