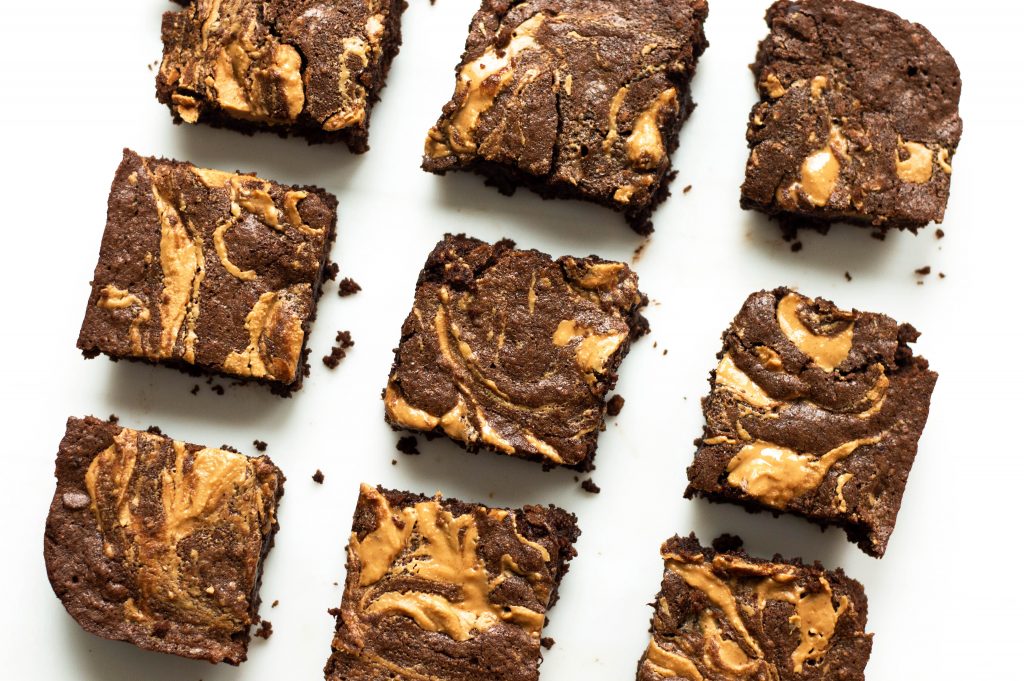 Passover brownies are a must! This indulgent, chocolatey gooey delicious dessert will make you feel like you didn't have to give up ANYTHING this week. Satisfy all those carb cravings with one rich and decadent bite!
Chocolate Peanut Butter Passover Brownies
Makes 9 brownies
Ingredients:
1/2 cup butter, melted (plus extra for buttering baking dish)
1/2 teaspoon vanilla extract
2 eggs
3 tablespoons hot water
1/2 cup brown sugar
1 cup granulated sugar
1 cup matzo meal
3/4 cup cocoa powder
1/2 teaspoon kosher salt
1/2 cup semi-sweet chocolate morsels
2 tablespoons creamy peanut butter (if you don't eat kitniyot you can omit or substitute kosher for Passover cashew butter)
Make It:
Preheat the oven to 350F. Lay a square of parchment paper into an 8×8 inch baking dish. Then butter the pan and parchment on all sides (seems like overkill but these are luscious and gooey brownies and you'll want to be able to easily pick them up from the pan later without losing bits).
In a medium bowl, mix your melted butter, vanilla, eggs, and hot water (not too hot to avoid cooking eggs).
In another medium bowl, mix your brown sugar (sift to remove lumps), white sugar, matzo meal (sift to remove lumps), cocoa powder, and salt. Add your dry mixture to your wet mixture, stirring to combine.
Then add in your chocolate chips and spoon into your buttered, parchment-covered baking dish. Drizzle the peanut butter (or kosher for Passover cashew butter) on top of the brownies and use a toothpick to swirl. Note: if your nut butter is clumpy, be sure to mix it up before drizzling otherwise it will be hard to spread.
Bake your brownies for about 25 minutes (a toothpick inserted should come out clean. Note: if it hits a chocolate chip it will come out with melted chocolate. You just want to ensure that the brownie center is not gooey). Allow the brownies to cool for 10 minutes before slicing. Enjoy!