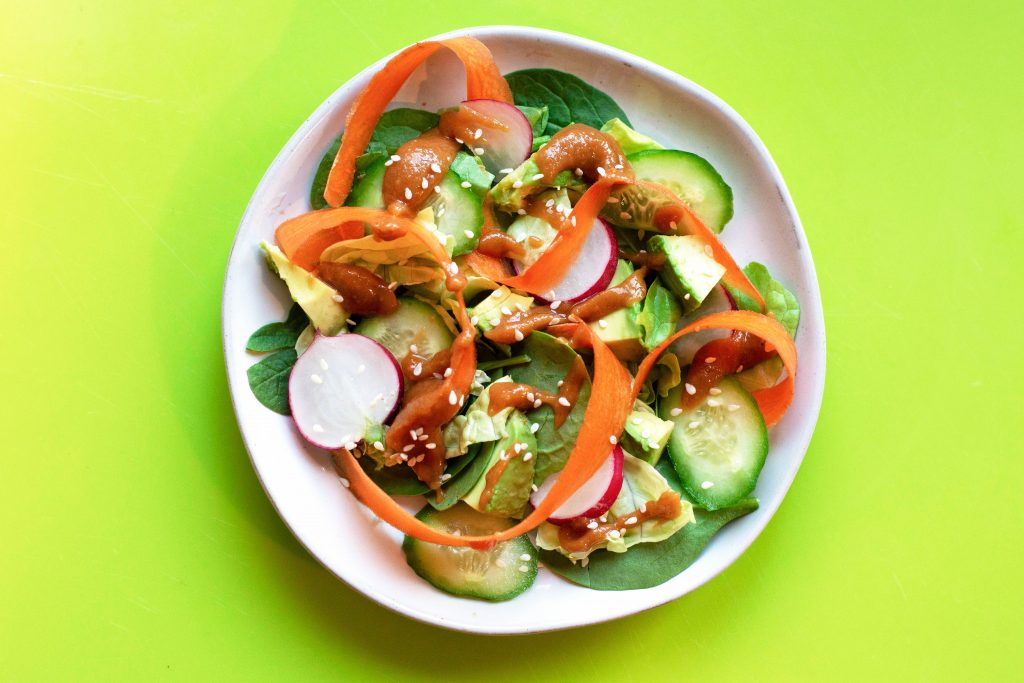 Peanuty-sweet and so full of yum, this dressing is K.I.D-friendly! Sometimes greens need a little glam and this easy salad is all decked out.
I've always found that repeated exposure helps in enticing kids to try new flavors. Fresh presentations are always helpful too (take these carrot ribbons). It doesn't mean you have to go all out and create faces out of your food. Sometimes a simple vegetable peeler can change your child's appreciation of a veggie.
Sweet Peanut Dressed Salad with Carrot Ribbons
Peanut Dressing
Ingredients:
2 tablespoons fresh orange juice
2 tablespoons sesame oil
1 tablespoon rice wine vinegar
1 tablespoon honey
1 tablespoon soy sauce
1/4 cup creamy peanut butter (no sugar added)
Salad:
A handful of mixed greens (baby spinach & butter lettuce were our choices)
Sliced Persian cucumber
Sliced radish
Diced Hass avocado
Ribbons of carrot
Peanut Dressing, see above
Sesame seeds for garnish
Make It:
In a mason jar, mix ingredients for the peanut dressing. Shake it up to combine. Use a butter knife as needed to mix in peanut butter (if it clumps).
Next, assemble your salad and add dressing to your taste. For carrot ribbons, use a peeler. Peel a large carrot then peel long strips to serve. Dress to your taste with peanut dressing. Enjoy!