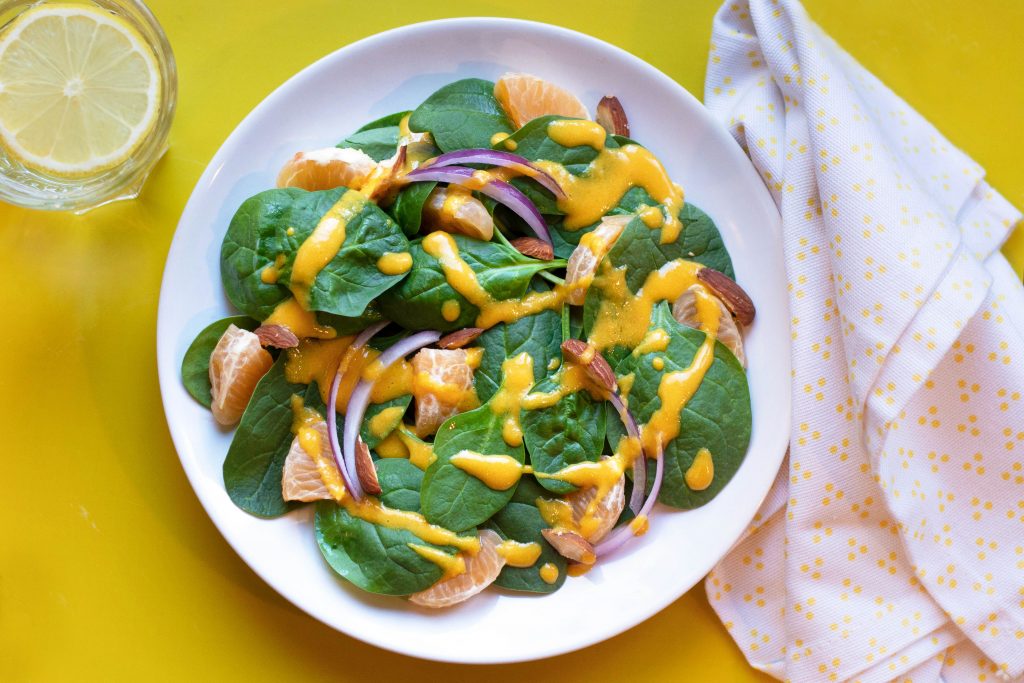 If your kid is a fan of monkey-orange smiles and sweet sticky mangos, this might just be the salad for you! Citrusy sweet, while still full of yummy nutrition this salad is a great way to get in those veggie servings. Hope your family enjoys!
Citrus Salad with Carrot, Orange, Mango, Ginger Dressing
Carrot, Orange, Mango, Ginger Dressing
Ingredients:
3 tablespoons orange juice
1/2 cup baby carrots
1 (1 inch) piece of ginger, peeled
1/2 cup frozen mango
2 tablespoons olive oil
2 tablespoons plus 1 teaspoon rice wine vinegar
2 tablespoons honey
1 teaspoon cornstarch
1/2 teaspoon soy sauce
1/2 teaspoon toasted sesame oil
Salad Ingredients:
A handful of baby spinach leaves
1 mandarin orange (seedless), peeled, segmented, and cut into bite-size pieces
Just a few paper-thin slices of red onion, optional
Toasted sliced almonds to taste
Make the Dressing:
In a small high powered blender or food processor (I use a magic bullet blender), puree baby carrots, ginger, and orange juice. Strain out any large pieces of carrot and discard (only keep the finest pulp-texture is okay-chunks are not). Then add in your frozen mango and puree again. Finish by adding in the remaining ingredients and mixing until the dressing is thick and can coat the back of a spoon.
Make the Salad:
Add a handful of baby spinach to a plate and top with oranges, red onion and almonds. Dress to taste with citrus dressing. Enjoy!