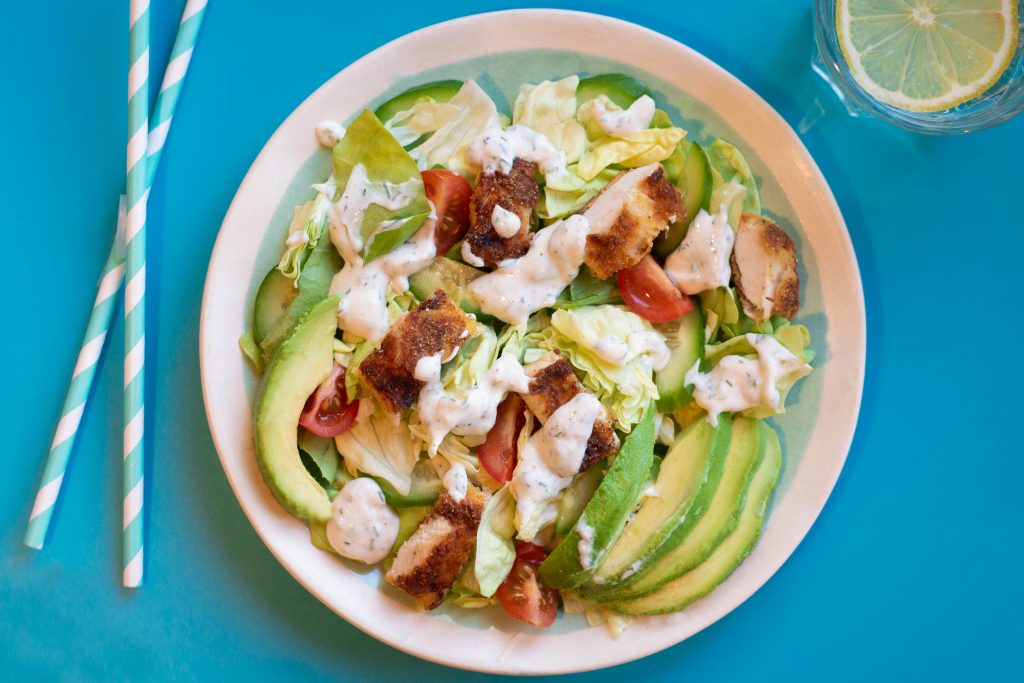 Creamy, herby ranch dressing is the star and breaded chicken tenders are the secret to this kid-approved salad. Sometimes you have to lead with the familiar to get kids to try something a little new. This will feel very familiar but still introduce new herb flavors and a lot of healthy crunch!
Chicken Tender Salad with Homemade Ranch Dressing
Homemade Ranch
Ingredients:
4 oz. buttermilk (go for higher fat content, no low fat please)
1 tablespoon chopped fresh dill
1 large garlic clove, minced
3 tablespoons mayonnaise
1 tablespoon fresh minced chives
2 teaspoons fresh lemon juice
1/2 teaspoon garlic powder
1/2 teaspoon dried parsley (or 1 tablespoon minced fresh)
1/2 teaspoon onion powder

Salad Ingredients:
1 breaded chicken tender, warmed in the oven
1 cup chopped butter lettuce
1/4 Hass avocado, sliced
1/2 Persian cucumber, sliced thin
3 cherry tomatoes, quartered
Make It:
Preheat your oven to warm a chicken tender (I bread, fry and freeze these for hot meals on the fly. If you have a store-bought brand you like, substitute that).
Next, mix together the ingredients for your homemade ranch dressing.
Assemble your salad starting with your butter lettuce, avocado, cucumbers, and tomatoes. Top with your sliced chicken tender and finish with ranch dressing.