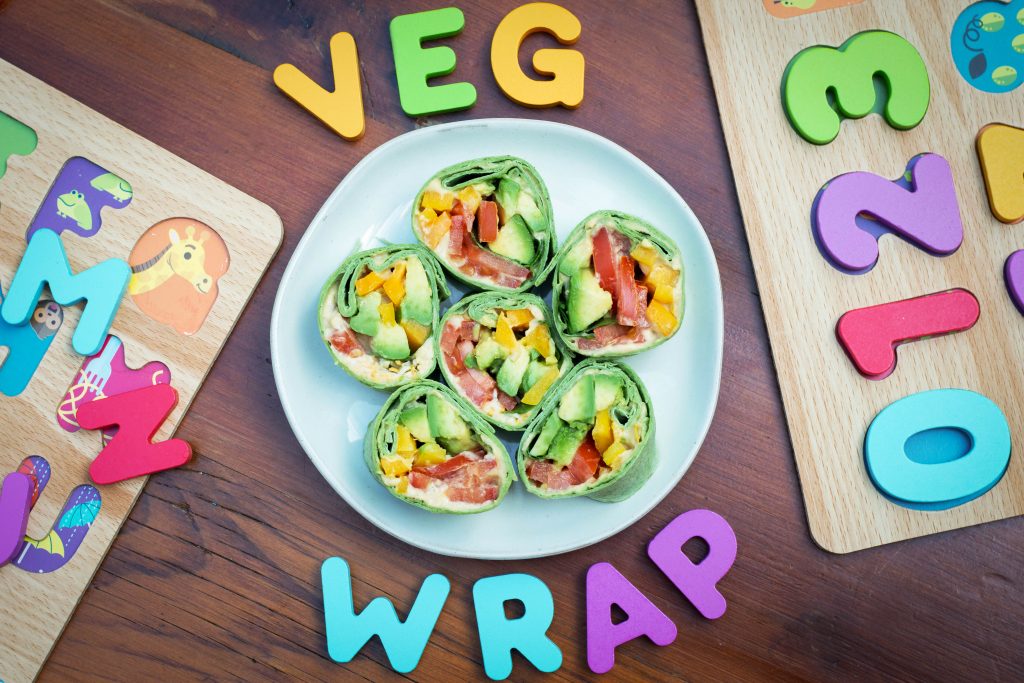 These are such a winner in our family. My son calls them "cold tacos" which really doesn't sound appetizing but honestly, I get where he's coming from.
The benefit is that I'm getting in another dose of fresh fruits and veggies and plant-based protein that my kids actually LOVE. Use the veggies that your kids already enjoy. Mix it up to suit your preferences. This is such an easy lunchbox idea that makes for a killer picnic and allows for countless variations.
Veggie Wrap
1 wrap (5 individual rolls)
Ingredients:
1 spinach wrap
2 tablespoons hummus
2 tablespoons grated cheese
A handful of baby spinach leaves
1 Roma tomato, sliced
1/4 cup sliced bell peppers
1/2 Hass avocado, sliced
Make It:
Layout your wrap and spread hummus over the entire surface. Add a row of grated cheese to the center, then add spinach to the side and tomatoes to the other side. To the side of the tomatoes add the bell pepper and top the spinach leaves with avocado.
Roll the wrap tightly and slice to create 5 equal portions. Refrigerate in a bento box, Tupperware or on a plate covered with plastic wrap until ready to enjoy.
Tidying Tips from Tidy Dad
1. Store snacks and drinks in locations and at heights that kids are able to independently access.
2. Put out healthy snacks that you are okay with your kids eating, whenever they are hungry!
3. Store kid-friendly plates, napkins, and utensils in locations that they can access independently.
4. Invite kids to set the table and clear the table after snack time and mealtime.
5. Invest in some colorful and fun cloth wipes so that kids can independently clean their hands and faces after mealtime!
6. After mealtime is finished, give them a shallow container of water mixed with a little bit of soap, and invite kids to clear and clean their eating space.