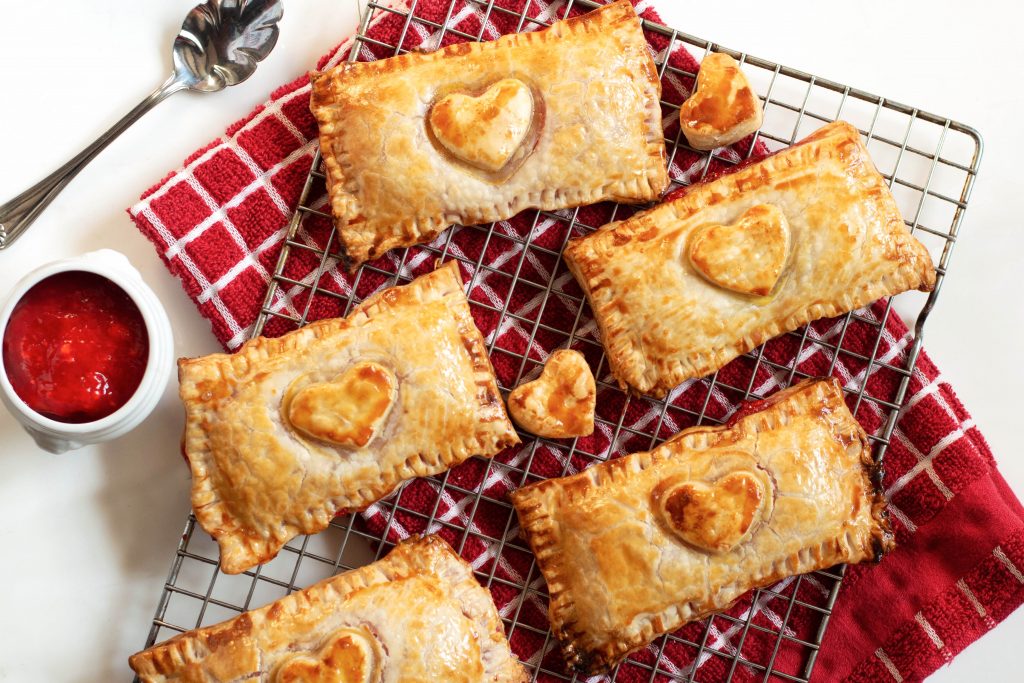 Flaky, sweet, and the perfect breakfast treat these pastries say "I love you!" Skip some time with store-bought jam or have some fun making your own. You can also frost these for added sweetness if you want to go all out. I leave the finishing touches to you!
Strawberry Pop-Tarts
Makes 5
Strawberry Jam Ingredients (you can also use store-bought as a time saver):
2 cups frozen strawberries
1 lemon, juiced
1/4 cup plus 1 tablespoon sugar
1 tablespoon plus 2 teaspoons cornstarch
Pop-Tart Ingredients:
2 frozen pie crusts (Pillsbury is my go-to since it puffs like a combo between a pie crust and puff pastry)*defrost in advance
1 egg

Make It:
Preheat the oven to 400F. In a medium stockpot, add strawberries, lemon juice, and sugar. Warm over medium-high heat and mash once strawberries have warmed. Once warmed through and mashed, whisk in cornstarch (a duster is a great way to add or add in with equal parts water to avoid clumping).
The finished jam should be nice and thick (since we are baking we don't want it to run).
To make the pop tarts, roll out both pie crusts, one onto a parchment-lined baking sheet and one onto the counter. Using an index card as a guide, cut 4×6 inch rectangles out of both sides of the dough. Reroll scraps until you have 10 rectangles cut. Save the extra scraps for hearts.
Spoon a little under 2 tablespoons of jam onto 5 rectangles on the parchment paper-lined baking sheet. Next, whisk your egg in a small bowl. Using a brush, brush along the outer edge of the jam-filled pop tarts. Add the top and pinch around all the edges to seal. Then press with a fork for good measure and decoration.
To make the heart, I actually pressed lightly on the middle of the filled pop tarts with a 1.5-inch heart cookie cutter (not enough to press through, just enough to leave a mark). Then I egg washed the top of the filled pop tarts and added a second heart cut-out on top of the impression. I egg washed the heart placed on top as well.
Then bake for 15 minutes or until golden brown and flaky. Allow to cool before serving. If you have leftovers, you can freeze them for later!