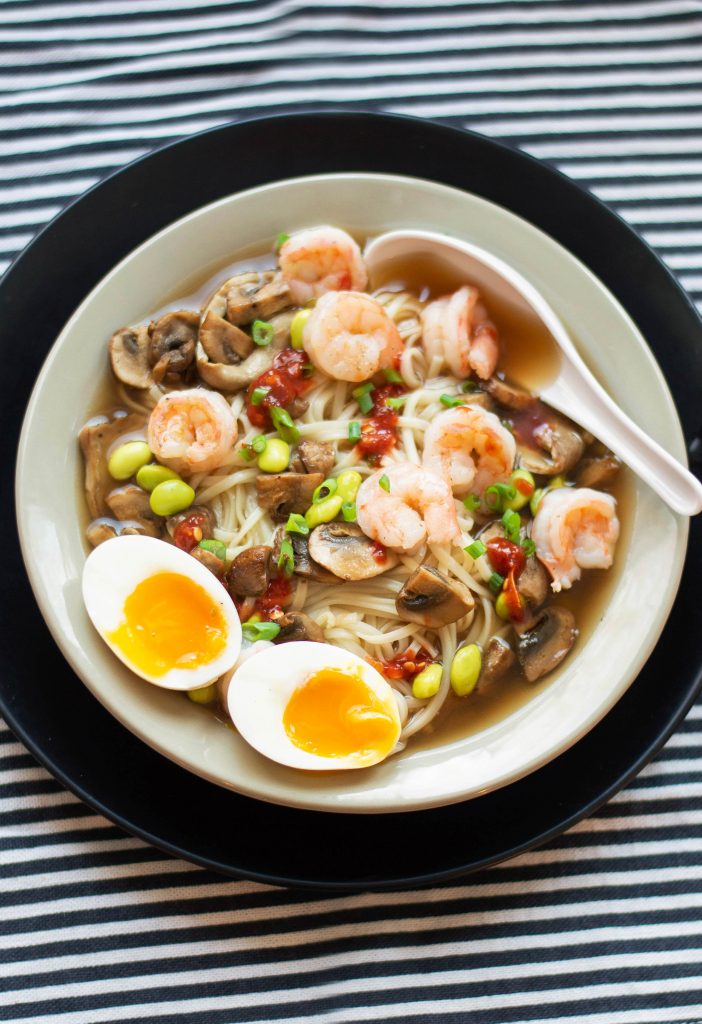 Shrimp Stock
Ingredients:
4 cups of shrimp shells* (I save these every time I cook shrimp and freeze until ready to make stock)
4 sprigs thyme
2 large sprigs rosemary
1 sweet potato, scrubbed well and diced
1 cup bell pepper stems and caps* I save these from my other recipes
1 cup onion skins and parts, scrubbed well to remove any grit
2 large carrots, scrubbed well and diced
1 carton vegetable stock
2 cups of water
Make It:
In a large stockpot, add all ingredients for the shrimp stock. Bring to a light boil then reduce heat to medium-low and simmer for 2 hours. Strain the stock, pressing down with a wooden spoon to crush some cooked carrot and sweet potato into the finished stock. Discard all herbs, shrimp shells, vegetable pieces and solids. Save stock until ready to use. It freezes well.
Shrimp Ramen
Serves 6
Ingredients:
3 tablespoons sesame oil
1 carton baby Bella mushrooms, scrubbed with a wet towel to remove all dirt, sliced thin (save stems to make stock)
1 (14.5 oz) can straw mushrooms, strained, sliced, and patted dry
1 lb. raw easy-peel shrimp (31-40 count) *save shells for stock
6 cups of shrimp stock
1 tablespoon soy sauce
2 teaspoons hoisin sauce
1 tablespoon sambal, optional if you like spicy, I also like to serve a little extra to finish
6 packets ramen noodles, cooked separately according to package instructions
6 eggs
1 cup shelled edamame
1 bunch of scallions, sliced thin
Make It:
In a large stockpot, add sesame oil and saute baby Bella mushrooms until golden brown. Turn and cook the other side (about 2 minutes per side on medium-high). Remove to a plate. Cook in batches to prevent overcrowding. Next, fry the straw mushrooms for 2-3 minutes, adding sesame oil if the pan is dry.
Set mushrooms aside to a plate and saute shrimp until just cooked through (shrimp will be plump and just pink all through). Remove to a side plate.
Add 2 inches of water to a stockpot and bring to a boil. Once boiling, carefully add in eggs straight from the refrigerator. Cover pot and boil for 7 minutes. Add eggs to an ice bath.
Note: you can soft-boil them in advance and peel them when ready to use.
To finish the soup, add stock to a large stockpot and heat to a simmer. Add back in mushrooms, shrimp, edamame, and ramen. Stir in soy, hoisin, and sambal for flavor. Serve in large bowls topped with scallions and soft-boiled eggs. Enjoy!