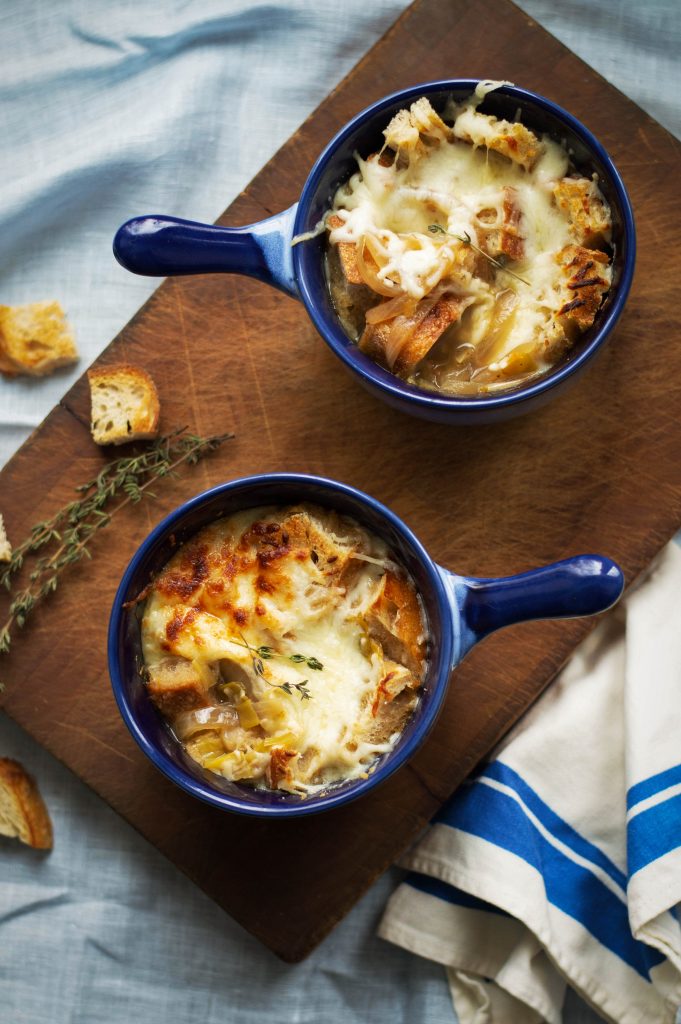 Who doesn't love French onion soup? This is simply one of the most comforting winter meals. My mother taught me awhile back that the beef stock is really not necessary to have that delicious umami flavor. She always used onion skins and mushroom scraps. Amazingly the flavor was incredibly rich, the color was perfect dark and brooding, and what's best was I was always able to use up my cooking scraps to create its magic. If you want to make this soup vegan, all you have to do is use vegan cheese.
It may seem like more work to create stock but all you really need is time, which we all have in a pandemic. Active time is minimal! All you need to do is dump the ingredients in the pot and move about your day as they simmer. I hope you enjoy!
Fortified Veggie Stock
Makes about 8 cups
Ingredients:
2 cartons vegetable stock
2 cups mushroom stems (I save these after cooking mushrooms and freeze until I make stock)*
2 cups onion peels and stems (washed well to remove any grit)
2 large carrots, scrubbed well and diced
1 sweet potato, scrubbed well and diced
8 sprigs thyme
2 large sprigs of rosemary
*Note: dried mushrooms also add incredible flavor and color to vegetable stocks (just be sure to soak them before adding to remove any residual grit)
Make It:
In a large stockpot, add all ingredients for the veggie stock. Bring to a light boil then reduce heat to medium-low and simmer for 2 hours. Strain the stock, pressing down with a wooden spoon to crush some cooked carrot and sweet potato into the finished stock. Discard all herbs, vegetable pieces and solids. Save stock until ready to use. It freezes well.
Vegetarian French Onion & Leek Soup
Serves 6
Ingredients:
2 tablespoons olive oil
2 large Vidalia onions, sliced thin
2 small leeks, washed well, trimmed and sliced thin
3 tablespoons red wine vinegar
1 tablespoon sugar
6 cups of fortified veggie stock
Sea salt to taste
4 1/2 cups toasted croutons (I like sourdough or baguette best)
3 cups shredded cheese (gruyere, swiss and mozzarella are all great options)*To make this stock vegan just use vegan cheese.
Make It:
In a large Dutch oven or stockpot, add olive oil and turn heat to medium-high. Add in onions and leeks and saute for 5 minutes, add in red wine vinegar and sugar and continue to caramelize for another 10 minutes, stirring periodically. Be sure to reduce the heat if the onions begin to brown (halfway through I reduced it to medium-low). I also add in about 1/4 cup of stock a tablespoon at a time as I'm sauteing the onions to keep them from browning.
Season the finished onions and leeks with salt to taste. Then add in the remainder of the vegetable stock and keep the soup at a light simmer.
Preheat your broiler. Add warm soup to small soup crocks and top with toasted croutons and shredded cheese. Broil until the top of the cheese has melted and turned golden brown. Allow to cool slightly before serving.