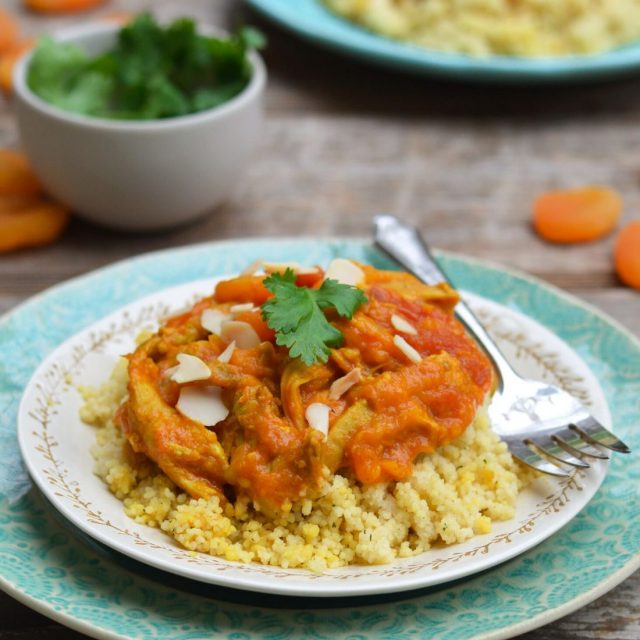 Chicken and Apricot Tagine
6 Servings
This recipe is the ultimate family meal, it is comforting, fall-apart tender and full of natural sweetness from the apricots and honey. Though it takes an hour to cook, all that time is in-active cook time which means that you can walk away as the dish finishes itself. To me that makes an easier dish than one I have to constantly stir, even for 20 minutes.
If you own an Insta Pot or Crock-Pot, this is the perfect recipe to use for either.
Ingredients:
3 tablespoons olive oil
1 medium yellow onion, diced
2 garlic cloves sliced
1 tsp ginger powder
1 tsp garlic powder
1 tablespoon turmeric
1 teaspoon smoked paprika
1 medium sweet potato, peeled and diced
2 tablespoons honey
3 tablespoons tomato sauce
1 cup diced fresh plum tomatoes
3 cups chicken stock
1 brimming cup dried apricots
1.5 lbs boneless, skinless chicken thighs
Topping:
Fresh cilantro
Toasted sliced almond
Couscous to serve over
Make It:
Add olive oil to a Dutch Oven and add in onion and garlic. Cook 4 minutes to soften and then add in the remaining ingredients. Stir to combine then cover and bring the mixture to a boil.
Once the mixture is boiling, reduce the temperature to medium and give the pot a good stir. Crack the lid slightly to release some of the steam and cook on medium for an hour. The pot should be at a slight bubble (not a rapid boil) as it cooks.
To serve, fill a bowl with couscous and top with a large spoonful of chicken tagine. Finish with fresh cilantro and almond slices.
Note:
This makes an incredible toddler meal and once blended, a flavorful puree for babies who have moved on to adding meat to their diet