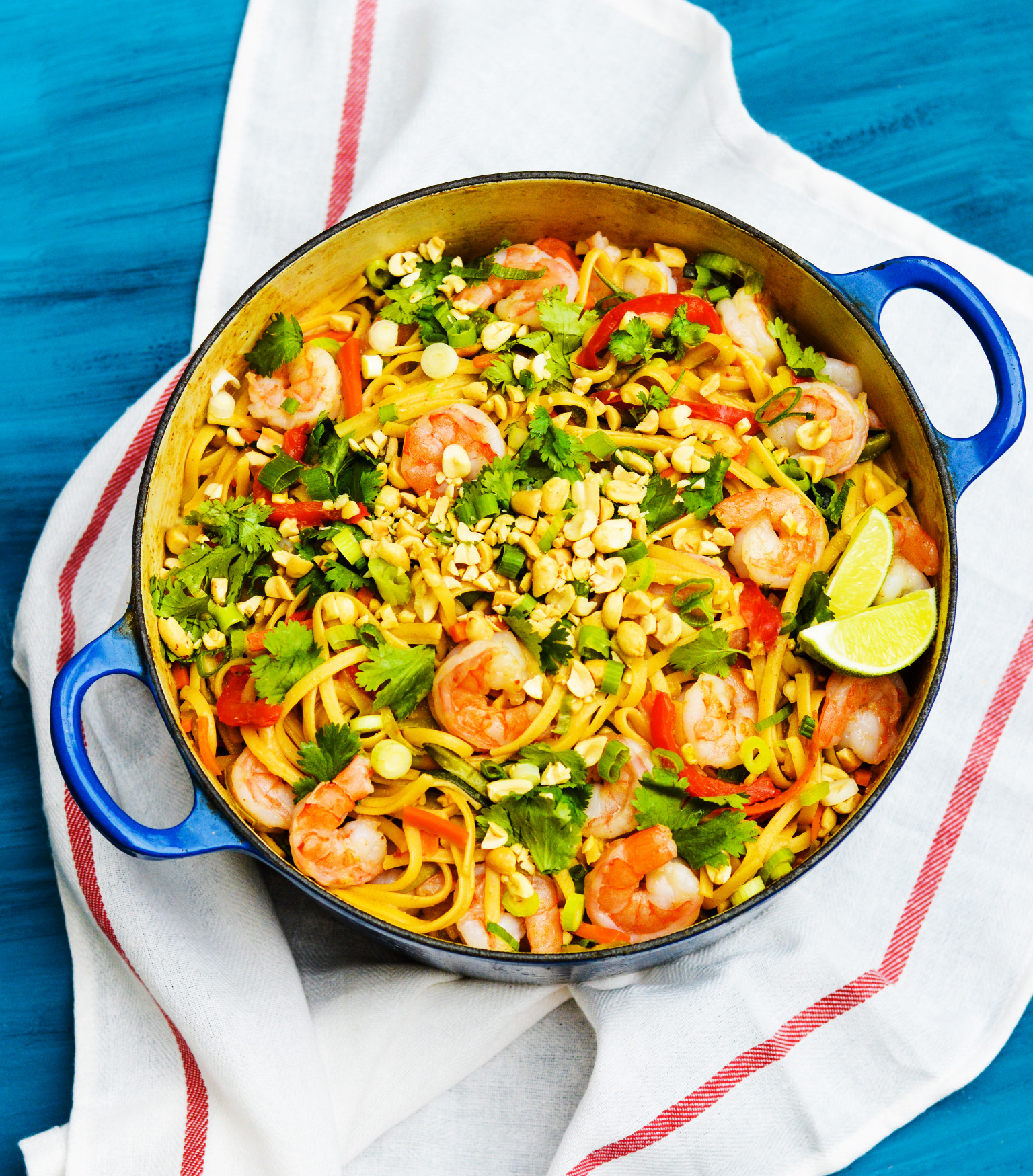 One Pot Shrimp and Creamy Peanut Noodles with Hidden Veggies 
From The Ultimate New Mom's Cookbook
Serves 8  
You'll love this meal for its hidden vegetables, richly seasoned noodles, and the fresh crunch of herbs and peanuts to finish. An added bonus of the one-pot meal is cleanup is so easy and most of the work is in the chopping. Also, the vegetables seamlessly blend with the noodles in the peanut sauce making it a great way for toddlers to enjoy both (even if they don't realize it). 
Ingredients 
2 tbsp (30 ml) of sesame oil 
1 lb (453.5 g) uncooked shrimp, 26 to 30 count, cleaned 
1 tsp smoked paprika 
¼ tsp sea salt 
5 cups (1 kg) chicken stock 
3 tbsp (45 ml) soy sauce 
3 tbsp (33.5) peanut butter 
1 tbsp (16 g) hoisin sauce  
1 tbsp (15.5 g) sambal 
3 cloves garlic, minced 
1 (1-lb [454-g]) package linguine, broken in half 
1 cup (265 g) zucchini, cut into matchsticks  
1 red pepper, cut into matchsticks  
1 cup (4 g) julienne carrot strips  
1 cup (98 g) julienne fresh snow peas 
1 lime, juiced plus additional wedges for garnish 
1 cup (100 g) diced scallions 
1 cup (16 g) cilantro leaves 
1 cup (161 g) crushed roasted peanuts for garnish 
Make It:
In a large pot (make sure you have a lid) add in sesame oil and bring to medium-high heat. Season shrimp with smoked paprika and sea salt then cook for about 2 minutes until shrimp is just pink and remove to a small plate. Add the chicken stock, soy, peanut butter, hoisin, sambal and garlic to the pot. Cover and bring to a boil. Once boiling, stir in your linguine so that it is covered in sauce. Recover pot and slightly lower heat but keep liquid at a low boil for 10 minutes.  
After 10 minutes, add in zucchini, red pepper, carrot and snow pea and cook for an additional 5 minutes, covered. Stir and taste a noodle, it should be nice and soft. Cook 1 to 2 more minutes longer if noodles aren't tender. (Note: if you have added extra vegetables add a little extra chicken stock and allow slightly more time. Sometimes I add 1 cup (32 g) bean sprouts.) You may have additional sauce after cooking but the noodles will continue to absorb it so this is a good thing.  
Finish with the lime juice and stir. Turn off heat and add shrimp back in. Stir to combine and top with scallions, cilantro and crushed peanuts. Serve warm. 
From The Ultimate New Mom's Cookbook  by Aurora Satler, Page Street Publishing Co. 2018