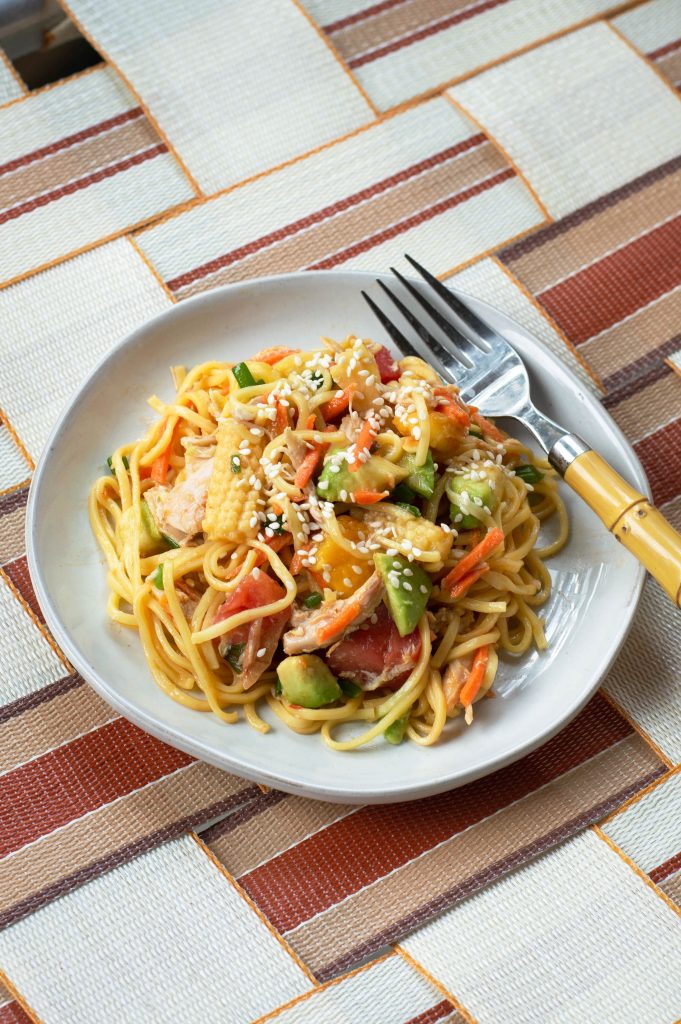 I love this salad so much. I make about a thousand variations on a basic sesame noodle salad. Sometimes I'll change the protein: seared tuna, skirt steak or even tofu. Sometimes I'll swap up the veggies/herbs: cabbage goes great, I love cilantro in this one, shredded zucchini works, bell peppers sliced thin are great, fresh peas…really the options are endless. For this version, I had leftover rotisserie chicken and used what I had around. The mangos added a super awesome sweetness, the avocados a rich fatty healthy bite and fresh tomatoes always a win for me.
You can easily make this one with simple ramen noodles and a storebought rotisserie chicken. Add in the veggies that you have and presto, you've got yourself a deliciously healthy lunch that can all be mixed up in a single bowl!
Cantonese Chicken Noodle Salad
Serves 4
Ingredients:
6 oz. Cantonese noodles, cooked according to package instructions (you can substitute ramen noodles)
2 cups shredded chicken
1 cup matchstick carrots
1/2 cup diced tomato
1/2 cup diced mango
1 Hass avocado, diced
1 cup baby corn, sliced in 1/4s or 1/2 depending on the thickness
2 tablespoons sliced scallion
3 tablespoons sesame oil
3 tablespoons low sodium soy sauce
1/2 lime, juiced
1 tablespoon sambal, optional (but very nice for a bit of spice)
Sesame seeds for garnish
Make It:
In a large bowl mix all the ingredients to combine. Serve room temperature or refrigerate for later use.