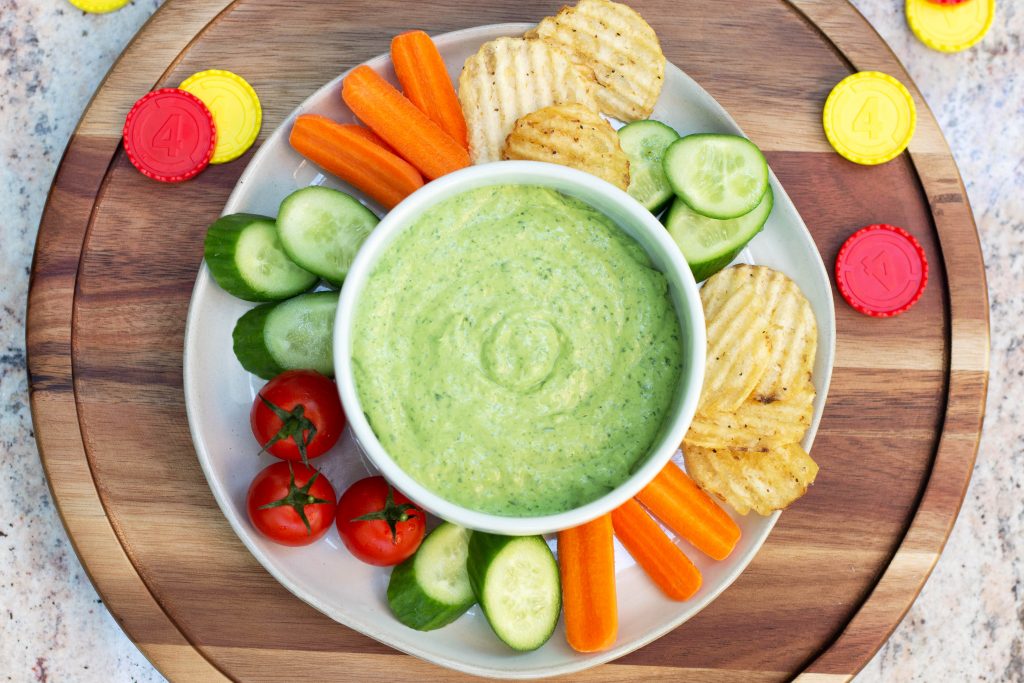 Get those veggies ready. 3, 2, 1 dive, and dip!
Herbaceous, utterly creamy, and surprisingly healthy, this Avocado Green Goddess Dip hits the spot. I add my kids' favorite veggies and sometimes potato chips just to wet their wee little appetites. My husband and I definitely don't mind joining in the action since this simple recipe is super tasty. Here's to healthy snacking!
Avocado Green Goddess Dip
Serves 4
Ingredients:
1 cup fresh cilantro
2 tablespoons chopped scallions
1/2 ripe Hass avocado
1/2 cup nonfat Greek yogurt
1 tablespoon olive oil
1/4 teaspoon garlic powder
Salt, to taste
Make It:
Add ingredients to a high-speed blender or food processor and puree until smooth and creamy. Refrigerate until ready to serve.
Tidying Tips from Tidy Dad
1. Store snacks and drinks in locations and at heights that kids are able to independently access.
2. Put out healthy snacks that you are okay with your kids eating, whenever they are hungry!
3. Store kid-friendly plates, napkins, and utensils in locations that they can access independently.
4. Invite kids to set the table and clear the table after snack time and mealtime.
5. Invest in some colorful and fun cloth wipes so that kids can independently clean their hands and faces after mealtime!
6. After mealtime is finished, give them a shallow container of water mixed with a little bit of soap, and invite kids to clear and clean their eating space.