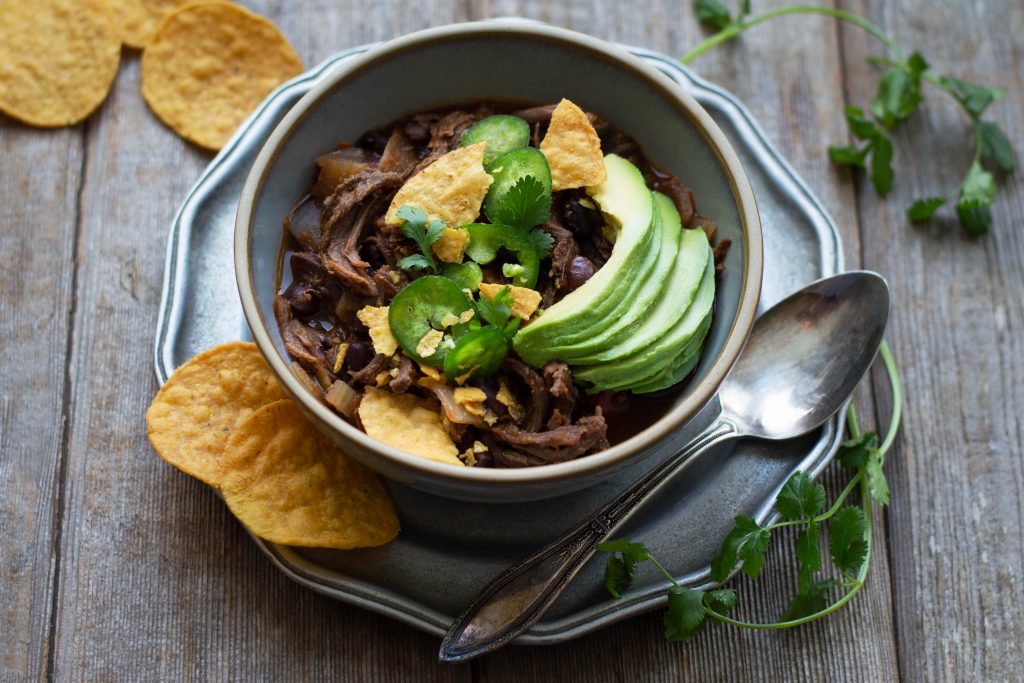 This rich, meaty chili is an ideal crock-pot meal. The lager makes a great base but if you're concerned with adding, feel free to use a non-alcoholic beer. Toppings definitely complete the dish so do not skip on the corn chips and fresh avocado.
Carne Asada Crockpot Chili
Serves 6
Ingredients:
2 tablespoons olive oil
3 lbs. carne asada
1 red pepper, diced small
1 orange pepper, diced small
1 red onion, diced small
1 jalapeno, diced small (I left the seeds but remove if you want less heat)
2 plum tomatoes, diced
2 cloves garlic, sliced thin
3 tablespoons tomato paste
1 teaspoon smoked paprika
1 teaspoon of garlic powder
1 teaspoon cumin
1 (12 oz) can of lager-style beer (I use a very low percentage beer for flavor but if you feel more comfortable use a non-alcoholic beer)
1/2 cup salsa verde
1 cup chicken stock
1/2 teaspoon sea salt, plus more to taste
2 (14.5 oz) cans of black beans, rinsed and strained before adding
Garnish:
Sliced avocado for serving
Cilantro leaves for serving
Corn chips for serving
Sliced fresh jalapenos for serving

Make It:
Add all the ingredients of the chili, except the beans, to a crock-pot and cook on high for 6 hours.
Remove the carne asada onto a plate and allow it to cool slightly. Then shred the carne asada and return to the pot. Add in the beans at this time. Season to taste with salt and serve warm.
Top with your favorite garnishes.