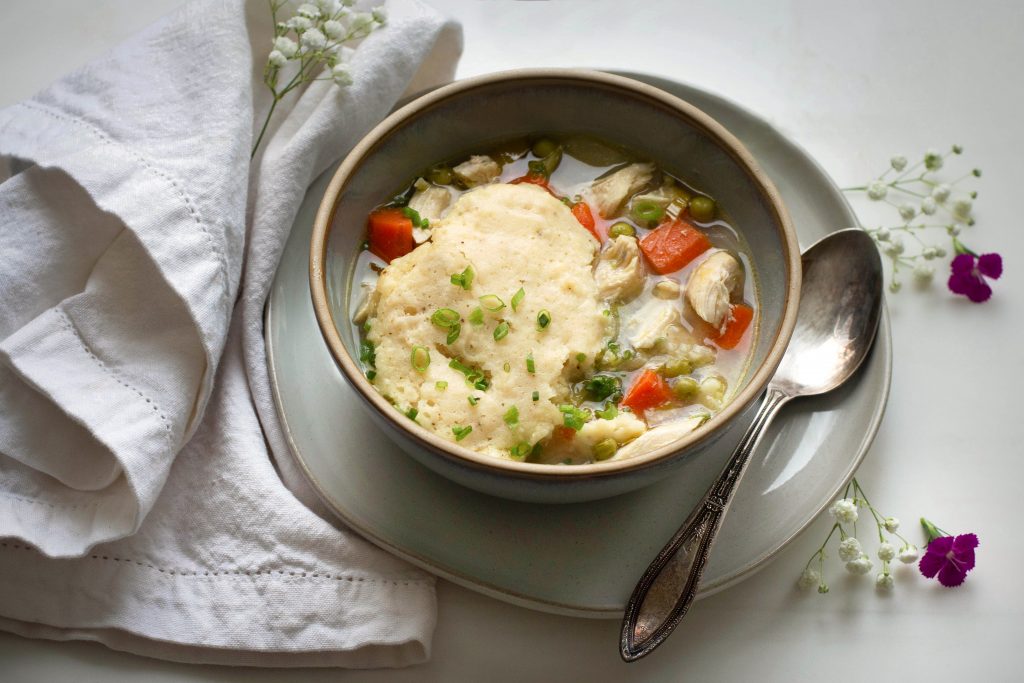 This is absolute comfort food. The chicken is so tender, the dumplings fluffy and soft and the tender vegetables bright and delightful. I always find that leeks add so much depth of flavor to soups and here is no exception. This is the ideal dinner for those last cold nights before the warm spring sets in.
Crock-Pot Spring Chicken and Dumplings
Serves 4
Ingredients:
2 tablespoons olive oil
1 leek, washed thoroughly, trimmed, and sliced into thin crescents (2 cups)
1 large carrot, peeled and diced (2 cups)
1 medium-sized Vidalia onion, diced (1 1/2 cups)
1 1/2 lbs of boneless, skinless chicken breasts
2 cloves garlic, sliced
1 small bunch of fresh thyme (about 5 sprigs)
6 cups of chicken stock
1/2 teaspoon salt
1 cup frozen peas
Dumpling Ingredients:
2 tablespoons melted butter
1 egg
3/4 cup milk
1 1/2 cups of all-purpose flour
2 teaspoons baking powder
Sea salt and freshly cracked pepper
Make It:
Add your olive oil, leek, carrot, onion, chicken, garlic, thyme, and stock to a crock-pot. Add in the salt and heat on high for 4 hours.
After 4 hours, remove the thyme and discard. Remove the chicken, shred and return to the pot with the peas. Season to taste with salt.
Then in a medium-sized bowl, mix the ingredients of your dumplings. The batter should be sticky and thick. Use a large spoon to scoop dumplings into the crock-pot. Allow as much room as possible to separate the dumplings as they expand in cooking. I get 4-5 large dumplings out of the batter.
Cover the crock-pot again and cook the dumplings another hour. Test with a knife to make sure they are cooked through. If they are not fully set, cook another 15-20 minutes then serve warm.