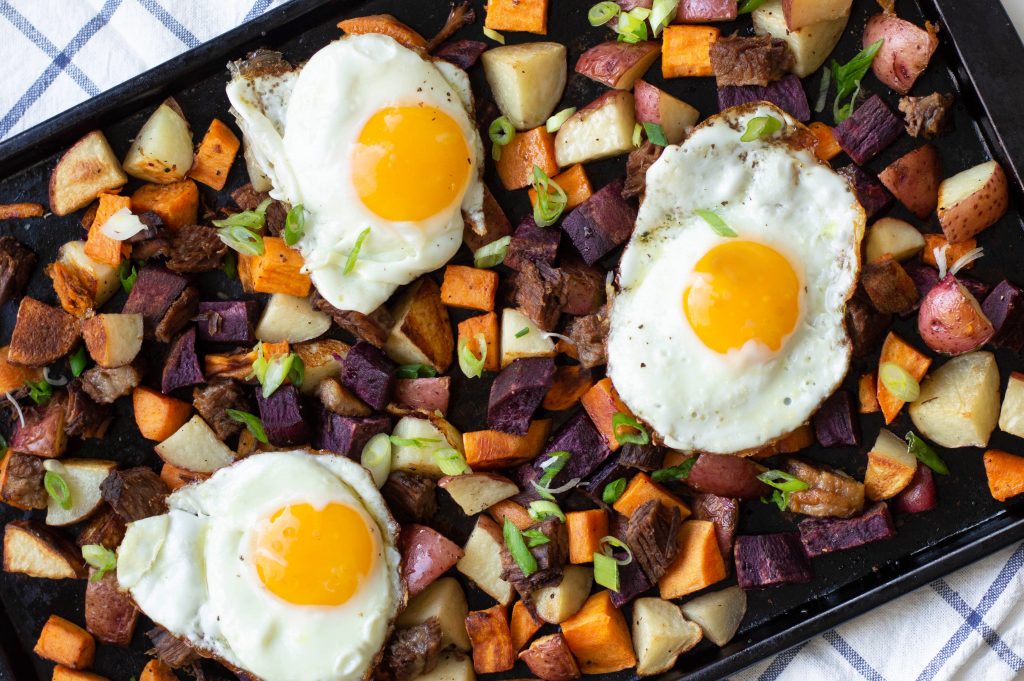 I have a rule with leftovers: the exact same meal is served once more (which gives me a glorious break from meal planning). But then, I take the leftovers (because I really am good at meal planning) and transform them for subsequent meals. This brisket hash is the prime example. I always have a brisket at my seder. It's a recipe that my father-in-law said locked me in when I was converting to Judaism. I have a killer recipe in my cookbook, The Ultimate New Mom's Cookbook but am also experimenting with fun new recipes like Eden Grinshpan's brisket which was also absolutely delicious and totally different. Hers was a beautifully sliced, seared, and slow-cooked roast and mine a juicy, bbq style pulled brisket (both work amazingly with the below recipe). If you haven't guessed I could go on here for a bit on the brisket.
What makes this hash great is the fact it's a sheet pan meal you can make in under 30 minutes. My children ask for breakfast dinner more often than not. They love eggs. Who am I to begrudge them when it's about the EASIEST, most affordable meal to prepare. This brisket hash is ideal for the nights after your seder when you want a quick, delicious meal without a lot of cooking. I opted for tricolor potatoes because it makes the dish really beautiful and adds a lot of flavor. You can always stick with one type of potato as well for shopping ease. If you are not a big fan of cleanup (and let's be honest, who is?) there's even an option for cracking and cooking your eggs right onto your baking sheets to keep dishes down.
Brisket Hash
Serves 4-6
Ingredients:
1.5 lb red potatoes, diced
1 large purple potato, peeled and diced
1 large sweet potato, peeled and diced
Extra virgin olive oil
Sea salt and freshly cracked pepper
1 1/2 cups diced brisket
4 large eggs* (cook an egg for each serving)
1/4 cup diced scallions

Note on eggs: if you want to avoid another dish, you can actually crack the eggs right onto your baking sheet and cook for about 5 minutes. Just ensure you have olive oil underneath. I opted for frying the eggs separately mostly because it was prettier.
Make It:
Preheat your oven to 425F. Divide your potatoes between 2 baking sheets. Drizzle both baking sheets with olive oil and using your hands, coat all the diced potatoes in olive oil. Season with salt and pepper. Bake for 15 minutes.
After 15 minutes, turn the potatoes to get golden brown on the other side. Also, add in the diced brisket. Cook for an additional 10 minutes.
Finish by cooking your eggs (see above note about if you want to cook the eggs right on the pan). I opted for frying my eggs in a large frying pan on one side until crispy brown edges formed and the yolk just set. I set my sheet pan over the eggs for a minute to help set my eggs (not too long though because this will cloud over the yolk with white). Season eggs with salt and pepper.
Finish by sprinkling on the diced scallion. Serve warm.
Other Fun Additions:
Sliced avocado for a creamy, buttery addition
Shallots, for yummy caramelized aromatics as an addition (bake on the sheet pan with potatoes)
Aioli, for a delicious creamy sauce, to drizzle on top
Harissa, for adding some heat (not for the little kids 🙂 )
Bell pepper, to add some veggies (bake on the sheet pan with potatoes)
Sauteed spinach, for additional veggies, nutrition, and also because its tasty (bake on the sheet pan until wilted AFTER potatoes have finished cooking)*this will cook fast