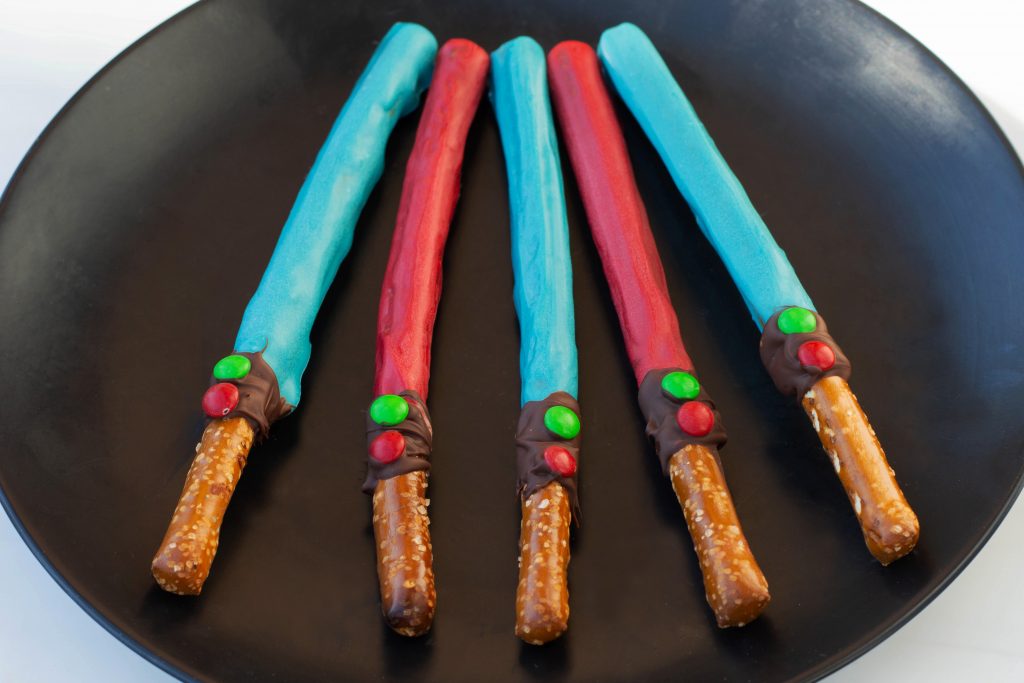 Star Wars Lightsaber Pretzel Rods
Ingredients:
Candy melts (assorted colors, use 1/2 cup for each color)
1/2 cup chocolate chips
Mini M&Ms (2 for each lightsaber, I used red and green)
Pretzel rods (1 per lightsaber)
Make It:
Line a baking sheet with parchment paper. Then separate your candy melt colors into microwave-safe bowls. Microwave your candy melts in 30-second intervals, stirring several times until melted completely (should take about 1 1/2 minutes). Use a spoon to pour the candy melt over the pretzel rod, being sure to leave at least 2 inches at the bottom for easy gripping. Spread the candy melt to form an even coat and let excess drip off before placing on the parchment. Repeat in the other colors until you have all the lightsaber you desire (1 per child is enough).
Next, melt your chocolate chips in 30-second intervals until melted. Drizzle the chocolate near the base of the lightsaber to act as the hilt. While the chocolate is still wet, add 2 mini M&Ms to serve as the buttons of the lightsaber. Refrigerate the finished lightsabers until the chocolate has set.
Enjoy!