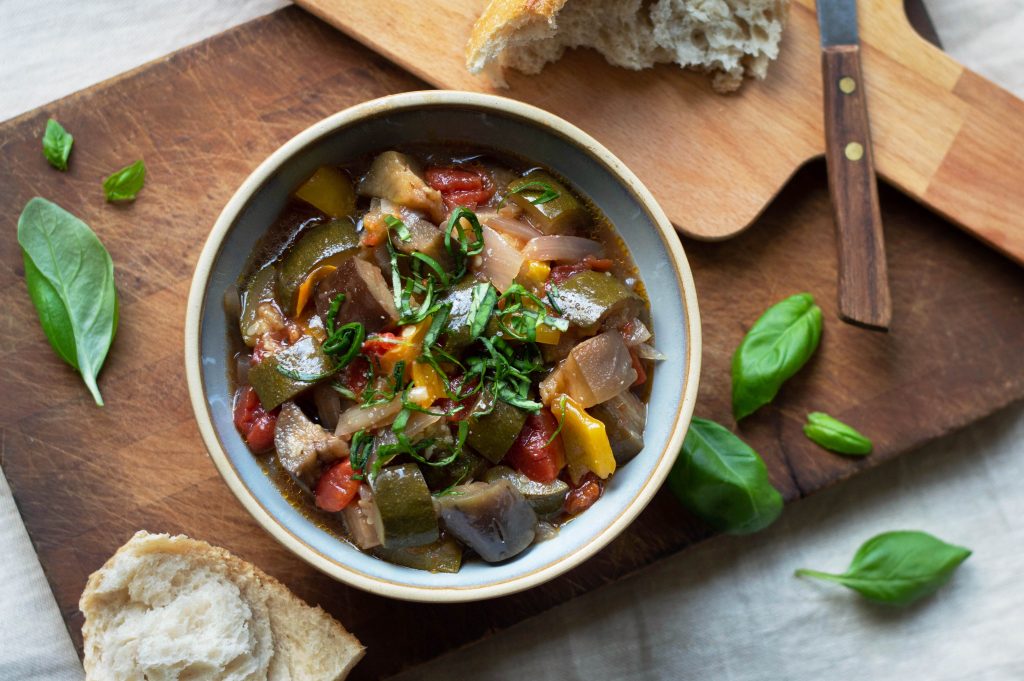 If you want to make use of some wonderful fresh produce, this recipe is a nice way to go. Summer squash, eggplant, and bell peppers make up the bulk of this rustic veggie stew. Fresh thyme, fresh basil, and good olive oil pull the dish together and make each bite burst with sweet oil and herbaceous notes. If you want to make this a more substantial meal, serve with some burrata cheese or a vegan pesto for added protein.
Crock-Pot Ratatouille
Ingredients:
1/2 cup olive oil
1 medium-sized eggplant, diced
2 bell peppers, stem removed, seeded, and diced (I chose yellow and orange)
1 (28 oz. can) of diced tomatoes
1 red onion, thinly sliced
3 zucchinis, stem removed and diced
5 sprigs of fresh thyme
2 cloves of garlic, sliced
1/2 teaspoon salt plus more to taste
Make It:
Add all the ingredients to the Crock-Pot and cook on high for 6 hours. Remove the thyme and discard.
Then, season to taste with salt and serve with good crusty bread for dipping.
Note:
This makes an INCREDIBLE base for tomato sauce if you want to puree some for pasta (it's also a secret way to get those veggies into kids).