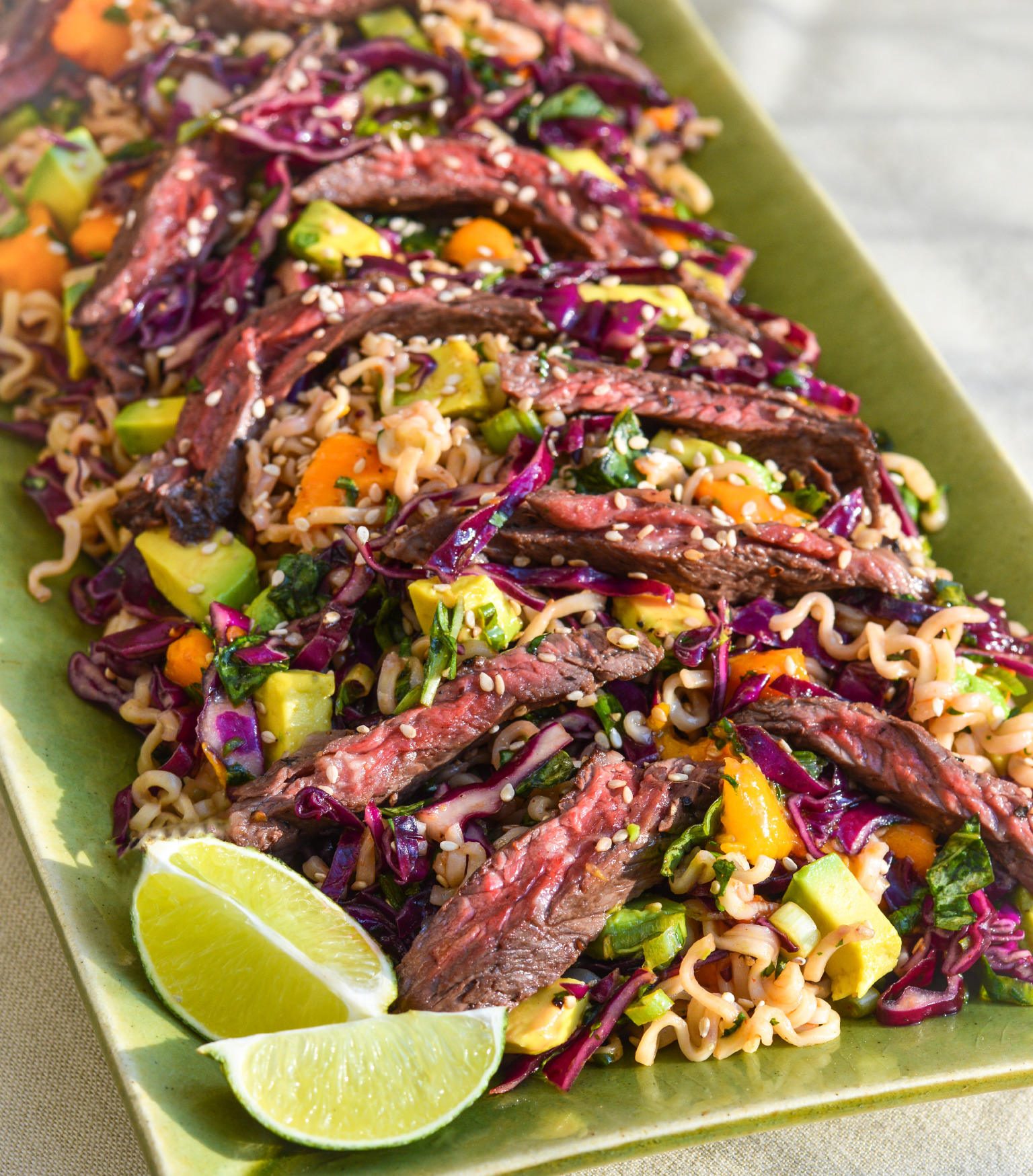 Sinfully Succulent Skirt Steak and Mango Salad
From The Ultimate New Mom's Cookbook
4 large servings
This is the perfect meal when you don't want to heat up the kitchen. Don't be fooled by its name; this is full meal that's ideal for adults and kids alike.
You can also make most of the meal in advance then top with the steak just before serving. Save any leftovers for a great lunch the next day.
Dressing:
2 tablespoons sesame oil
3 tablespoons soy sauce
2 tablespoons sweet chili sauce
1 tablespoon Sriracha (if you don't like spicy omit or only use 1 teaspoon)
1 lime, juiced
Salad:
3 packages ramen noodles
1 cup diced mango
2 ½ cups shredded cabbage (I like to do a mix of red and white)
½ cup chopped fresh basil
½ cup chopped fresh cilantro
½ cup diced scallions (3-4 scallions depending on their size)
1 tablespoon canola oil
1 ½ lb. skirt steak
Sea salt and freshly cracked pepper
1 Hass avocado, diced
Sesame seeds for garnish
Make It:
In a small bowl combine the ingredients for your dressing. Next, bring 6 cups of water to a boil in a medium stockpot. Add ramen and boil 3 minutes. Strain and use kitchen shears to cut up the ramen into shorter noodle lengths for easy eating. I just snip several times in the colander to cut up the bigger clumps. Transfer noodles to a large bowl and toss with dressing. Add mango, cabbage and herbs. Refrigerate until you're ready to cook your steak.  
When you are ready to cook your steak, bring your cooled ramen salad to the table to allow it to come to room temp. Then, in a large sauté pan, add canola oil and heat for 1 minute. Meanwhile, season steak generously with salt and pepper. Once oil is hot, sear steak 2-3 minutes per side until medium rare and set on a board to cool for about 3 minutes before slicing.  
As steak is cooling, serve the salad onto individual plates or one large platter. Top with diced avocado and sesame seeds. Then finish with the sliced seared/grilled steak. Serve warm.