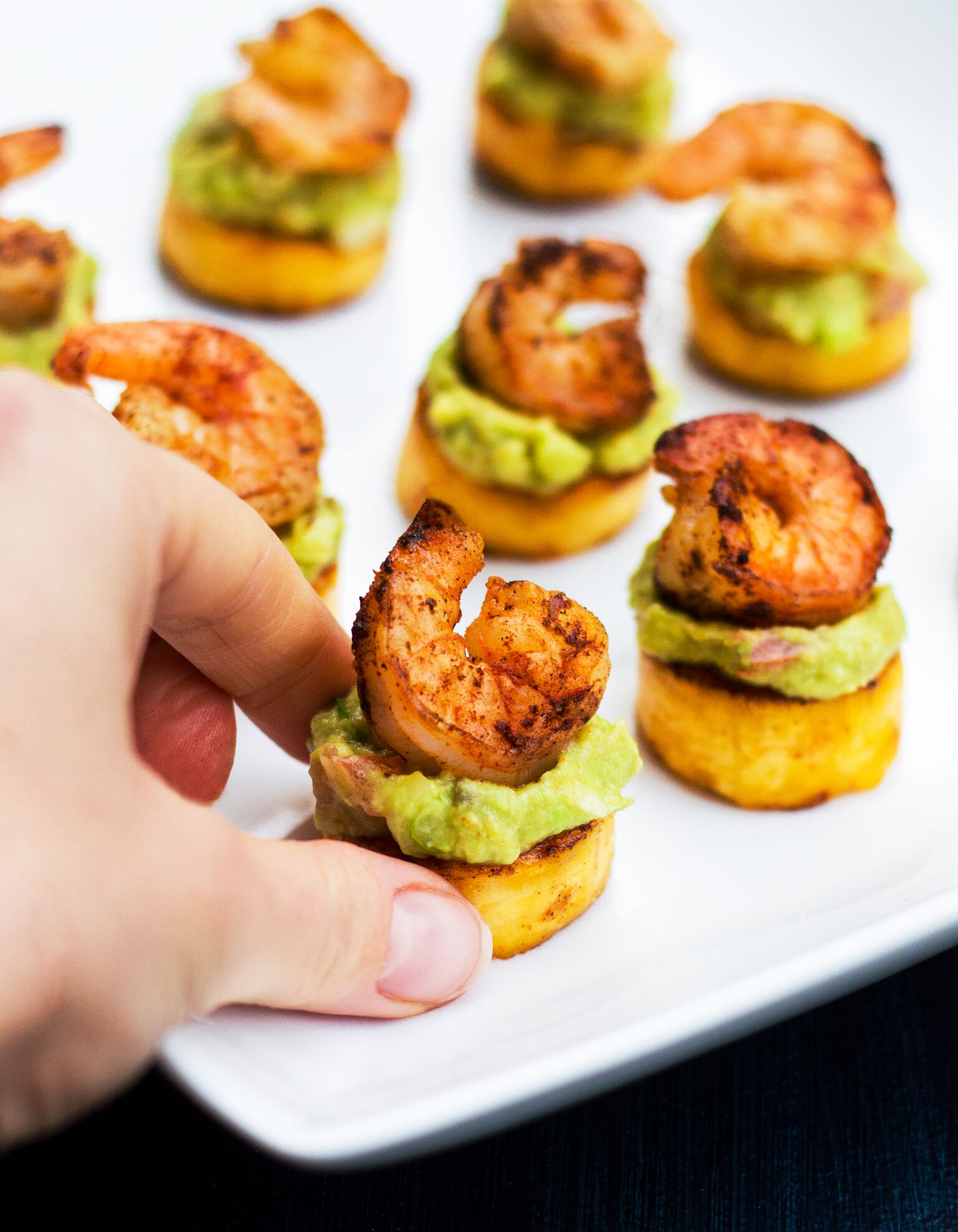 Shrimp and Guacamole Plantain Bites
Makes 18
This appetizer is a crowd favorite. All 3 components are wonderfully snackable on their own and when combined, simply rock. Best yet is this is a great recipe that doesn't heat up the kitchen for the last hot days of summer.
Plantain Ingredients:
2 tablespoons salted butter
2 large ripe yellow plantains, peeled and sliced into 1" rounds
1 tablespoon Brown Sugar
1 teaspoon Smoked Paprika
Sea Salt
Guacamole Ingredients:
2 hass avocados
1 lime juiced
2 tablespoons green salsa
½ cup diced tomato
¼ cup diced scallion
Seared Shrimp Ingredients:
1 tablespoon salted butter
18 shrimp (51-60 count)
1/2 teaspoon Cumin
1/2 teaspoon Smoked Paprika
2 wedges lime

Make the Plantains:
Add 2 tablespoons butter to medium-sized sauté pan and heat on med-high until it bubbles and melts. Add plantains in a single layer (you will have to do 2 batches). Season the tops of the plantains with a sprinkling of brown sugar and smoked paprika. Fry 1-2 minutes per side until crisp and golden brown. Flip and fry another 1-2 minutes. Remove to a paper towel lined tray and season with sea salt. Repeat with second batch, adding more butter if needed.
Make the Guacamole:
Meanwhile in a small bowl, mash avocadoes then add in lime juice and green salsa and stir to combine. Finish with diced tomatoes and scallions, mixing once more, and season to taste with sea salt.
Make the Shrimp:
Next, sear shrimp 1-2 minutes per side in the buttered pan. Season it as it is cooking with cumin, salt and smoked paprika. Once just cooked, remove from heat and finish with a squeeze of lime juice.
To Put it All Together:
To assemble, top each plantain with a small dollop of guacamole then set a shrimp on top. Serve while plantains and shrimp are still warm.