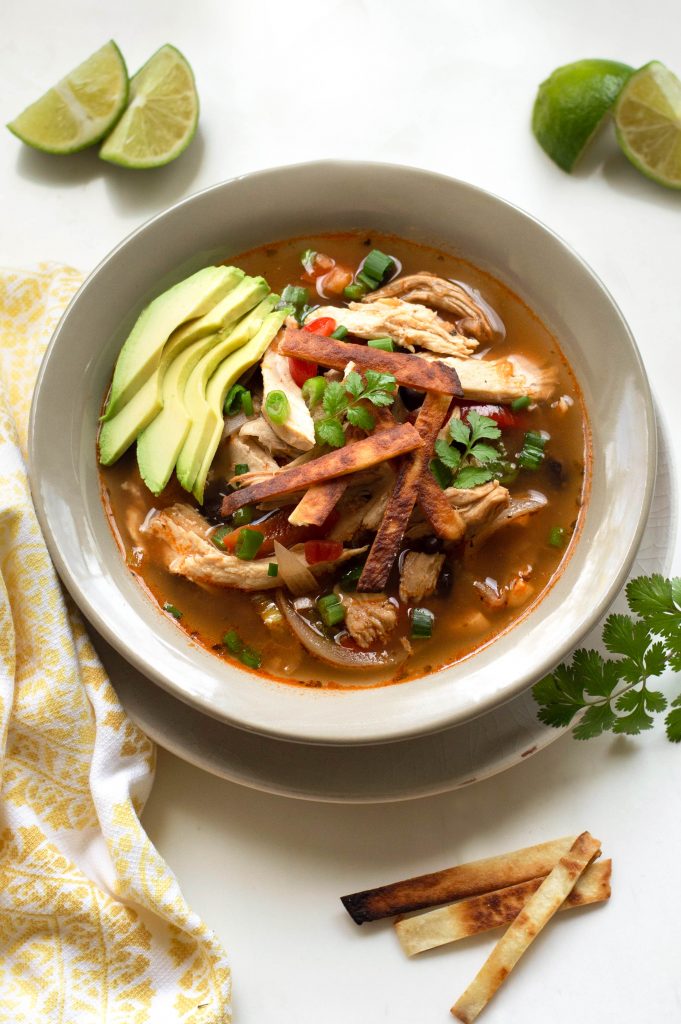 Festively Fun Chicken Tortilla Soup
Serves  8
A week of rain in the forecast has me thinking soup. Even though it's hot out, this soup is fast to make and very inviting for young eaters. This is also a great alternative to traditional chicken soup for those fighting the dreaded summer cold. It still warms you up and comforts but it has a smokiness and depth of flavor that makes it feel much more like a meal. Not to mention all the toppings which make it both festive and fun for the whole family.
Ingredients:
5 tablespoons canola oil, divided
6 corn tortillas, cut into ½ inch thick strips
1 ½ lb. chicken breasts
Sea salt and freshly ground pepper
1 cup diced red onion
1 cup diced red bell pepper
2 cloves of garlic, minced
1 cup green salsa
1 teaspoon cumin
½ teaspoon smoked paprika
1 can diced tomatoes (14.5 oz.)
10 cups chicken stock
½ cup canned black beans, rinsed
Garnish:
1 lime cut into quarters
Grated cheddar cheese (about ½ cup)
Cilantro leaves (about ¼ cup)
1 avocado, diced
Sour cream to taste
Make It:
Line a plate with a paper towel. Then, in a large stockpot or Dutch oven, add 4 tablespoons of olive oil and bring to high heat until just bubbling. Add in tortilla strips and fry until golden brown and crunchy about 4-6 minutes. You may have to reduce heat once it starts bubbling to avoid burning the strips and move them around a couple times to keep the heat evenly distributed. Once fried, remove to the paper towel lined plate and season with sea salt. Add another tablespoon of olive oil to the pot and then add in chicken breasts. Season with salt and pepper and sear until cooked through, about 3-4 minutes per side depending on the thickness of your chicken breasts. Cook until no pink remains then set aside on a plate to rest.
In the remaining oil in the pot, cook your onions and red pepper until softened about 5 minutes. Add additional olive oil if needed. Next, add in garlic and cook another minute, stirring as you go. Then add in green salsa, cumin, smoked paprika, diced tomato and chicken stock. Stir well. Bring mixture to a boil then reduce to a simmer. In the meantime, shred your chicken breasts. Once mixture has simmered several minutes, drop in chicken and black beans. You just want to give the flavors enough time to mingle. If you're in a rush just dump and cook and eat. It will still be delicious but if you have more time, give it 10 minutes.
Ladle hot soup into bowls and dress with a squeeze of lime juice, shredded cheese, cilantro, tortilla strips, avocado and sour cream. Savor and enjoy!