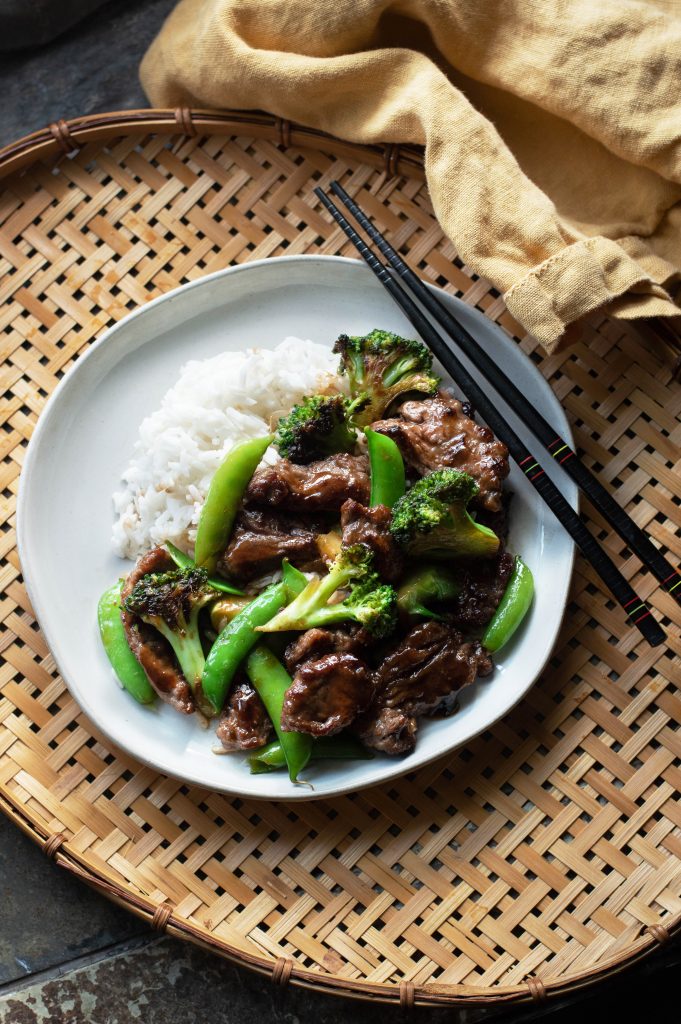 This is mind-blowingly crispy, tender, and juicy steak with an irresistible sauce and the healthy green of your choice to round it out. If you haven't fallen in love with oyster sauce yet, get prepared to do so.
You'll want to prep all your ingredients in advance since it is a fast cook. For the broccoli, I use the entire head, stem and all. The stalk is very sweet, the leaves cook up well and I don't even bother to peel it.
Beef and Broccoli in Oyster Sauce
Serves 2
Ingredients:
1 lb. skirt steak, sliced against the grain into thin strips
1 tablespoon corn starch
Sesame oil for cooking
1 head of broccoli, sliced into large florets (which I slice in half to have a flat edge for easier cooking) and bite-size stems (use it all)
1 cup of sugar snap peas, trimmed
2 large cloves of garlic, sliced
3 tablespoons oyster sauce
1 tablespoon low sodium soy sauce
Jasmine rice for serving
Make It:
Prep your ingredients in advance since this dish cooks hot and fast. In a medium bowl, toss your skirt steak with corn starch until coated. Set aside until ready to cook.
Add 2 tablespoons sesame oil to a large frying pan or wok (with a lid) and bring to high heat. Preheat for 1-2 minutes. Add in broccoli and cook 3-4 minutes until beginning to brown on the bottom. Add 1/4 cup water and quickly cover to steam. Steam for 1 minute and then add in peas. Steam for another minute and remove to a plate.
Next, add in 2 more tablespoons of sesame oil and reduce your heat to medium-high. Saute your sliced garlic for about 1 minute until golden brown. Remove quickly, this will cook fast. Add your skirt steak and cook for about 3 minutes on the first side until golden brown. Flip and cook 1-2 minutes to finish cooking on the 2nd side and remove to the plate.
Add your oyster sauce to the pan and allow to bubble and reduce for 1-2 minutes. If it is bubbling too fast or reducing greatly, turn off your heat. Add in the soy sauce and mix to combine. Return the beef and veggies and mix to coat. The sauce should be thick and glossy and coat all your ingredients.
Serve over jasmine rice and enjoy!