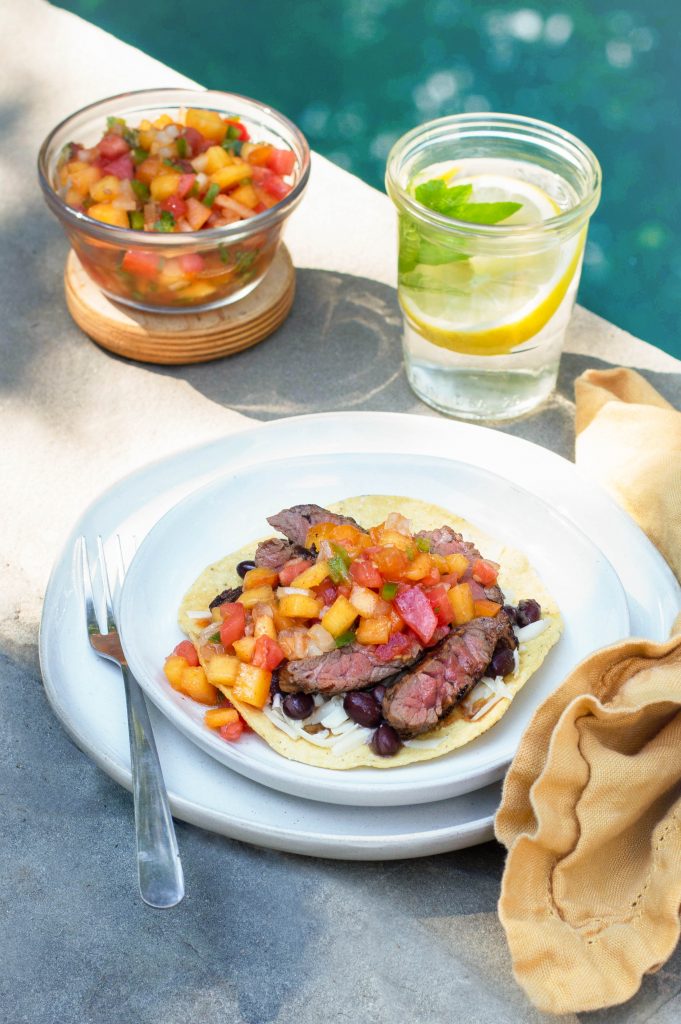 This recipe is just frickin' perfection. Juicy, grilled steak mixed with sweet peach salsa is a combination that sets off fireworks. This is so easy to make as well! If you're looking for the ideal recipe to celebrate a summer night or for a lip-smacking Labor Day recipe idea, look no further.
Carne Asada Tostadas with Peach Salsa
Serves 4
Ingredients:
2 lbs carne asada (Trader Joe's has one that comes pre-seasoned)
1 (14.5 oz can) black beans, rinsed and strained
Tostadas (Guerrero is by far my favorite brand)
Grated sharp cheddar cheese
Peach salsa (see below)
Peach Salsa:
Ingredients:
2 cups of fresh diced peaches (about 1 large peach, it has to be ripe or just skip it)
1 cup diced tomato, the riper and fresher the better
1 jalapeno, seeded and deveined and finely diced
2 tablespoons fresh cilantro leaves
1 lime, juiced
1/2 teaspoon kosher salt
2 tablespoons extra virgin olive oil
1/2 teaspoon smoked paprika
Make the Salsa:
In a large bowl, combine all ingredients and mix to combine. Serve immediately or refrigerate until ready to use (this recipe is best the day you make it).

Finish the Tacos:
Preheat your grill to high heat or set up your pan (this recipe can also be pan-fried). Pan fry in olive oil for about 3 minutes per side or grill for 3 minutes per side. Rest for 5 minutes before slicing thin against the grain.
Meanwhile, top your tostadas with black beans and grated cheese and warm on the grill or in the oven until just warmed.
To serve, top each tostada with sliced carne asada and finish with a large spoonful of peach salsa. It is SOOOO good!