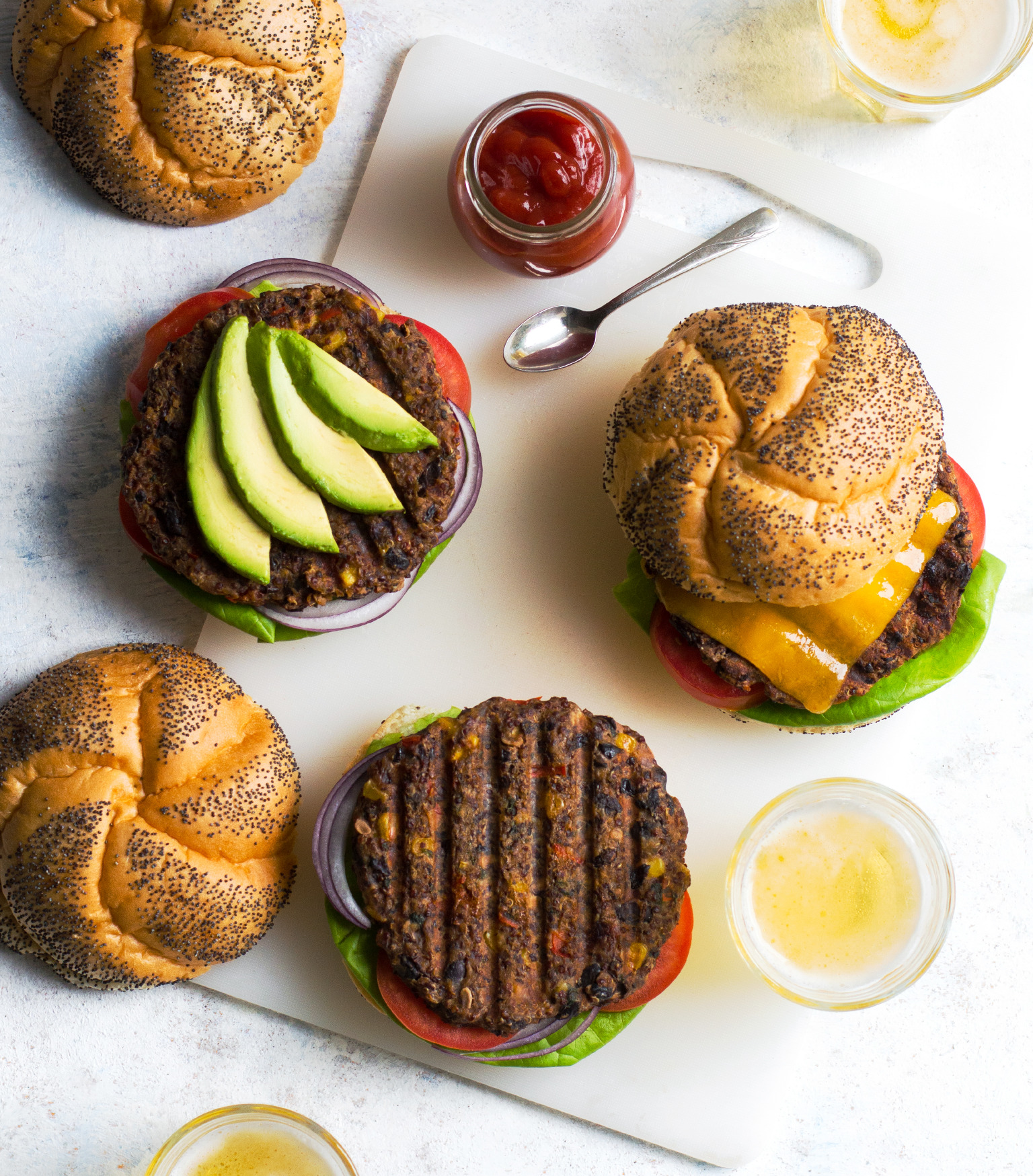 I have always loved veggie burgers even though I'm an avid omnivore. These are so flavorful you won't miss the meat, and they make for a great family dinner. It is also nice to have patties premade so you have a lunch ready to go in a hurry. This recipe is very toddler friendly and easy to cut into fun shapes for children who have moved on to finger foods.
Black Bean and Quinoa Burgers
From The Ultimate New Mom's Cookbook
Makes 6 burgers
Ingredients:
1 tbsp (15 ml) olive oil
½ cup (74.5 g) finely diced red pepper
½ cup (76 g) finely diced red onion
½ cup (82 g) frozen sweet corn
2 tbsp (2 g) minced cilantro leaves
2 cloves garlic, minced
½ tsp onion powder
½ tsp garlic powder
½ tsp sea salt
½ tsp smoked paprika
1 tsp cumin
1 cup (185 g) cooked red quinoa
1 (14.5-oz [411-g]) can black beans, rinsed and drained
1 large egg
½ cup (54 g) dry bread crumbs
¼ cup (31 g) all-purpose flour
Toppings:
Sharp cheddar cheese
Avocado
Lettuce
Tomato
Red onion
Make It:
In a medium sauté pan, add olive oil, red pepper, onion and corn, and sauté for 3 to 4 minutes on medium-high heat until just beginning to soften. Add the cilantro and garlic, and cook for another 2 minutes, then remove from the heat. Mix in onion powder, garlic powder, salt, paprika, cumin and quinoa until they're thoroughly incorporated.
In a medium bowl with a good fork, mash the black beans until about three-quarters of them are mashed, but you still see some whole beans. Add the sautéed vegetable-and-quinoa mixture from the pan to the beans, and mix to combine. Add the egg, bread crumbs and flour, and mix thoroughly.
To form into patties, lay a sheet of wax paper on top of a baking sheet, and make sure you have enough space for this baking sheet in your freezer. Wet your hands to make it easier to form the patties. Divide the bean-and-quinoa mixture into 6 equal parts and press them into patties. Lay the finished patties on the wax paper–covered baking sheet and freeze for at least 1 hour to overnight. Freezing makes the burgers hold together much better when cooking.
To heat the burgers, remove them from freezer and grill or pan fry until they're darkened on top and cooked through to the middle. These work great on an indoor grill and also cooked in a sauté pan.
To cook in a pan, add 1 tablespoon (15 ml) oil to the pan and cook on medium heat for 4 to 5 minutes per side until the outsides are browned and the insides are cooked through. Then add cheese, cover the pan and let it melt for several minutes before serving.
My favorite toppings are sharp cheddar cheese, avocado, lettuce, tomato and red onion.