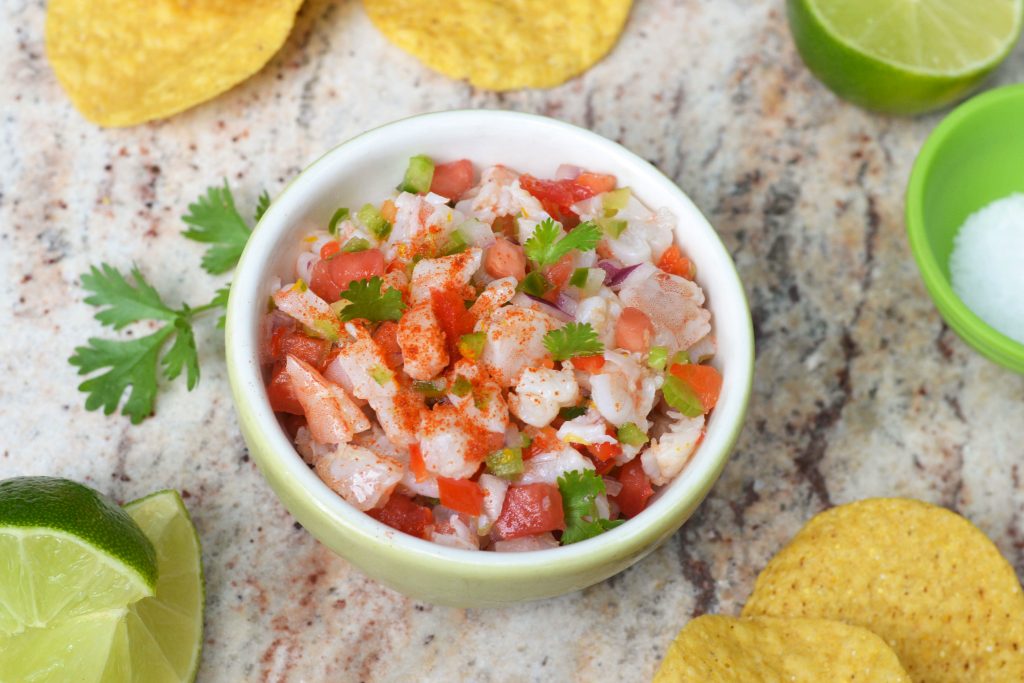 Its been so hot out, a recipe that basically cooks itself sounded just about right. Ceviche just gave me an excuse to eat more corn chips and pretend I was at the ocean and the world was normal again. I'll take any excuse. This recipe is very easy and super delicious. Since traditional ceviche uses raw shrimp and lets the citrus juice essentially cook the shrimp, I changed it up slightly to make it completely safe to eat.
Shrimp Ceviche
Serves 4
Ingredients:
1 lb. uncooked shrimp, deveined and shells removed
1/2 cup orange juice
1/2 cup lime juice
1/2 cup finely chopped tomato
1/4 cup finely chopped red onion
1/4 cup finely chopped red bell pepper
1/4 cup finely chopped jalapeno (remove the seeds if you're sensitive to heat)
2 tablespoons chopped cilantro leaves
1/2 teaspoon smoked paprika, plus more for serving
1/2 teaspoon kosher salt
Make It:
In a large frying pan with a lid, add an inch of water, add some salt and bring to a boil. Once boiling, turn off heat and add the shrimp in an even layer. Cover with the lid and allow to steam/poach for 2-3 minutes. This step should mostly cook the shrimp but still leave them tender. Strain when shrimp have turned opaque.
Next, in a large mixing bowl add orange juice and lime juice. Chop the shrimp and add to the juice. Add the remaining ingredients and mix to combine. Cover the bowl with plastic wrap and refrigerate at least 1 hour or until serving.
Serve chilled with corn chips to scoop. Enjoy!