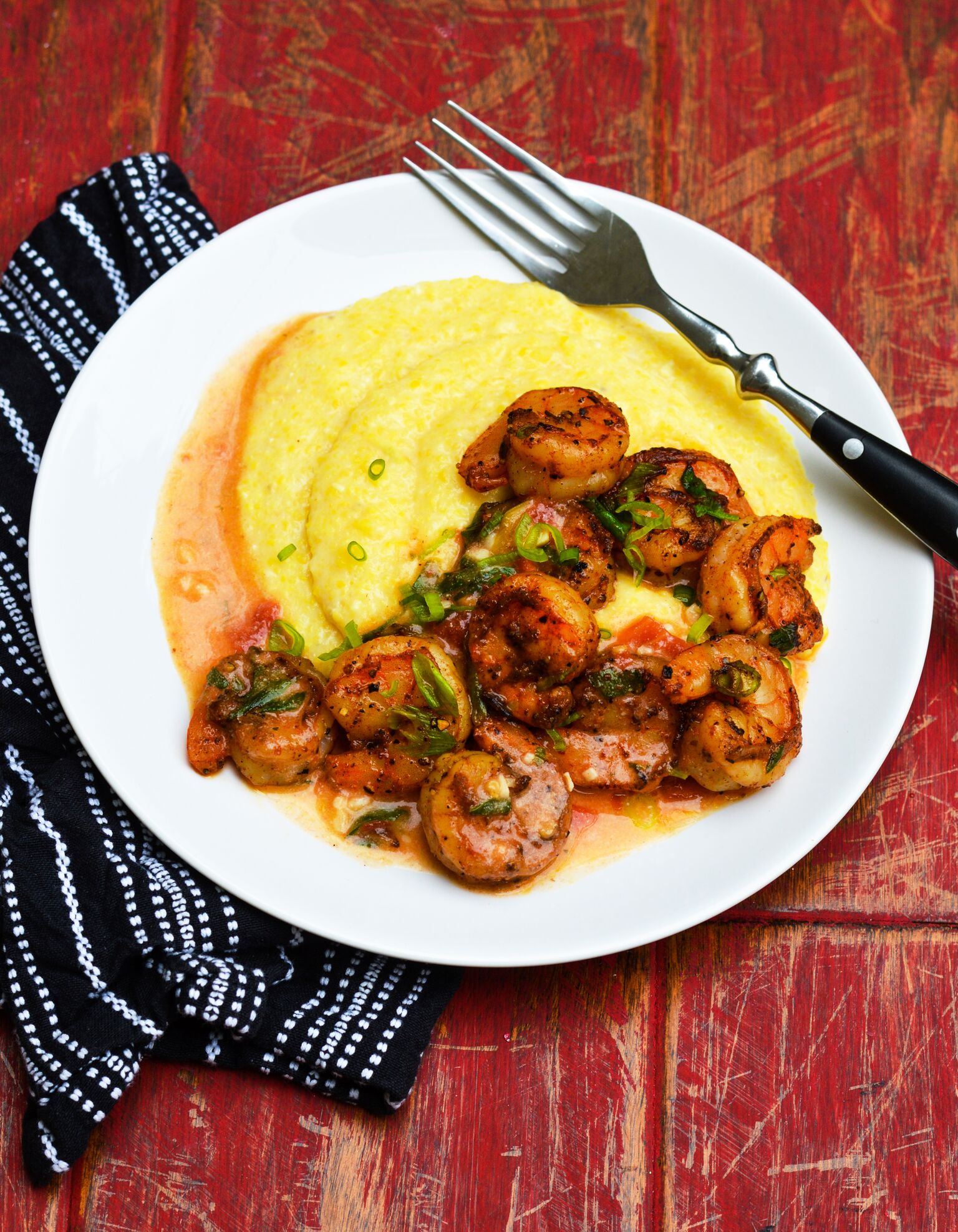 Cajun Shrimp and Creamy Gouda Grits
Makes 4-6 servings
My first time tasting shrimp and grits was in Louisiana on a press tour for Chile Pepper Magazine. Amidst the other delicious Southern treats of the trip, this was by far one of my favorite dishes.
I love grits. I love them with shrimp, I love them for breakfast with an over-easy egg, and I also love them with brisket. They are the perfect comfort food and very easy to make.
This recipe makes a great weeknight meal. You can skip the sauce if you're feeling lazy but it does add to the flavor.
Cajun Shrimp
1 lb (26-30 count)
2 teaspoons Cajun seasoning
1 ½ teaspoons smoked paprika
½ teaspoon cayenne
½ teaspoon freshly cracked black pepper
½ cup diced scallions
½ teaspoon sea salt
Make It:
Combine ingredients in a gallon size resealable plastic bag and seal. Then shake until well blended. Set aside to marinate as you prepare your grits.
Creamy Gouda Grits
4 cups chicken stock
1 cups corn grits
1 cups grated Gouda
¼ cup whole milk
1 tablespoons butter
Sea salt and freshly cracked pepper
Make It:
Add your chicken stock to a large cooking pot and bring to a boil on high heat. Whisk in your grits and bring mixture back to a boil. Then reduce to a simmer and whisk from time to time for 20 minutes until the grits have formed a porridge-like consistency.
After 20 minutes, stir in the Gouda. Switch from a whisk to a wooden spoon for easier cleanup. After the cheese has melted in, stir in the milk. Simmer for several minutes more until the grits are nice and creamy but not runny then finish with butter and season to taste with sea salt and freshly cracked pepper.
Creamy Tomato Sauce
2 tablespoons butter
2 cups chicken stock
1 tablespoon minced garlic
1 cup diced tomatoes
1 lemon, juiced
¼ cup milk
½ teaspoon cornstarch
¼ cup freshly chopped parsley
Make It:
The shrimp and sauce cook very quickly so wait to do this step until you are ready to eat.
In a large sauté pan or cast iron pan add in butter and melt on high. Once melted and pan is hot, add in your Cajun shrimp and sear 1-2 minutes on each side until just cooked. Remove the shrimp to a plate and set aside as you are making your sauce.
To make sauce, add chicken stock, garlic, tomatoes and lemon juice to the pan and bring to a boil. Cook 2-3 minutes until the tomato has softened and begun to blend into the sauce. Whisk in the milk and reduce the heat to simmer.
In a small bowl, mix the cornstarch with 1 tablespoon of water. Stir until you form a watery paste. Whisk into your sauce to thicken. Once your sauce is thick enough to coat a spoon, add in parsley and return shrimp. Remove from heat and serve on top of your Gouda Grits.