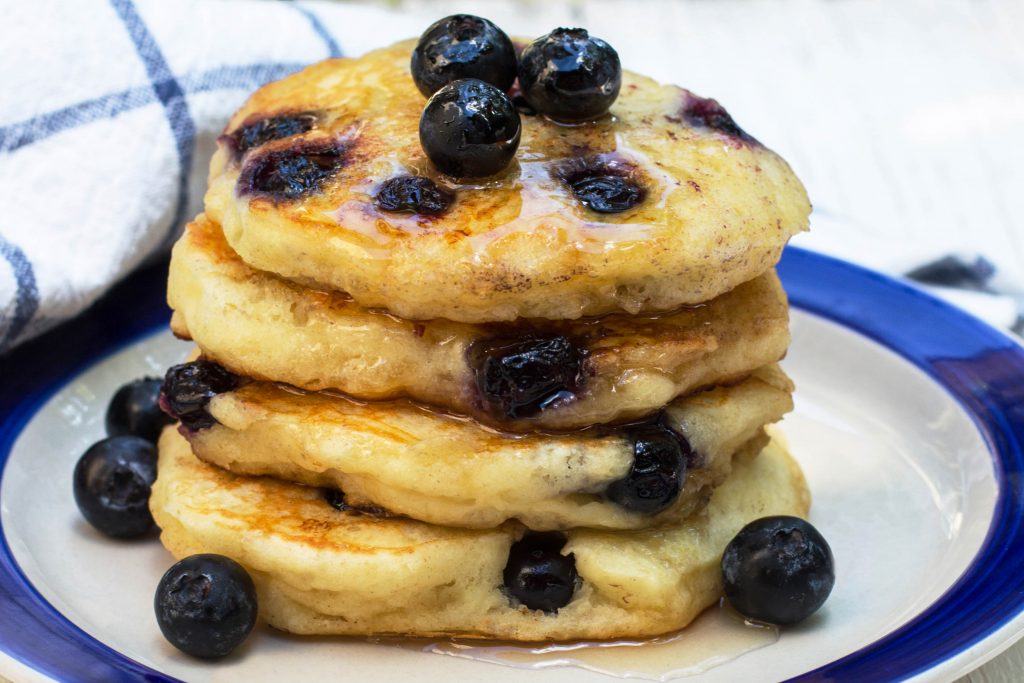 Here's a breakfast all families can get behind. Irresistibly fluffy, bursting with fresh blueberries and cooked in butter, these are heaven on a plate. This is one of our go-to weekend breakfasts and there's no better time to enjoy than now at the height of blueberry season. If you happen to have leftovers, though its understandable if you don't, they can easily be rewarmed in the oven the next day.
Blueberry Buttermilk Pancakes
Makes 14-18 pancakes
Taken from The Ultimate New Mom's Cookbook
Published by Page Street Publishing, distributed by MacMillan
Pancake Mix:
2 cups all purpose flour
1/2 teaspoons baking soda
2 teaspoons baking powder
1/2 teaspoons salt
1 tablespoon sugar
Wet Mix:
2 eggs
2 cups buttermilk
1 cup blueberries
4 tablespoons melted butter, plus more for cooking
Good maple syrup for serving
Make It:
In a large bowl, mix ingredients for pancake mix and whisk to combine. In a medium bowl, combine your buttermilk and eggs and whip till smooth. Add in melted butter and stir to combine.
Slowly pour in your wet ingredients into your dry and mix until just combined then add in blueberries. Don't overwork your batter. I like to fold in with a spatula until I no longer see clumps of flour.
Heat your griddle, cast iron or thick bottomed sauté pan over medium heat. Add in a pat of butter and ladle a spoonful of pancake mix into the pan. Cook pancakes 2-3 minutes per side. Flip when you see about 1/8 inch of cooked pancake around the edges. Keep checking your heat between batches to make sure pancakes aren't turning beyond a nice golden brown. I also like to keep the oven on 200 and pop in finished pancakes on a baking tray so when I've finished cooking all the pancakes, the first ones are still warm. Serve warm with maple syrup.