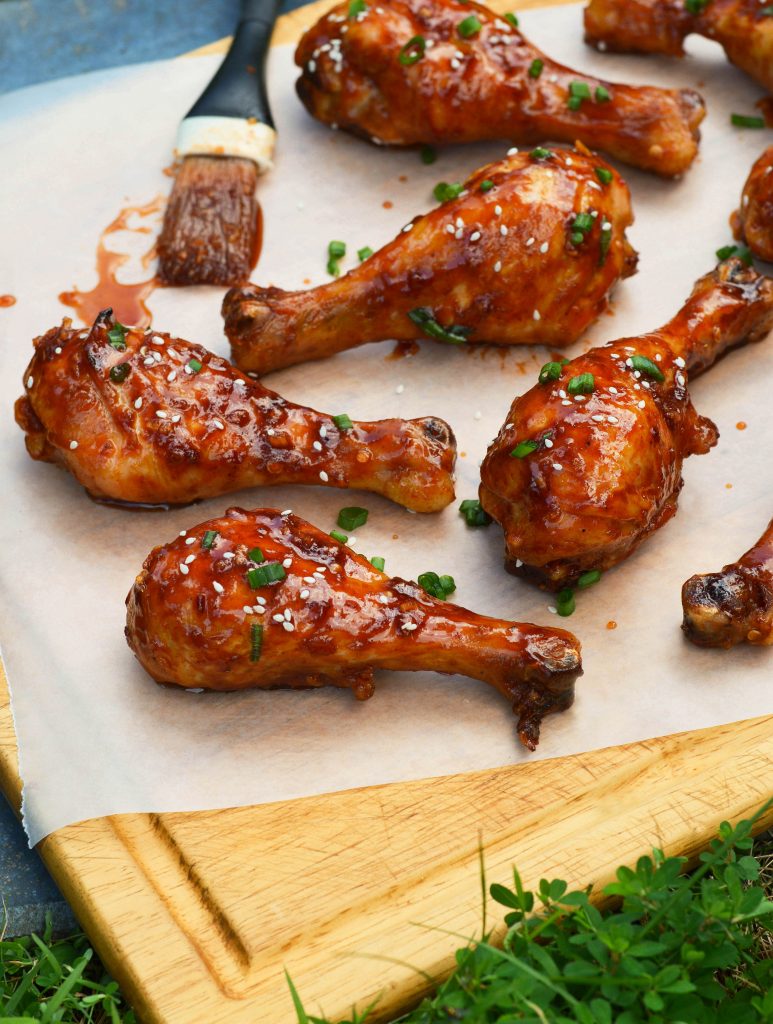 When you want finger-licking, spicy, sticky chicken bursting with flavor these should do. These wings were a result of me missing Gochujang Sauce (Korean BBQ Sauce) because I'm grocery shopping less frequently and limiting my number of stores. I used to grocery shop all the time. Not large runs, just a couple things I loved here and there. Now I come in with gloves, mask and shop like I'm stocking a bunker. Not the same experience but at least the meals haven't suffered too much. There's different inspiration to be found in using what you have, making food last longer and eliminating kitchen waste. We are even composting more which has me thrilled.
Back to the wings! So, this was a meal that I served the family. Consensus was that I needed to write this one down. So here I am, passing along a killer recipe. Bonus is that the drumsticks are an economical cut of chicken. I hope you enjoy!
Honey Soy Sriracha Drumsticks
Ingredients:
15 chicken drumsticks
Extra virgin olive oil
4 cloves garlic, minced
1 inch piece of ginger, peeled and minced
1/4 cup honey
1/4 cup soy sauce, plus 1 tablespoon (divided)
3 tablespoons BBQ sauce
2 tablespoons Sriracha
1 tablespoon Sambal Oelek (optional, you can substitute Sriracha)
3 teaspoons corn starch
Sliced scallions and sesame seeds for garnish
Make It:
Preheat your oven to 450F. While your oven is heating, lay your drumsticks on the counter and wipe them down with a paper towel. Lay them on a wire rack on a large baking sheet (do not overcrowd). Rub them all over with olive oil. Bake for 25-30 minutes.
As the chicken is cooking, start mixing your sauce in a medium-sized stock pot. Add garlic, ginger, honey, soy sauce, BBQ, Sriracha and Sambal Oelek. In a small bowl, whisk the remaining tablespoon soy sauce with corn starch until smooth. Add to the pot. Warm sauce and then keep on simmer on the stovetop.
Once drumsticks are crispy and have cooked through, remove from oven and dip in sauce using tongs (making sure to coat all over). Lower the oven heat to 350F and put the drumsticks on a new baking sheet on top of a rack- you can use the same rack (yes this is an extra  baking sheet but otherwise those drippings underneath will scorch and set off your smoke detector). Cook in the oven for 5 minutes. Repeat with sauce and another 5 minutes in the oven to set the sauce. Repeat a third time (the repetition makes a thick luscious layer of sauce so well worth it).
Garnish with scallions and sesame seeds to finish.