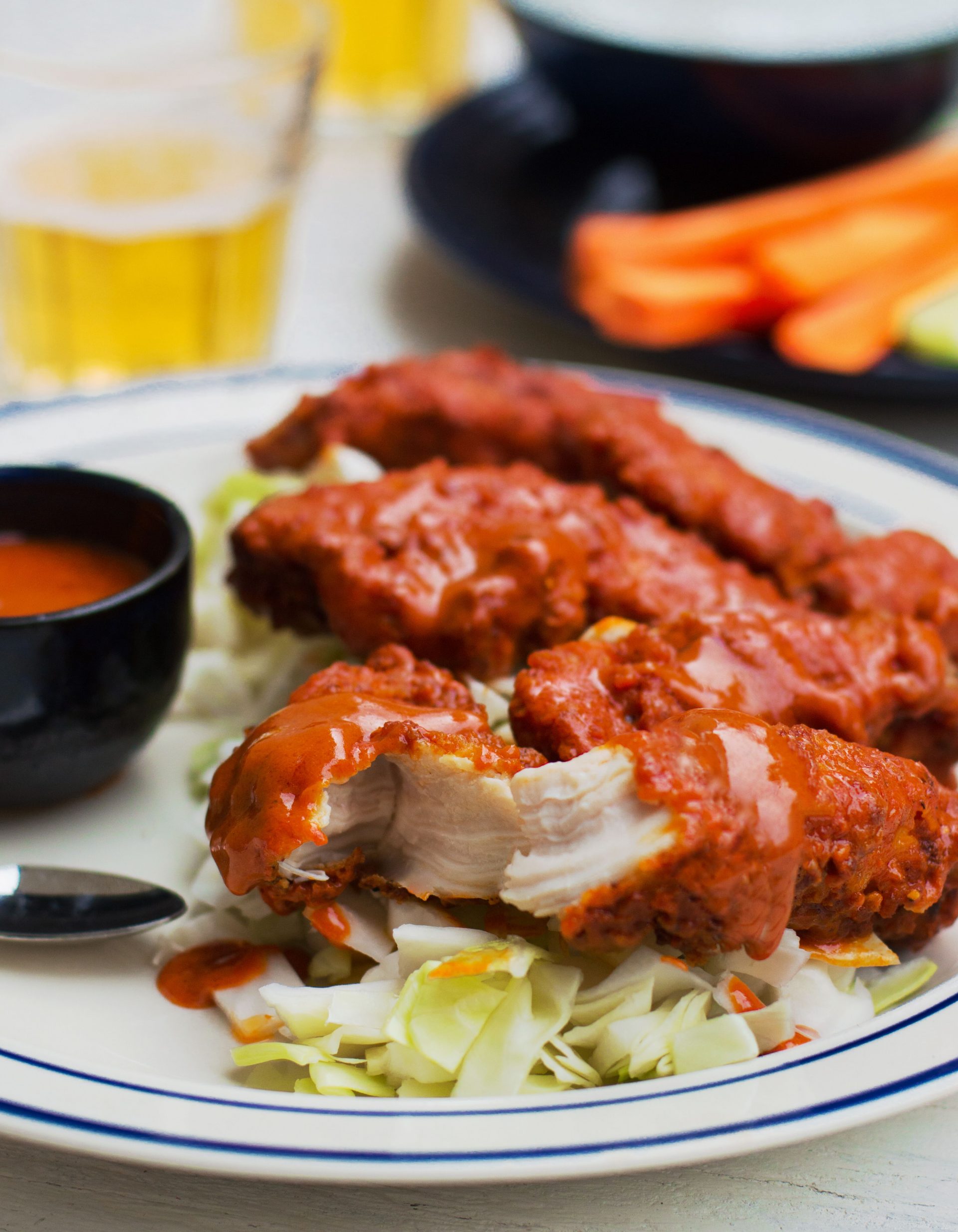 It's football season and that means its time for some crunchy, tender and spicy chicken wings. This recipe is in homage of a San Diego favorite brewery, Karl Strauss. Since I can't up and fly across the country whenever I get a craving, I figured I'd remake them myself.
Note: if I'm serving my kids, I would skip the Tapatio/butter dressing and simply serve these as chicken fingers.
Spicy Boneless Chicken Wings
Ingredients:
1 egg
1/2 cup buttermilk
Salt and pepper
1/2 teaspoon Cayenne
1 lb. chicken tenderloins
3/4 cup Flour
1/2 cup Panko bread crumbs
Oil for frying (vegetable or canola, enough to fill the pot by
5 tablespoons butter
6 tablespoons Tapatio
Garnish:
Sliced carrots
Celery sticks
Chopped cabbage
Blue cheese/Ranch dressing for dipping
Make It:
In a medium sized bowl whisk your egg with buttermilk until smooth. Season with salt, pepper and cayenne. Soak tenderloins in mixture and refrigerate for at least 10 minutes or as long as overnight.
In a medium bowl mix flour and Panko. Season with salt and pepper.
Heat your oil in a deep fryer or medium sized stockpot until it reaches 375F. Line a baking sheet with paper towels. Deep fry the chicken in batches for 3-4 minutes, until golden brown. Set finished chicken on paper towel lined baking sheet and repeat until all pieces are cooked.
In a small saucepan mix butter and hot sauce until thoroughly mixed. Dress finished wings by dipping chicken pieces with tongs until coated on all sides with hot sauce. Serve on a bed of chopped cabbage with celery sticks, carrots and dip of choice.