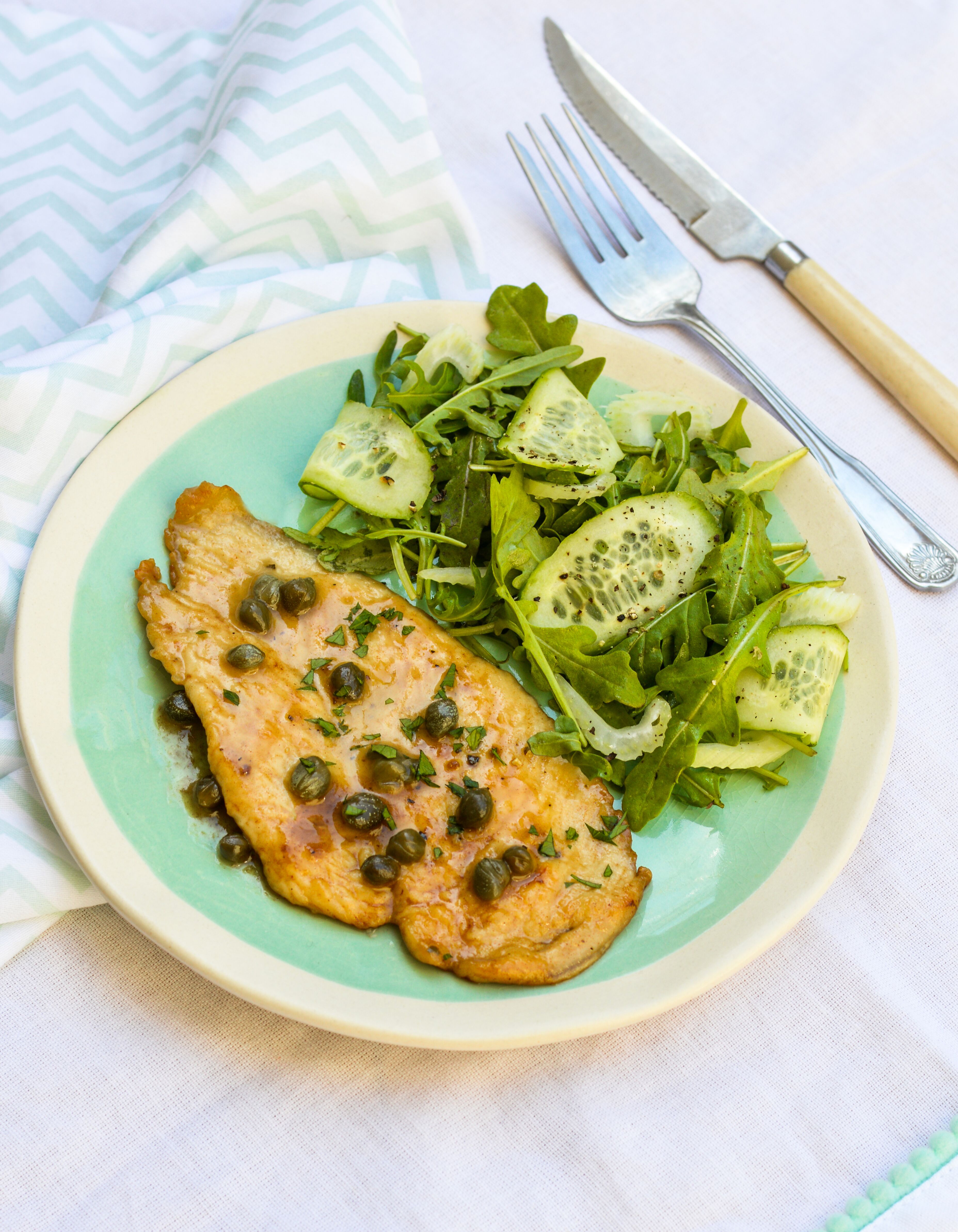 Whose kid likes capers? Well mine do! That's why I decided to throw up the recipe for chicken piccata on the blog today.
Unlike chicken marsala, chicken piccata doesn't require any special wine plus its faster to make because you're not frying mushrooms. This is just the perfect meal in a busy week that is comforting and easy to throw together.
Chicken Piccata
Serves 2
Ingredients:
½ cup flour
4 boneless, skinless chicken breast halves*
4 tablespoons butter, divided
Freshly ground pepper
¾ cup chicken stock
1 lemon, juiced (2 tablespoons)
2 tablespoons capers

Make It:
Add your flour to a plate and dredge your chicken breasts in flour, patting off any excess to leave just a thin coating. Place floured breasts on a clean plate to the side. Once all breasts have been coated lightly in flour, add 2 tablespoons of butter to a large frying pan and bring to heat on high until melted and sizzling.
Reduce the heat to medium-high to prevent butter from smoking and fry chicken breasts 1-2 minutes per side until golden brown and cooked through. Because these are so thin, they will cook very fast so it's important to have your butter hot enough to brown them as they cook. Remove finished breasts to another clean plate and season with pepper.
Then and add stock to the pan. Cook on high until reduced by half, scraping several times to get any brown bits in the sauce (about 4 minutes). Next, add in lemon juice and remaining butter and cook, stirring as you go, until butter is melted (about 1 more minute). Stir in capers and then return chicken breasts to the pan. Stir breasts until coated in sauce then remove from heat and serve immediately.
*Note: most butchers will prepare your chicken breasts for you free of charge. If you are buying packaged meat from the grocery store and want the same results, cut the breast in half lengthwise and sandwich between two pieces of wax paper. Pound with a meat mallet until the chicken is ¼ inch thick or less. If you don't have a meat mallet, the bottom of a frying pan works as well. For extra large breasts, you may need to slice the breast in thirds.