When you want something divinely tasty but a little different for dinner, these mole chicken tostadas fit the bill. They are perfect for Sunday game days and leftovers make an ideal packable lunch once repurposed as a rice bowl. That's tasty and practical!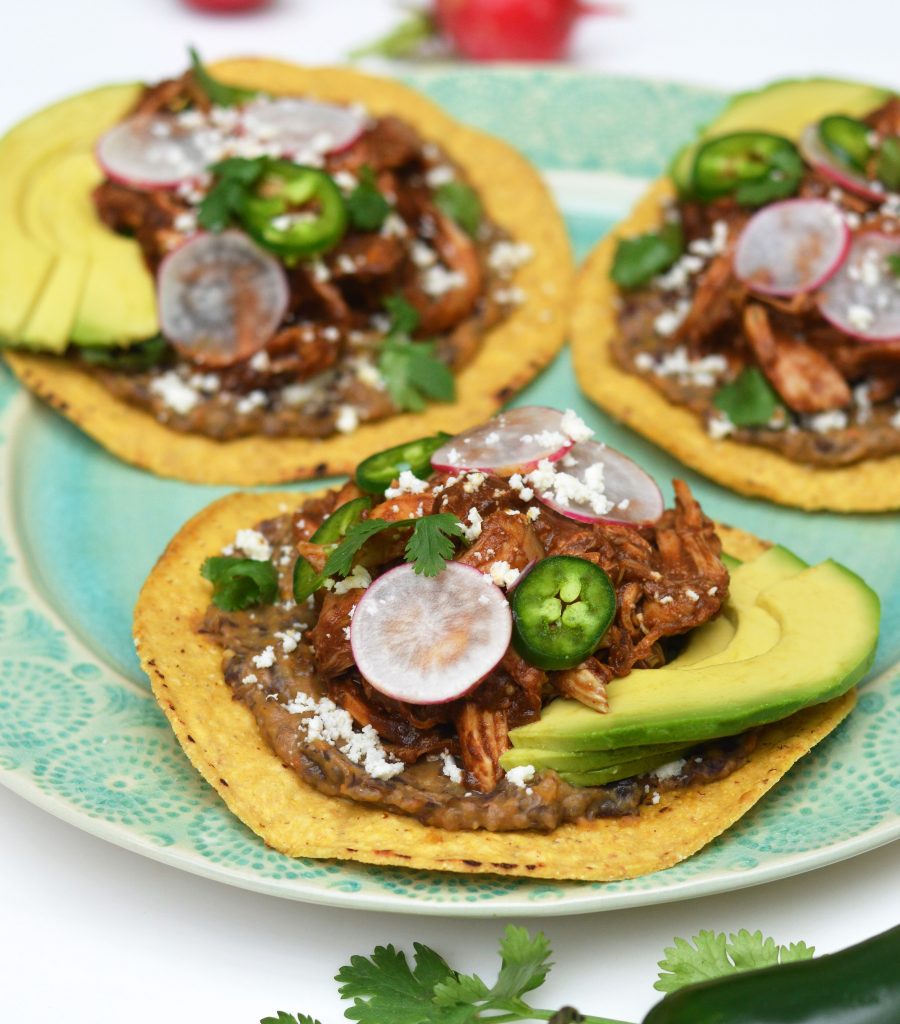 Mole Chicken Tostadas
Mole Ingredients:
1/2 can mole (I find Dona Maria Mole Sauce available at most supermarkets)
2 cups chicken stock
1 tablespoon unsweetened cocoa powder
3 tablespoons sour cream
1 rotisserie chicken, de-boned and shredded
Tostada Ingredients:
Tostada shells
Refried beans (heated on the stovetop or in microwave until warmed)
Crumbled cotija cheese
Fresh jalapeño, sliced
Radish, sliced thin (you can use a vegetable peeler)
1 Hass avocado, sliced
Fresh cilantro leaves
Make It:
In a medium sized stock pot, add mole (carefully opening jar and spooning out, the oil settles at the top so beware of a spill) and chicken stock and whisk over medium-high heat until bubbling. Once bubbling, reduce the heat to medium and continue to whisk until all the chunks of mole have smoothed into a nice sauce with no lumps remaining. Next, add in the cocoa powder and sour cream (I add these to bring out the chocolate flavor and mellow the heat slightly- if you don't like to feel spice, reduce the quantity of mole and up the quantity of sour cream to your liking).
Once mole sauce is finished, add in shredded rotisserie chicken. You will have plenty of sauce to coat.
To assemble tostadas:
Top each tostada shell with a layer of warmed refried beans. Use a spoon or spatula to spread around. Next top with a nice helping of mole chicken. Finish with crumbled cotija cheese, jalapeño slices, sliced radish, avocado slices and cilantro leaves.

Note: If I'm hosting a party, I'd make a tray of these and let guests help themselves. You can also use the leftover mole chicken in a burrito, taco or on top of a rice bowl for leftover lunches.