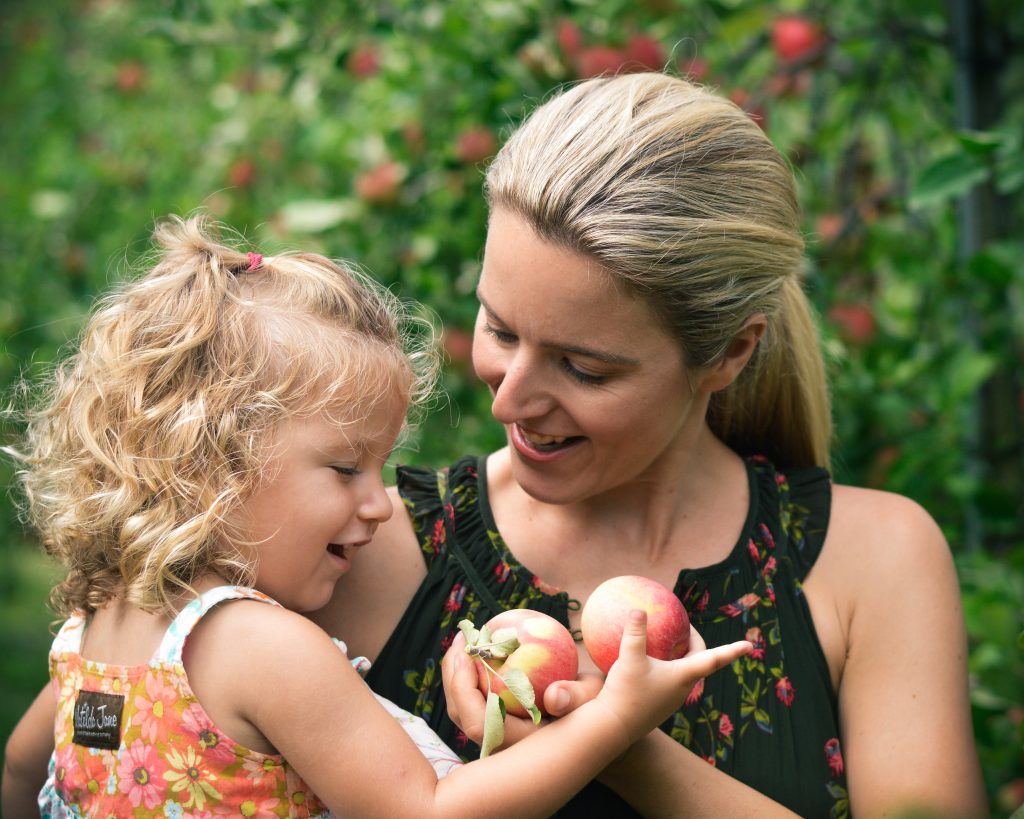 I love finding inspiration for recipes from the change of seasons, beautiful produce at the market and from any suggestions that miraculously come from my children. Whenever my kids ask to cook with me, I'm like "okay great, let's go!" With a 2 and a 4 year old, my kids are so active that most of the time I feel I'm chasing them around just to get a meal in.
That's why I was thrilled when my son grabbed his latest book from PJ Library and directed me to the page where the protagonist was making homemade apple sauce with her Dad. Anyone unfamiliar with PJ Library should know its an organization that sends out free books to Jewish and interfaith families each month. It is a wonderful organization that both my children really enjoy because they get special surprises addressed to them in the mail. Apple Days tells the story of a little girl who is getting ready for Rosh Hashanah and can't wait to go apple picking and make apple sauce with her mom.
Lucky for me, I had a trip scheduled to visit my Father in the heart of Bucks County, PA where farmlands are all around. With the book packed along, we journeyed out of the city. My Father was thrilled to be added to the adventure and found a delightful farm to do our picking, Solebury Orchards.
It was still warm when we arrived, still very much summer. The first thing we saw were butterflies everywhere! All around the entrance, wildflowers were planted and at nearly every flower there was a butterfly perched atop. The kids eagerly started a nature walk with Grandpa as I scoped out the row where we could pick.
My ecstatic 4 year old lasted about 5 minutes picking apples, then was ready to play on the wooden tractor that the farm had brilliantly positioned by the entrance. My 2 year old lasted 5 minutes longer but melted down when the bag became too heavy for her to hold by herself. Luckily the farm had its own apple cider donuts and fresh apple cider. With his first glass of cider my son proclaimed "I LOVE apple picking." By that point we had picked 10lbs of apples collectively, plenty for sauce, pies and snacking.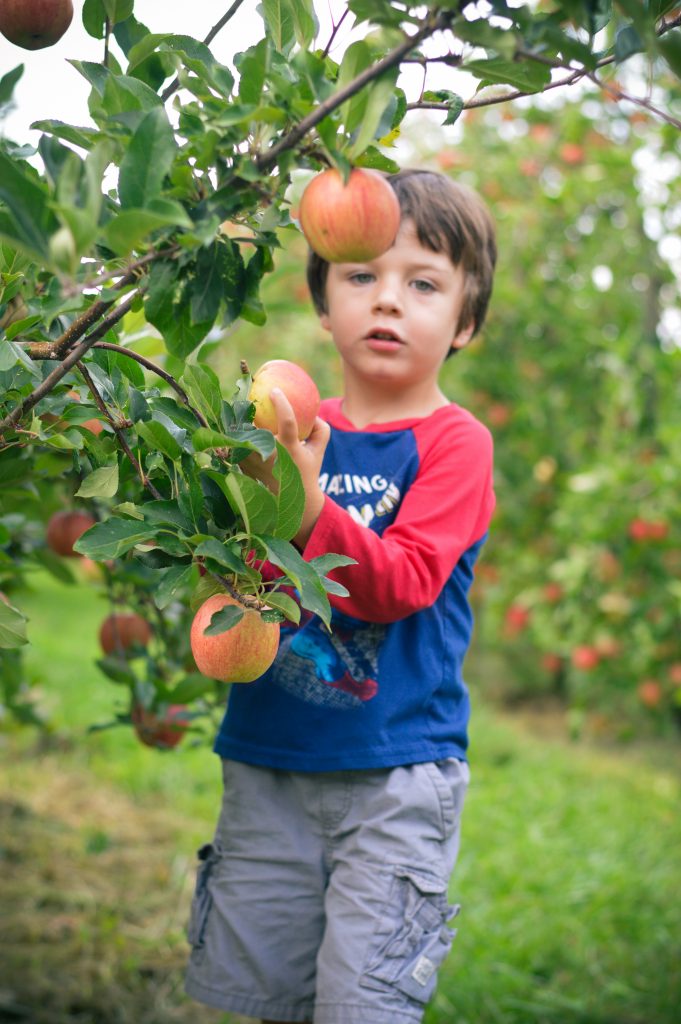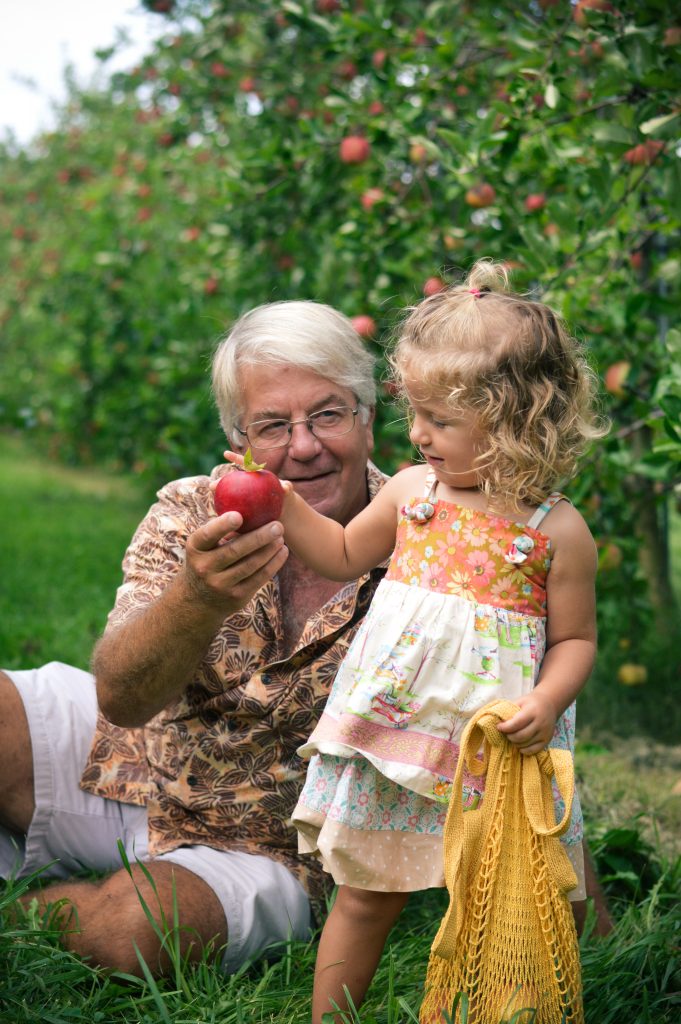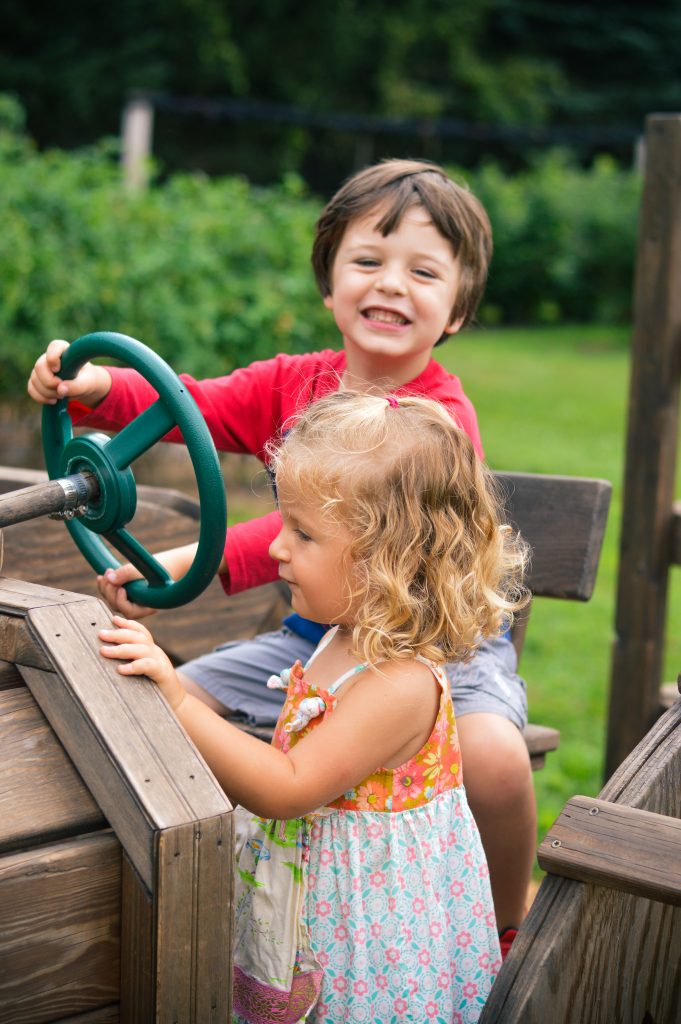 Apples come in to season at different times. Since we went so early, we picked a new variety I hadn't heard of previously, Sansa apples. They were wonderfully crunchy and had the perfect mix of sweetness and tartness for using in my recipes. I was amazed because as I was coring and peeling them, they didn't brown. The apples were the perfect size for my son to eat. He loves crunching on a whole apple. For sauce, I found the Sansas delightful and the color stayed a beautiful light golden brown. For pie, they were wonderful as well and had the tartness they needed.
So all in all, I was thrilled to fulfill my son's inspiration and get some culinary stimulation myself. I had missed the last 3 years of apple picking since my daughter was born in late August. With being pregnant, adding a new baby to the family and then with my son starting PreK we hadn't found the time. I had really missed it. Living in NYC, I really relish the opportunity to get my kids in nature. For those of you families making the journey, I wanted to share some of my top tips as well as my recipe for apple sauce. And for all you families getting ready for Rosh Hashanah: may your New Year be sweet, healthy and happy. L'shanah Tovah!
Tips for Apple Picking:
1. Go early: there are only so many weekends in the Fall for picking and some will be rainy. Towards the end, the closest farms to large cities actually get picked out. Plus late picking often involves more ground apples which invite hornets.
2. Get pictures early and don't expect little attentions to last long: for my young children a little picking went a long way and the rest of the day was spent exploring the farm and enjoying a couple special treats.
3. Read up on Your Apples: a lot of varieties of apples make good apple sauce but to make a pie you need a bit of a tart flavor and a nice firm apple.
4. Separate your apples when you get home: my kids pick quicker and lower than I do, so their apples are often the ones with a bit of a blemish. I save these for my sauce. For pie apples, I choose the firmer ones and I save the best looking ones simply to eat as is.
5. If you are going later, go further afield and check with the orchard in advance: the closer the farm is to a major city, especially NYC, the busier it will be. If you travel a little farther you may find a better variety still available for picking. Also, be sure to check with the orchard before you make the journey. Most farms will update their websites regularly to show what they have available for picking.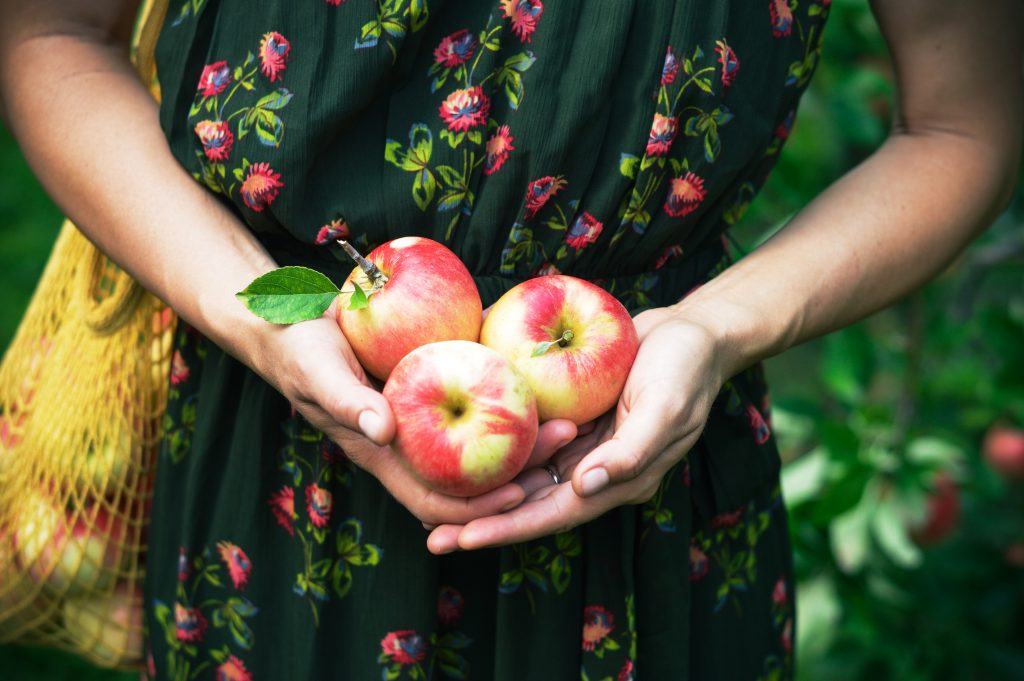 Get the recipe for Effortless Apple Sauce