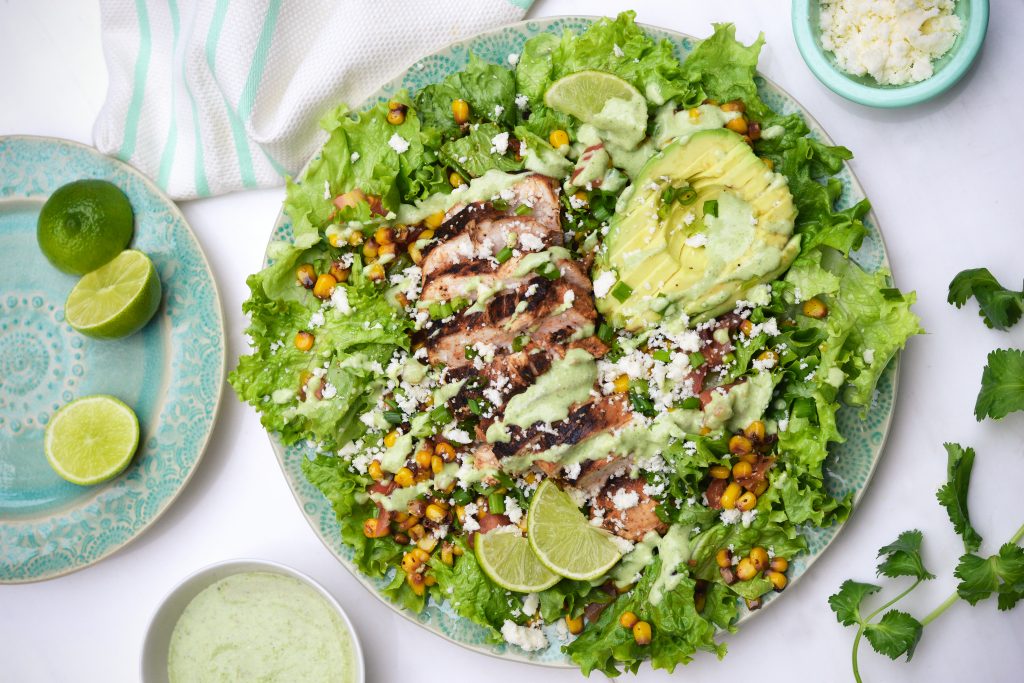 I love a loaded salad like any girl. The kind that is healthy because it is fresh and green but feels sinful since it's loaded with meat and cheese and a rich creamy dressing (shh…this one used Greek yogurt). This salad is the perfection of that duality.
It brings out everything I love about street corn: the creamy cheesy topping, the hint of lime and chile powder that follow and the fresh summery taste of sweet corn. Combined with spiced chicken breasts and cumin and cilantro dressing it becomes a salad you will crave even if it is deliciously healthy.
Street Corn and Spiced Chicken Salad
Makes 4 servings
Chicken Marinade
Ingredients:
1 lb. chicken breast
2 tablespoons extra virgin olive oil
Juice of 1 lime
1 teaspoon cumin
½ teaspoon chile powder
½ teaspoon oregano
½ teaspoon garlic powder
¼ teaspoon sea salt

Make the Marinade:
In a large ziplock bag, combine ingredients and mix thoroughly. Marinate for at least 10 minutes or overnight if you're making in advance.
Creamy Avocado Dressing
Ingredients:
Zest from one lime
1 cup Greek yogurt
½ lime juiced
½ cup cilantro leaves
½ teaspoon cumin
1 tablespoon honey
½ hass avocado
½ cup queso fresco
Sea salt to taste
Make the Dressing:
In a food processor combine all ingredients and pulse until smooth. Season to taste with salt and pepper
Salad
Ingredients:
2 tablespoons butter
2 cups frozen sweet corn
½ teaspoon chile powder
1 lime zested
Sea salt and freshly cracked pepper
4 cups chopped green leaf lettuce
2 Roma tomatoes, diced
1 Hass avocado, cubed
Queso Fresco cheese to taste (you can substitute grated cheddar or Jack in a pinch)
Creamy Avocado Dressing, to taste (recipe below)
Make The Salad:
In a large frying pan, add butter and frozen corn. Cook until warm and browned, about 4-6 minutes on medium-high heat. Top with lime zest and chile powder and season with salt and pepper. Remove to a bowl.
In the same pan, add chicken and cook 5-7 minutes on medium-high until nicely browned. Flip and cook an additional 5-7 minutes until cooked through. Allow to rest before slicing.
Meanwhile, divide your lettuce between 4 plates and top with tomatoes, avocado, cheese and corn mixture. Top with sliced chicken breasts and dress to taste with the creamy avocado dressing.