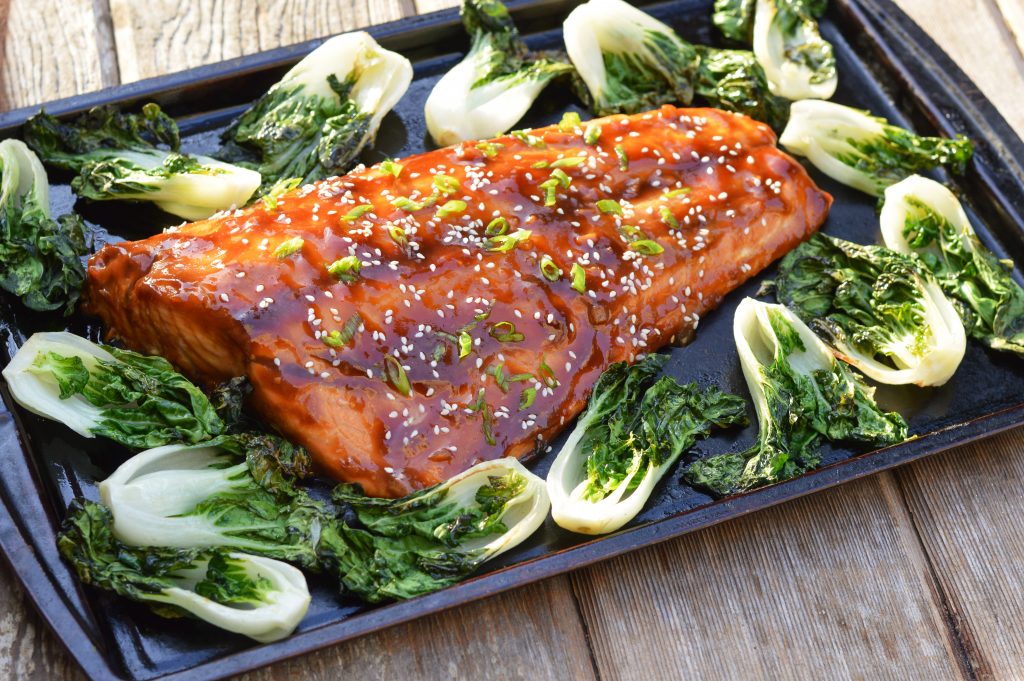 I could never get my husband really excited about salmon for dinner…until now. Typically my hubby prefers his fish in a taco doused with hot sauce, but this teriyaki sauce changed his mind.
This sauce is very easy to make and stores for multiple meals, so it's worth it to take the time and make it fresh. You can always purchase store bought though in a pinch.
Teriyaki Sauce
Ingredients:
1 inch piece of ginger, grated (1 tablespoon minced)
½ teaspoon minced garlic (2 cloves)
½ cup soy sauce
¼ cup hoisin sauce
2 tablespoons honey
1 cup of water
½ cup fresh orange juice (1 orange)
2 teaspoons cornstarch
¼ cup water
Teriyaki Salmon with Baby Bok Choy
Ingredients:
1.5-2 lb. fillet of salmon
1 lb. of baby bok choy
2 tablespoons sesame oil
Sliced scallions for garnish
Sesame seeds for garnish
Jasmine rice for serving
Make the Teriyaki Sauce:
Preheat the oven to 425F.
In a medium saucepan add ginger, garlic, soy, hoisin, honey, water and orange juice and bring to a boil. Allow to reduce for 5 minutes. Meanwhile in a small bowl mix cornstarch and water. After 5 minutes, whisk in the cornstarch. Reduce for 4 minutes more (mixture will reduce to ½ of what you started with). Remove from heat and allow to cool. Note the mixture does thicken more as it cools.
To Make the Teriyaki Salmon and Baby Bok Choy:
Line a baking sheet with parchment paper or aluminum foil. Lay your salmon, skin down on the sheet. Cover your salmon fillet with a nice helping of teriyaki and allow to sit as oven finishes preheating.
Toss the baby bok choy in sesame oil and arrange around salmon (if they are larger, you may want to slice them in half lengthwise).
Bake in the oven for between 12-16 minutes depending on the thickness of the salmon. Test at 12 minutes, by this point the bok choy should be tender. If it is soft and leaves nicely wilted, remove and cook salmon until finished.
Salmon is done when it flakes easily when tested. Remove from oven and sprinkle with scallions and sesame seeds. Serve with bok choy and steamed rice.