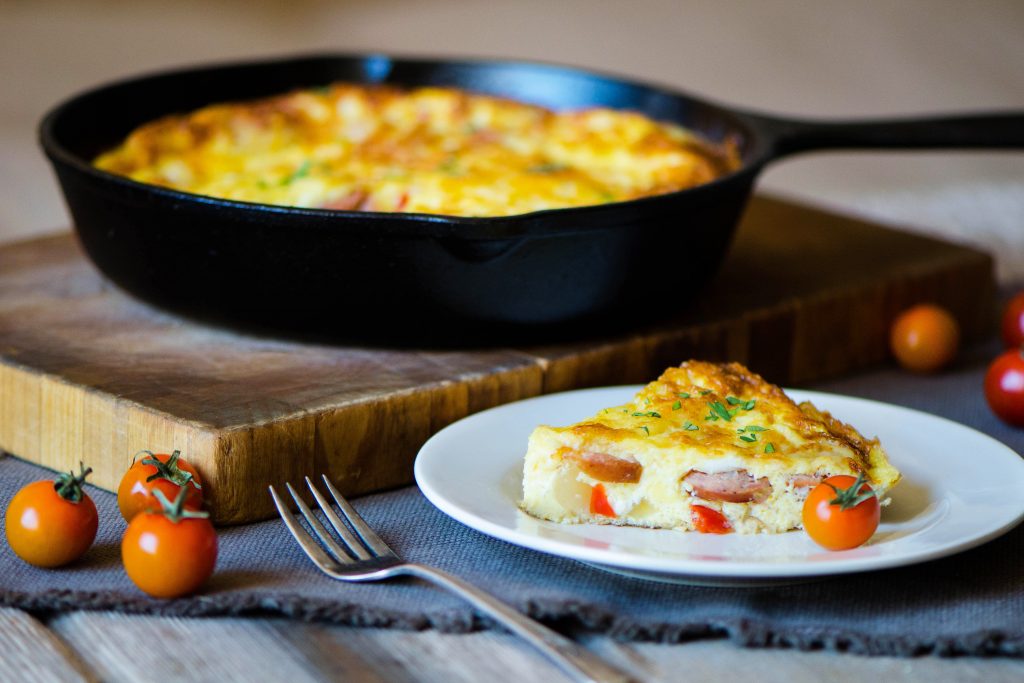 A good frittata is such an important recipe to know. It is easy, versatile (making it ideal for fridge foraging), and it also serves as the perfect breakfast or dinner. This recipe was created by the wonderful and talented Valentina Rice who I had the pleasure of working for at Many Kitchens for over 5 years. I simply adapted it ever so slightly to make the perfect leftover meal for some Easter ham. I hope you enjoy!
Ham and Cheddar Frittata
Adapted from Many Kitchens' Bacon Cheddar Bratwurst Frittata
by Valentina Rice
Ingredients:
8 eggs
1/2 cup whole milk
1/2 teaspoon salt
3/4 cup grated cheddar, divided
2 tablespoons olive oil
1 1/2 cups small cubed leftover ham
1/2 medium onion, finely chopped
1 cup cherry tomatoes, quartered
Chopped parsley for garnish, optional
Make It:
In a medium bowl, whisk the eggs, milk, salt, and 1/4 cup of the cheddar.
Next, in a large skillet (preferably cast iron), heat the oil and fry the ham until browned all over about 5 minutes. Add the onion and continue cooking on medium heat until the onion has softened. At the last minute, add in the cherry tomatoes to allow them to heat.
Turn the heat down to low, then add the eggs. At this point, you should preheat your broiler. Shake the pan every few minutes until you see the edges begin to set, about 10-12 minutes total. The center will still be completely uncooked.
Add the remaining 1/2 cup of cheddar and place under the broiler for a further 4 minutes until the top is nicely brown and the center is just set.
Top with chopped parsley and serve in wedges straight from the pan.