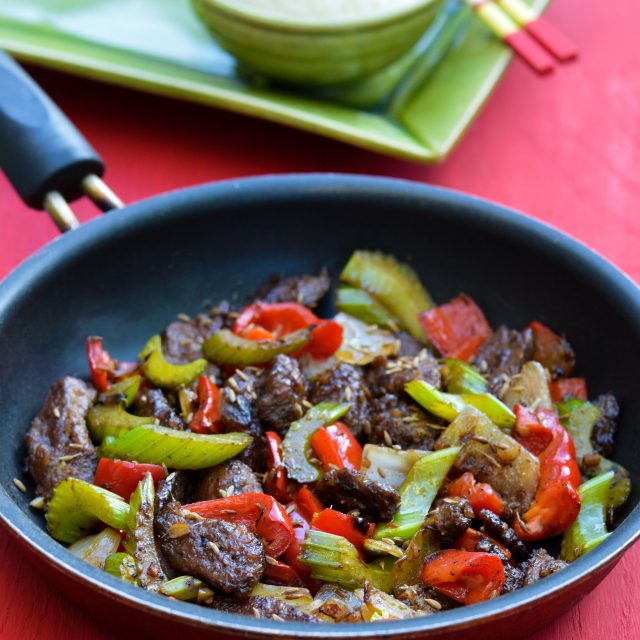 It's a snow day in NYC and that means snow tubing and wet feet for my house. At the end of the day we will all be craving a hot and easy supper. This stir fry is ideal for a family meal because it takes a little over ten minutes of prep and it comes together in minutes.
Quick Cumin Beef Stir Fry
4 servings
Ingredients:
2 cups of jasmine rice cooked according to package
2 tablespoon soy sauce, divided
1 tablespoon cornstarch
5 tablespoons sesame oil, divided
1 lb. skirt steak, sliced ½" against grain
1 red bell pepper, diced
½ yellow onion, diced
2 stalks celery cut into ½" crescents on a diagonal
¼ cup chicken stock
2 large garlic cloves, minced or pressed
1 inch piece of ginger, minced (1 tablespoon)
1 teaspoon ground cumin, these add a wonderful crunchy texture
1 teaspoon cumin seeds
½ teaspoon red pepper flakes
Make It:
Cook jasmine rice as you are prepping your ingredients. In a medium bowl, mix one tablespoon soy sauce and cornstarch and stir in beef until coated.
Add 2 tablespoons of sesame oil to a wok or large sauté pan. Heat on high until just starting to sizzle. Add beef and cook for 3-4 minutes till browned on both sides and nicely crunchy. Remove beef to a plate.
Add vegetables to pan and cook on high heat for one minute then add chicken stock, cover with a lid and steam on medium-low heat for five minutes until veggies are just soft. Remove veggies to a bowl and add in remaining tablespoon of sesame oil. Add in garlic, ginger, both types of cumin and red pepper flakes. Stir constantly for one minute until fragrant then toss in beef. Stir until combined then add in remaining soy sauce and veggies and stir once more.
Serve hot on a fluffy bed of jasmine rice.