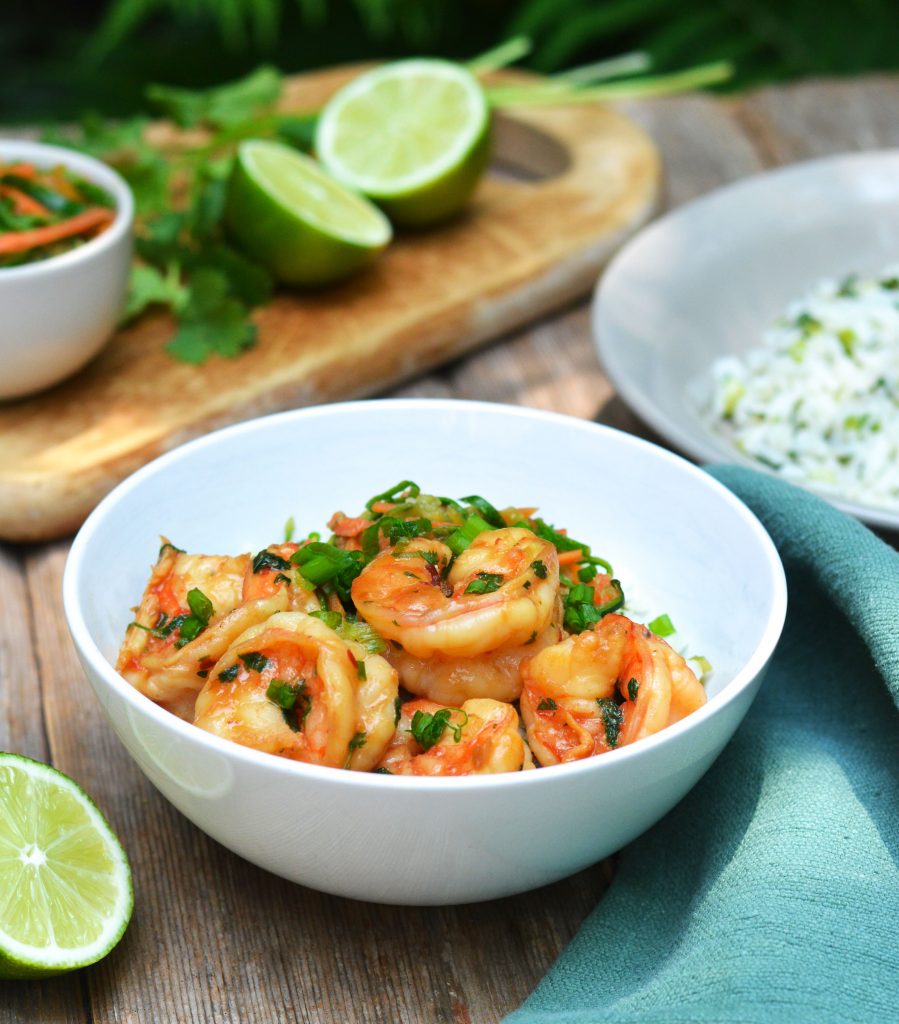 This shrimp is so juicy and flavorful. You can serve the shrimp with fancy toothpicks to make an instant appetizer or serve as I do here over a fragrant bed of herb rice with a quick sautéd slaw to accompany it. So whether you're looking for a delicious dinner, lunch or appetizer, these Chili Lime Shrimp are a fun way to go.
Chili Lime Shrimp
Marinade:
1 lb. raw peeled jumbo shrimp (8/12 count)
1 tsp sambal
Juice of 1 lime
1 tablespoon chopped fresh cilantro
1 teaspoon orange juice, or the juice from a fresh orange
1 teaspoon hoisin
1 tablespoon soy sauce
1/4 teaspoon cornstarch
Herb rice:
1 bunch scallions, sliced
1 cup packed cilantro leaves, chopped
4 cups cooked jasmine rice
Juice of 1 lime
Drizzle 1 tsp sesame oil
Slaw:
3 tablespoons sesame oil, divided
1 cup grated carrot
1 cup grated zucchini
1 teaspoon soy sauce
Marinate the shrimp:
Combine shrimp with marinade ingredients in a medium bowl or gallon size sealable plastic bag. Marinate for 10 minutes.
Make the herb rice:
As the shrimp is marinating, cook your rice if you haven't already. Once cooked, mix the ingredients of your herb rice in a large bowl.
Cooking the slaw and the shrimp:
In a large frying pan, add 1 tablespoon sesame oil and heat it on high for 1-2 minutes. Next add in the carrot zucchini and soy sauce. Sauté for about 3 minutes until it becomes tender. Set aside.
Add 1- 2 tablespoons sesame oil back to the frying pan and return the heat to high. Sear the shrimp about 3 min on high until just cooked (save the marinade!). Remove the shrimp to a separate plate then sauté the marinade until bubbling, about 30 seconds, then pour over shrimp.
Putting it all together:
Add your rice to the bowl and top with chili lime shrimp and carrot, zucchini slaw. Enjoy!