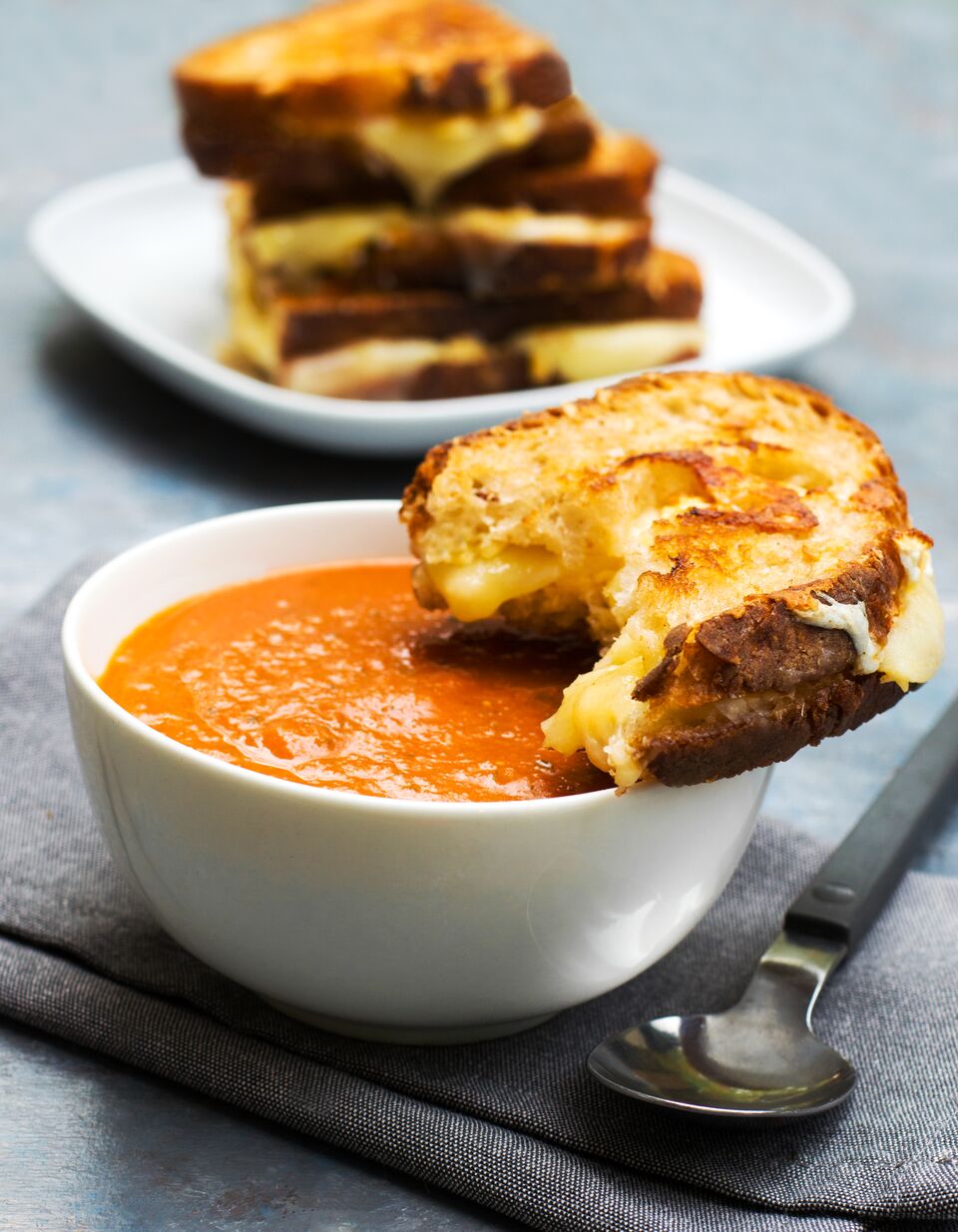 Gourmet Grilled Cheese and Quick Tomato Soup
Makes 5 servings 
This is a classic combo that is not to be missed in the weekly dinner rotation. Making your own tomato soup really adds to the meal and doesn't take a lot of time. I use a combination of cheeses and sourdough so that the grilled cheese sandwiches feel decadent, crunch wonderfully, and burst with flavor.
This meal is definitely kid approved.
Quick and Creamy Tomato Soup
Ingredients:
1 tablespoon extra virgin olive oil 
1/2 small white onion, roughly chopped
1 stalk celery, roughly chopped
3 cloves garlic, roughly chopped
28 oz. can peeled whole plum tomatoes 
1 cup vegetable stock 
½ cup fresh parsley 
1 tablespoon butter 
¼ cup half and half 
Sea salt and freshly cracked pepper 
Make It:
In a medium stockpot, combine olive oil, onions and celery. Cook 3 minutes then add in garlic and cook an additional minute. Add tomatoes, stock and parsley and cook for 15 minutes on medium-high. Puree with an emersion blender until smooth then stir in butter until it melts into the soup. Finish by stirring in the half and half and season to taste with sea salt and freshly cracked pepper.
Gourmet Grilled Cheese: 
Ingredients:
10 slices of sourdough 
1 ¼ cup grated sharp cheddar cheese 
1 ¼ cup grated gruyere (or mozzarella) 
1 ¼ cup grated gouda 
5 tablespoons softened butter 
Make It:
On a baking sheet, lay out 5 slices of bread. Divide the cheese evenly between the 5 slices, making sure to add an even mix of the 3 cheeses on each slice. Top the sandwiches with the remaining sourdough.
Heat 2 tablespoons of butter in a large frying pan on high heat until it melts. Add 3 sandwiches and reduce heat to medium-high. Cook for 2 minutes. Just before you flip, rub the upward facing slices of bread with softened butter. Flip and cook another 2 minutes until the second side is toasted golden brown. Repeat with remaining sandwiches.
Slice the finished sandwiches in half and serve with tomato soup.