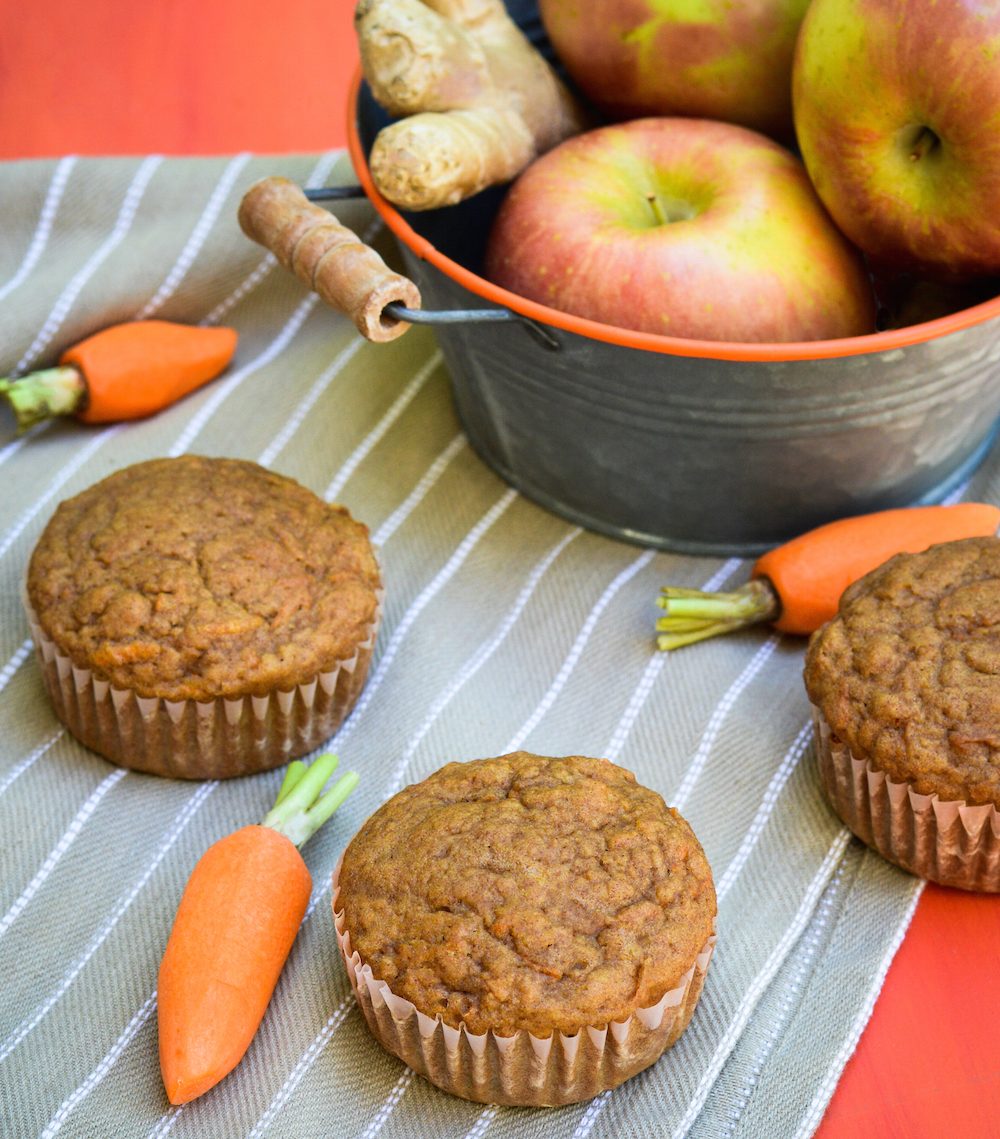 Apple Carrot and Ginger Muffins 
From The Ultimate New Mom's Cookbook
Makes 12 muffins 
This is a tasty, healthy breakfast for parents and tots alike. Apple puree is a wonderful substitution for refined sugar in baking and helps make recipes a little healthier and definitely more baby-friendly. For toddlers, these muffins are a great way to add fiber and breakfast vegetables. Best yet is that one batch gives you breakfast on the go for almost a full workweek. 
Ingredients 
1 cup (120 g) whole wheat flour  
1 cup (125 g) all-purpose flour  
1 tsp baking soda  
1 tsp baking powder  
½ tsp cinnamon  
¼ tsp salt  
¾ cup (177.5 ml) almond milk  
¼ cup (59 ml) melted butter 
¾ cup (150 g) brown sugar  
2 eggs  
1 cup (244 g) applesauce  
1 tsp grated fresh ginger (1-inch (2.5-cm) piece)  
1 cup (110 g) grated carrots 
Make It: 
Preheat your oven to 400°F (204°C).  
Place the whole wheat and all-purpose flours, baking soda, baking powder, cinnamon and salt in a large mixing bowl. Whisk together until well mixed.  
In a medium bowl, combine the almond milk, butter, brown sugar, eggs, applesauce, ginger and carrots.  
Fold the wet ingredients into the dry ingredients with a large spatula until just combined. You don't want to overwork the flour, so mix just until you no longer see flour.  
Spoon the muffin batter into greased muffin tins or muffin tins with wrappers in them. Fill three-quarters full to allow for the muffins to rise. Bake for 20 minutes or until an inserted toothpick comes out clean. Cool on a wire rack and serve at room temperature.  
Note: These muffins keep great overnight when left on a wire rack, covered with a clean dishcloth. Alternately, they can keep up to four days in an airtight container. Just be sure to allow the muffins to cool completely, then line the container with paper towels to keep the muffins from getting soggy.