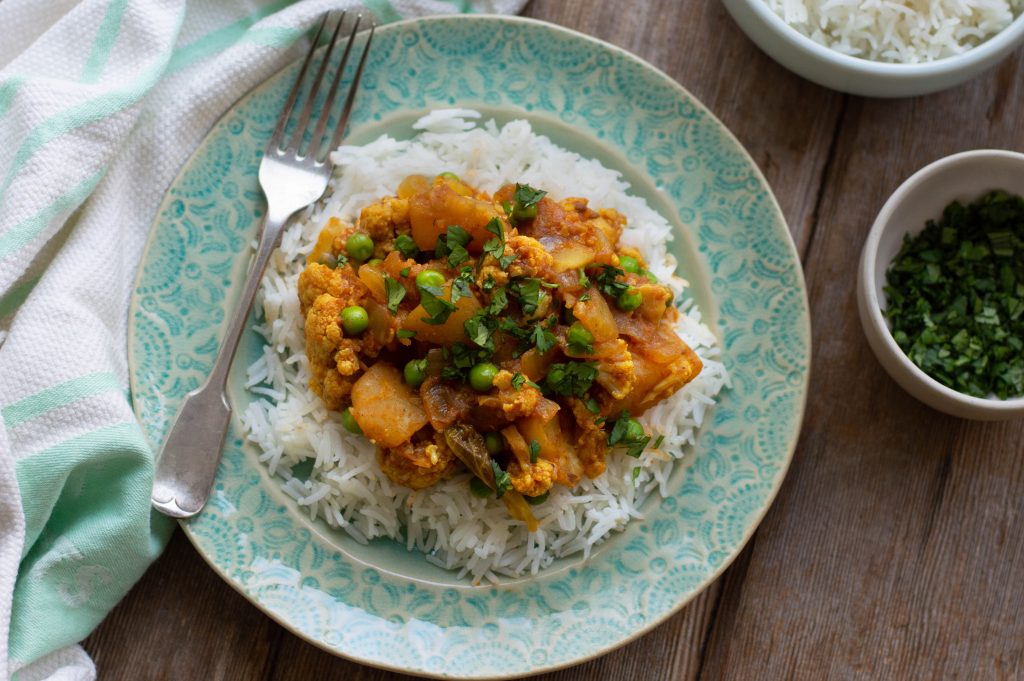 This is one of my favorite Indian dishes. I love the tender spiced potatoes and cauliflower and sweet peas add the perfect brightness to the dish. I omitted the chilis to keep it mild and kid-friendly but when I eat this, my husband and I are sure to load it up with extra spices. That's one of my tricks is to add the heat individually so I don't overwhelm anyone eating. Spice lovers are always welcome at our house.
Crock-Pot Aloo Matar Gobi
Serves 4
Ingredients:
2 tablespoons olive oil
1 medium Vidalia onion, diced (1 1/2 cups)
4 medium-sized russet potatoes, peeled and diced (4 cups)
1 medium-sized head of cauliflower (step and large leaves removed), broken into large florets
2 cloves garlic, sliced
2 tablespoons tomato paste
1 1/4 cup vegetable stock
1 teaspoon garam masala (found in the spice aisle and also available online)
1/2 teaspoon turmeric
1/2 teaspoon cumin seeds (you can substitute cumin powder)
1/2 teaspoon ginger powder
1/2 teaspoon salt (I season after cooking and add more salt then)
1 cup frozen peas
Basmati rice for serving
Chopped cilantro for garnish, optional

Make It:
In a crockpot, add all your ingredients EXCEPT the peas and cilantro. Stir well then cook on high for 4 hours.
After 4 hours, add the frozen peas and season to taste with salt. Serve on a bed of basmati rice and top with fresh cilantro for serving.