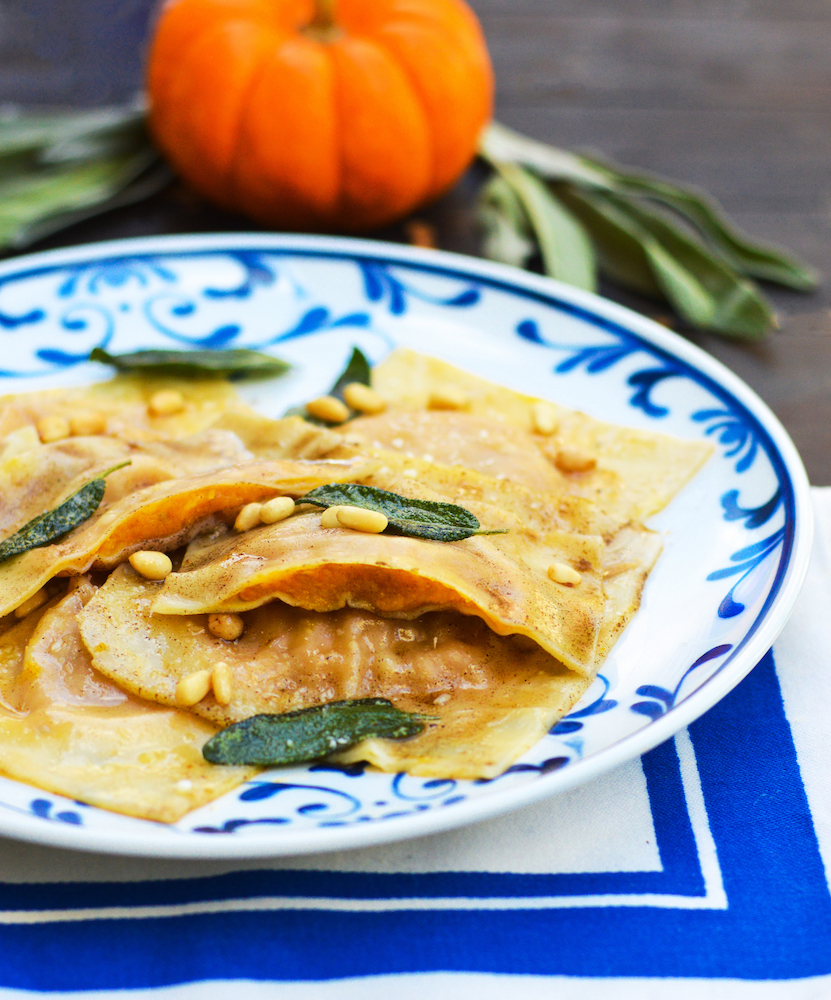 Pumpkin Ravioli 
Yield: 14 ravioli 
Fall is my favorite season. I love to watch the leaves change, to wear my first sweater of the season and to get back to the kitchen after a hot summer. Cooking with pumpkin allows me to indulge in my love of the season and enjoy my favorite flavors.
This recipe is a slight cheat by using wonton wrappers instead of making dough from scratch. The ravioli also freezes very well if you are making extra or making the meal in advance. For kids the ravioli are ideal because once made, the cook time is only a couple minutes.
Ingredients: 
1 cup canned pure pumpkin 
¼ cup grated Parmesan cheese 
¼ teaspoon sea salt 
¼ teaspoon ground sage 
Freshly cracked black pepper, to taste 
Pinch of nutmeg 
28 wonton wrappers, defrosted 
1 egg, beaten 
4 tablespoons butter
Handful of fresh sage leaves
1/4 cup pinenuts

Make It:
In a medium bowl, mix pumpkin with Parmesan, salt, sage, pepper and nutmeg. Stir until well combined. 
Next, lay out a sheet of parchment paper on a baking sheet and lay out 14 wonton wrappers. 
Add a little less than a tablespoon of pumpkin mixture to the center of each wonton wrapper- you don't want to overstuff them. Next, in a small bowl, beat the egg with about a tablespoon of cold water to make an egg wash. Brush around the edges of each wonton with the egg wash and top with another wonton wrapper. You want to press out as much air as possible and tightly seal the edges of the ravioli. If you don't seal the edges well the ravioli may come apart in boiling; so take your time with this step.
Once you've finished, you can trim ¼ in. around each ravioli to get rid of excess wonton or you can cut with a circular biscuit cutter. 
Bring a large pot of salted water to a boil and cook ravioli in batches of 4 for about 2-3 minutes per batch. 
As the ravioli is boiling, heat butter in a medium frying pan on medium-high heat until just bubbling. Then add the sage leaves and cook for a couple seconds until crispy and golden. Watch your butter and if it is heating too much, reduce your heat to medium-low. You want the sage leaves crispy but the butter just golden brown in color. Set aside fried sage leaves on a paper towel-lined plate once cooked.
To finish, stir cooked ravioli into remaining butter sauce and top with crispy sage and a sprinkling of pine nuts. If you want extra butter sauce just repeat the simple pan sauce steps of bringing the butter to a boil and cooking about 3 minutes until browned.
Enjoy!