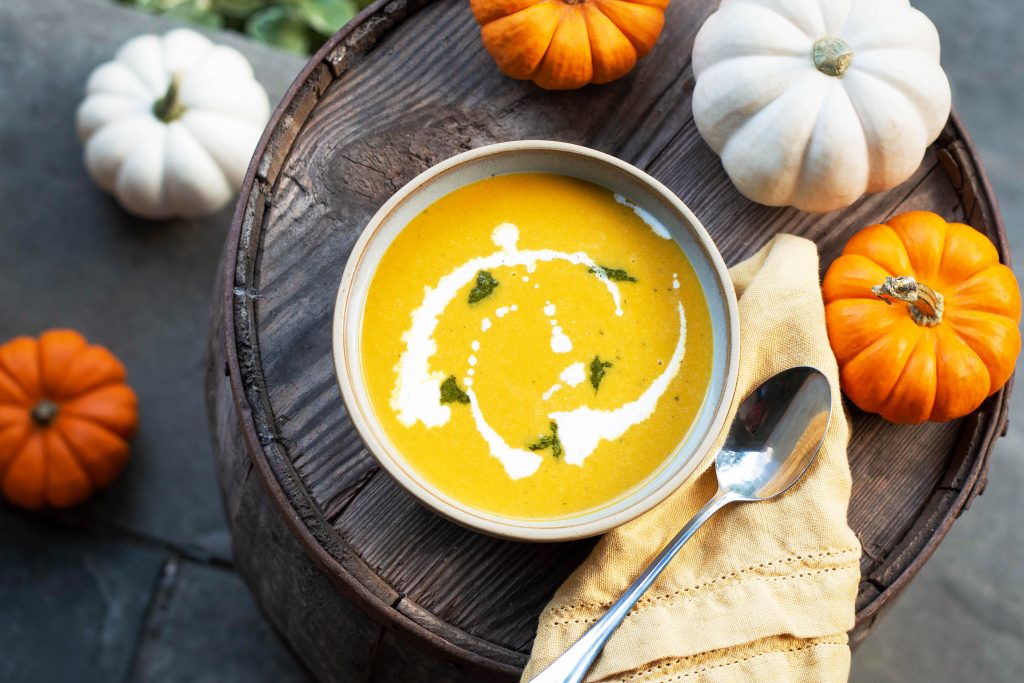 This is an incredibly easy soup that makes a killer first course or light lunch. Creamy coconut milk compliments the natural sweetness of pumpkin perfectly. Savory spices give it the right depth of flavor and a simple swirl of coconut cream and pesto make it all the more beautiful to look at.
Pumpkin Soup
Serves 4 small servings
Ingredients:
2 tablespoons of butter (swap with olive oil to make vegan)
1/2 cup Vidalia onion, diced (about 1/2 of a medium-sized onion)
1 (14.5 oz) can pumpkin puree (100% pure pumpkin)
1 (14.5 oz) can of coconut milk, full fat (stir and reserve a little for garnish)
1/2 teaspoon cumin
1/2 teaspoon garlic powder
Sea salt, to taste
Pesto for garnish, optional
Make It:
In a medium-sized stockpot, add butter and onion and cook until onion is translucent and softened (about 5-7 minutes on medium-high heat). Add in the pumpkin puree and coconut milk (be sure to reserve a little for garnish). Add in spices and stir to combine. Warm for about 10 minutes.
Puree soup with an emersion blender to blend in the onion pieces and make the base creamy and silky. Season to taste with salt to finish.
To serve, ladle into bowls and drizzle with pesto and a bit of coconut milk. Enjoy.