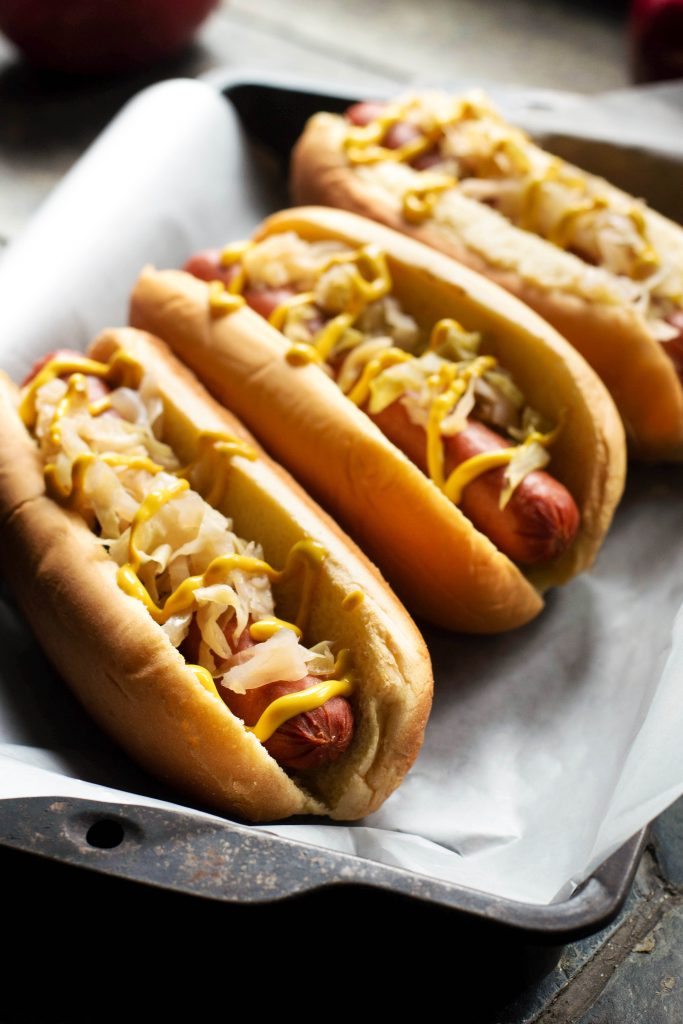 This recipe reminds me of harvest days at the farm. The sweetness and spices from the cider transform these hot dogs into something altogether different.
This recipe was inspired by the hot dogs I used to always order when apple picking. They were always piping hot on cold days, absolutely delicious and just perfection in their simplicity.
I don't normally like sauerkraut but by braising it in cider, it is sweet, crunchy, and really lovely. I find myself actually topping my cider dogs heavily with ciderkraut because it is just so darn tasty. Hope you enjoy!
Cider Hot Dogs with Ciderkraut
Serves 4
Ingredients:
2 cups finely sliced cabbage
4 cups apple cider, divided
Kosher salt, to taste
4 hotdogs
4 hotdog buns
Mustard
Make Your Ciderkraut:
In a medium-sized stockpot, add cabbage and 2 cups of apple cider and bring to a boil. Once you've reached a light boil, immediately turn heat to medium. Braise cabbage in cider for about an hour. It should soften, sweeten and turn darker and browner in this time. This can be done in advance (just reserve cooking liquid).

Make Your Cider Dogs:
Season your ciderkraut with salt, then strain it into a bowl (reserve the cooking liquid in the stockpot). Add the remaining apple cider to the stockpot and bring to a boil. Add your hotdogs once boiling then cover and remove from heat. Steam for 8 minutes.
Serve on warmed buns topped with ciderkraut and finished with mustard. You can save your cooking liquid to make Apple Cider-Braised Greens which are also heavenly.