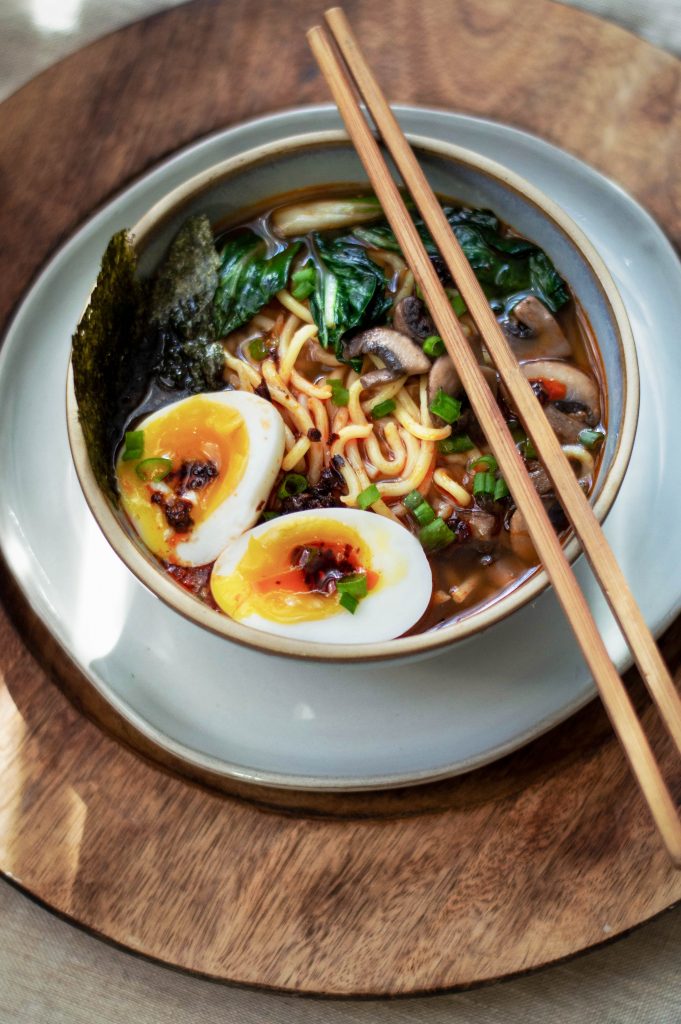 Ramen is the ideal cold-weather lunch! Rich broth, soupy noodles, and chili paste to add spice. With two layers of heat to warm you up, this one is not for the kids.
Red Curry Ramen
Serves 4
Ingredients:
Sesame oil
1 head of bok choy (4 cups chopped)
16 oz. baby bella mushrooms, sliced (shitake or oyster would also be nice)
Sea salt
9 cups of chicken stock
4 tablespoons Thai red curry paste
1 tablespoon mild dry chili paste
2 tablespoons Sriracha
1 lime, juiced
6 eggs
16 oz ramen noodles, cooked according to package instructions
1 bunch of scallions, finely sliced
Chili oil (optional)
Nori, roasted seeweed (optional)
Make It:
In a large stockpot, add 2 tablespoons of sesame oil and bring to high heat. Add in your chopped bok choy and saute until just softened but still holding a crunch (about 5-6 minutes). Set cooked bok choy aside on a plate and add 2 more tablespoons of sesame oil. Saute your sliced mushrooms in batches, being sure to prevent overcrowding. You want them to brown not steam. Cook 3-4 minutes before turning. Season with salt and flip once browned. Cook on the second side for about 2 minutes. Remove cooked mushrooms to a side baking sheet or plate. Repeat with remaining mushrooms, adding sesame oil as needed until all cooked.
Next, add chicken stock to the stockpot. Add red curry, chili paste, and Sriracha and bring it to a simmer. Season to taste with salt and finish flavoring with lime.
Meanwhile, fill a small saucepan 3/4 full with water and bring to a boil. Once boiling, use a slotted spoon to add refrigerated eggs into the boiling water. Boil for 7 minutes at a medium boil and immediately transfer to an ice bath. Cool for about 2-3 minutes then peel and carefully slice in half.
Add the ramen noodles to the warmed soup broth. To assemble, divide your ramen between 4 bowls and top with broth and vegetables. Top each bowl with 3 egg halves, scallions, chili oil, and nori. Enjoy!