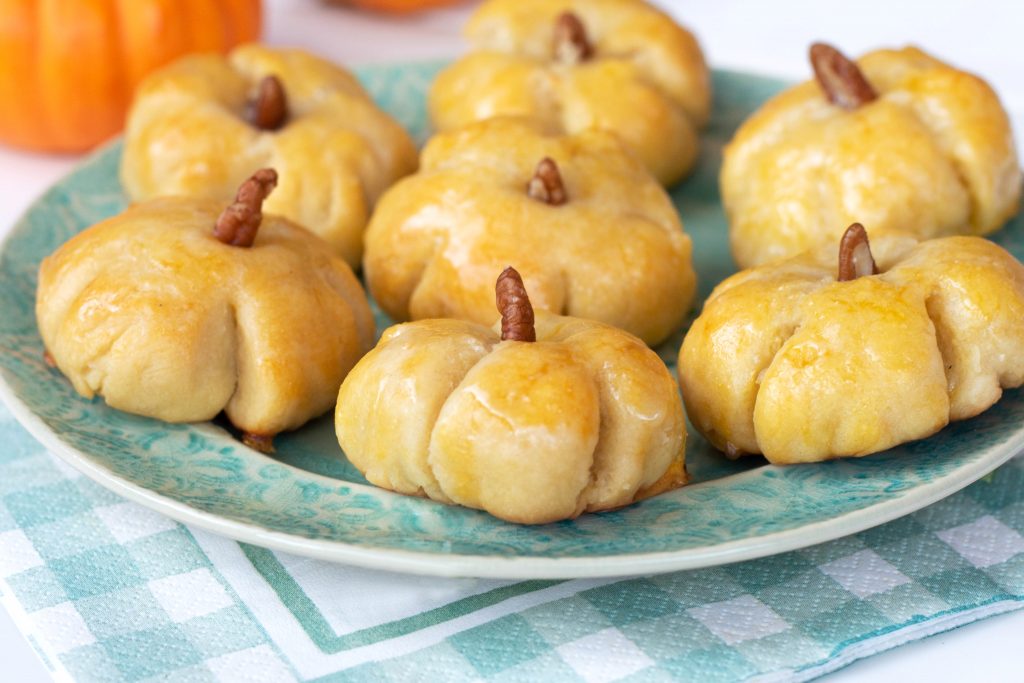 Rolls are always a kid's favorite part of Thanksgiving! These adorable honey pumpkin buns are no exception. As fun to shape as they are sweet and flaky soft to enjoy, they will serve as a crowd favorite and also an edible centerpiece.
Honey-Butter Pumpkin Buns
Makes 13 buns
Ingredients:
2 1/2 teaspoons baking powder
1 tablespoon sugar
1 teaspoon of salt
1 cup of plain Greek yogurt
1/2 cup olive oil
3 cups of all-purpose flour
1 egg yolk
2 tablespoons melted butter
2 teaspoons honey
Pecan halves for pumpkin stems (alt: use fresh herbs/pretzels to go nut-free)
Make It:
Preheat your oven to 370F. Line a baking sheet with parchment paper and set aside.
In a large bowl, whisk the baking powder, sugar, salt, yogurt, and olive oil until combined. Slowly add in the flour, folding in with a spatula.
Next, I use my hands to gently work the mixture until it feels dough-like and the wetness of the yogurt has been fully integrated with the flour. It's easier for me by hand to feel the right texture and not overwork the flour.
Next, begin pulling off small handfuls about the size of a lime and rolling them into balls. You should have about 13 when done.
To create the pumpkin shape, use kitchen scissors to make 5 slices about 1/2″ deep all around one bun. Roll the bun once more gently to round these cuts back into the rounded shape. You should still see the cuts but it should look…like a pumpkin. When finished shaping, place on the parchment paper. Use your index finger to press a small indent in the center of the bun where you'll later add the "stem." Repeat with each remaining bun, being sure to space the buns apart on the baking sheet.
Next, whisk your egg yolk and brush on the top of each shaped roll. Bake about 20-25 minutes until golden brown.
In a small bowl, combine your melted butter and honey and brush this mixture on the finished buns to make them glossy and absolutely delectable.
Finish by adding a little nut or herb stem. Enjoy!
Note:
These are best the day they are made and they are awfully fun to make along with your kids.